Midweek notes: Big East hoping for Orange Bowl
Once a BCS league, Big East could cease to be a major conference in 2014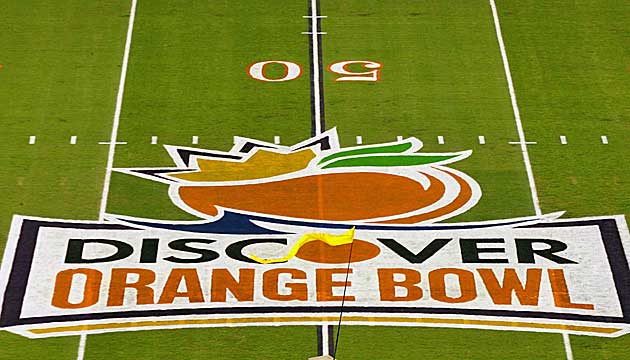 The Big East wants to join the ACC as the other conference with a tie-in to the Orange Bowl. (US Presswire)
The Big East makeover won't necessarily end with conference realignment and expansion. The conference hopes to remain relevant by grabbing a spot in the Orange Bowl.

"We're working hard on some access," said an official who did not want to be identified because of the sensitive nature of the talks. "I've been talking to some people regarding the Orange Bowl. I think they're fair-minded people to gain some measure of access. Ultimately, I think we've got a shot to do that."

For the moment, the Big East has been cut from the herd in terms of staying a power conference beginning in 2014. It does not have a major bowl tie-in. The Orange Bowl is committed to the ACC champion beginning in 2014, but the other spot is open. Notre Dame has been speculated to fill the other spot, but not on a permanent basis. Notre Dame won't qualify each year and wants the freedom to play in other major bowls. (The Fiesta Bowl has two spots open.)

There may end up being multiple partners, then, for the Orange. The Big East champion, Notre Dame and second-place teams from other conferences could be involved.

"We've got some schools close to a playoff spot," said that source familiar with the Big East situation. "We would like to have some kind of guaranteed access … We're just looking for some way to gain fair access. There could be some different conferences and Notre Dame in the mix. We would hope we could be part of that. The conference as constituted is actually stronger."

It should be noted that there is no buzz about the Big East from the Orange Bowl, at last check.

"[Notre Dame AD Jack Swarbrick] told us, 'If we play well enough we deserve to get in a good bowl game,' said Chuck Neinas who just left as interim Big 12 commissioner. "But they won't be tied into the Orange Bowl, per se. It's going to be an agreement that is going to involve others as well. We have to also wait and see what are going to be the access bowls."

It's likely that nothing will happen with the major bowls until the Champions Bowl completes its business. Mike Slive told CBSSports.com on Monday that the site for the SEC-Big 12 bowl probably will be named in October. After that, the Champions has to hook up with a TV partner. ESPN is that likely partner (surprise). It is widely believed that the Champions will get the same $80 million per year as the Rose Bowl did.

Whatever bowl/city gets the Champions will become the third contract bowl. If that is Dallas, the Sugar Bowl will become open along with the Fiesta Bowl. If the Sugar/New Orleans gets the Champions, that means there will be three openings on the access side. (Six bowls will make up the new playoff rotation.)
The Fiesta is expected to be a lock for one of those spots. Atlanta is expected to be a strong contender as well. Houston, rumored to have made a strong bid for the Champions, could be that third access bowls.

The contract bowls will keep all their revenue in years when they don't "play through" the national semifinals. The access bowls, national semifinals and championship game will be bundled together for bidding as a separate entity.


The Big East has decided against "tweaking" its name. Smart move. As much fun will be poked at San Diego State and Boise State playing in the Big East, the name and the logo still carries weight according to new commissioner Mike Aresco.

"It's much stronger than probably the perception has been," he told CBSSports.com recently. "I am really, really out there talking about it as much as possible. I'm absolutely convinced and I think I'm objective – it is significantly stronger than the Big East when it had the automatic qualifier and was confined to the Northeast and didn't have a bell cow like Boise State."

Wait, Boise State, a bell cow? As the Big East fell apart and then reformed, the strongest TV markets/brands were considered to be SMU, Houston and Boise State. Both Houston and SMU are fourth or fifth media options in their cities. But there weren't many options left. The conference's presence in the Northeast was further diminished with the loss of Pittsburgh and Syracuse.

Boise State? Somewhat of an established power and certainly a brand name to the point that the Cinderella label may no longer apply.

"They remind you a lot of Gonzaga in basketball in a way that really endeared them to the country," Aresco said. "No one will ever forget the [2007] Fiesta Bowl when they beat Oklahoma. They play a fun style of football. They've emerged as a national brand.

"What they bring is a national appeal. The old Big East football conference had some decent teams but it didn't have a team quite like that. They're going to continue to capture peoples' imaginations because they're Boise. They're going to be compared to other major conference schools. They will, in some way, be a source of controversy. But people are not going to stop watching Boise."
One day Mike Markuson is coaching the offensive line that sprung the nation's leading rusher a year ago. The next day, he is fired. Markuson became the second notable assistant to be canned by a BCS school when the Wisconsin offensive coordinator was let go following the Badgers' 10-7 loss to Oregon State.

Markuson, one of six new Wisconsin coaches, had experience at Arkansas and Mississippi. Head coach Bret Bielema said there were personal issues involved with the staff move but Markuson's line has not played well. Montee Ball, that leading rusher, is currently 90th nationally averaging 90.5 yards per game. The Badgers have dropped out of the top 25.

Markuson was surprisingly candid when interviewed on Sirius/XM radio.

"Those guys had so much success and they had a coach in my position [Bob Bostad who went to Pittsburgh] that they had before for four years that, man, they scored a lot of points, they ran the ball well. I mean, them guys were used to hearing it a different way. So now I come in, here's the new guy on the block and I'm trying to teach them the way I know what's right and the success that I've had.

"It kind of threw a bump in the road. So they had to get used to me. I had to get used to them. We had to work through some things and I really thought we were making good progress. In light of what has transpired I still believe what I was teaching is the right thing to do."

Markuson added that for quarterback Danny O'Brien, "there is still a learning curve out there for him."

BCS alert: Jeff Sagarin, in charge of one of the six BCS computers, has some curious rankings this week in his Sagarin ratings.

No. 3 Arizona State, No. 4 Kansas State, No. 10 (winless) Boise State. Not to worry, it's early and Sagarin's computer rankings that he provides for USA Today are different than those he figures for the BCS.


If you have an empty stomach, try viewing this Arkansas video, but only on an empty stomach. Any food down there will immediately be thrown up. 
CBS Sports HQ Daily Newsletter
Get the best highlights and stories - yeah, just the good stuff handpicked by our team to start your day.
Please check the opt-in box to acknowledge that you would like to subscribe.
Thanks for signing up!
Keep an eye on your inbox for the latest sports news.
Sorry!
There was an error processing your subscription.
Predicting win totals for every team in the Big 12

Win total selections and odds for all 12 teams of the Pac-12 in the 2018 college football...

It's rare, especially at a place like FAU, for a coach to sign such a huge deal after one...
Antwan Dixon caught 26 passes for 355 yards and a touchdown in 2015

Win total selections and odds for all 12 teams in the American Athletic Conference ahead of...

Robertson was the top receiver in the country in the class of 2016