Mighty SEC has everything, nothing in common with NCAA's little guys
Clearly the SEC has different needs than smaller conferences, which will play itself out in NCAA legislative changes. But that doesn't mean there isn't some common ground.
• 4 min read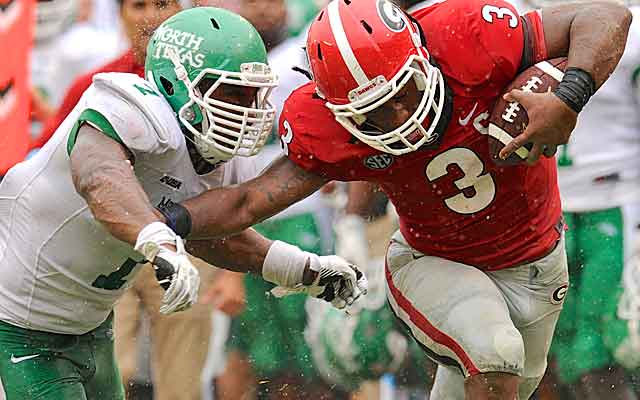 More SEC: Bama having trouble filling schedule | SEC may tweak tiebreaker rules
DESTIN, Fla. -- Power 5. Power 5. Power 5. Power 5. Power 5.
"I don't want to say Power 5," Texas A&M athletic director Eric Hyman said. "The ones that have similarities."
Maybe it's the Power 65. Or the Power 25, if you have a problem calling Indiana, Kansas, Vanderbilt and many others powerful. Within the SEC, after all, school revenues range from $125 million (Alabama) to $50 million (Missouri), according to a USA Today database. But all 14 SEC memebers represented at this week's spring meetings in Destin get an equal share of revenue, which in 2013 meant a slice of $289.4 million -- or at least 13 times more than the American Athletic Conference's yearly television revenue haul.
Those numbers feed the recent nomenclature for five conferences or 65 schools -- SEC, Pac-12, Big 12, Big Ten, ACC and Notre Dame) -- deemed more powerful than the rest.
This comes into play with the looming NCAA changes that are incredibly boring to explain but also crucial because of the dividing wall emerging between the Power 5 and the American, MAC, Mountain West, C-USA and Sun Belt.
The Power 5 wants the right to make its own rules, and if they can't play by those rules, they might take their ball and go home.
But that's a delicate balance for many at this week's SEC spring meetings in Destin. Several officials grew up on small-school life and don't want to crush it. As South Carolina president Harris Pastides said, a Division-4 "would have been a little more like major leagues vs minor leagues, and I don't think that's particularly good for fans or universities." 
But in a conference with six schools over the $100-million revenue mark, sometimes the commonality is found only in a few lines down an athletic director's resume.
Just take Ole Miss athletic director Ross Bjork, who was Western Kentucky's AD before moving to Oxford. Today is like yesterday for him because it's still about branding, though it's no longer about access.
"When I was at WKU, we wanted to be a BCS program -- technically, we were a BCS program," Bjork said.
Everyone called themselves Division-I, Bjork said. That will still be the case after legislative changes pass some time August, only repackaged in a two-tiered system: Power 65 and all of FBS and "how that's defined based on resources," Bjork said.
So how will the $20-million budgets and $100-million budgets co-exist? After living in both worlds, Bjork hopes and expects they will.
"You have to schedule," Bjork said. "You have to play each other. There hasn't been any talk about separating us."
But then there's the harsh reality, Bjork said: Schools paying for cost of attendance and unlimited meals could stop paying for something else, such as a non-revenue sport.
Texas A&M AD Eric Hyman got his start at VMI and knows he wouldn't be the Aggies' jock boss without that springboard.
Part of him wishes both were similar. But that's just not true. Hyman is building 102,000-seat stadiums now.
"As time goes on, there's not a lot of similarities," Hyman said. "And the gap has gotten larger. To be able to have the autonomy, there are things we'd like to be able to do. And now I think we'll be able to do them a lot faster than we have in the past."
Within the 65, some are more powerful than others. Florida is not the same as Vandy because of tradition, championships and fanbase reach.
If we're talking about raw power on a broader scale, is Wake Forest really that much different than NIU? Is Mississippi State that much more powerful than UCF?
Maybe there's a slight edge in tradition, but not always on the field -- UCF's Fiesta-Bowl-winning team beat Baylor and Penn State last year.
If money equals power, however, then the answer is a resounding yes. Sixty-five found the right side of the television revenue line by conference affiliation. Look no further than Tulane, which left the SEC in the 60s. West Virginia and TCU left conferences that pay a few million per year in television revenue for the Big 12, which can pay $20-plus million per school.
There are tiers of power beyond a dividing line of 65, though Vandy athletic director David Williams says he never feels strong-armed by the biggest schools in his conference. Dissention doesn't exist internally, Williams said.
"If you have a Rolls Royce and I have a Chevrolet, we're still going to end up in the same place," Williams said.
Florida athletic director Jeremy Foley runs one of the SEC's proudest programs but probably speaks for the league when saying, "the time has come" for change.
"For the longest time we haven't had total control of how we run our enterprise," Foley said. "There are things that need to get done related to our students and how we do our business…We're not trying to upset the apple cart. I think that time has come. That's what people are thinking."
Sure sounds like Power 5 language.
Occidental College was reportedly down to 35 healthy players for the 2017 season

Midway through the season, we make some (more educated) predictions for the rest of the ye...

Babe Ruth supporting the Fighting Irish is one of the best photos of the week
Could two teams from the same conference make it into the College Football Playoff?

Given the schedule and recent performance, can anyone in the SEC stop Alabama?

SportsLine's Barrett Sallee has gone 29-14 against the spread the last two weeks and loves...