Migraines, 'small strokes' force Wisconsin lineman Jordan Kohout into early retirement
Badger lineman giving up the game for the sake of his brain.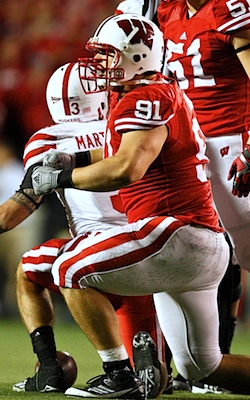 The more we learn about football's damaging effects on the brain, the more ominous any report of "headaches" begins to sound. But even within that context, the news for Wisconsin defensive tackle Jordan Kohout was particularly frightening: After submitting him to an MRI in response to recurring pain during spring practice, doctors discovered that Kohout had suffered two "small strokes" as a result of migraines – more than enough to convince the 6-foot-3, 290-pound junior to give up the game for goodat age twenty-one.
In Kohout's own words, from Wisconsin's official team site:
"It starts with a light flash, light streaks; migraine sufferers call it an aura," Kohout explained. "Tunnel vision would kind of form and it was followed by pretty intense pain; sometimes vertigo, too. I'd have them every time I had contact in practice … I woke up one day with streaks of light and I had them the whole day. It was pretty awful."

Dr. John Wilson, the football team's physician, ordered an MRI.

"He wasn't expecting to really find anything too much," Kohout said. "But as it turns out, I had two small strokes due to the migraines and that was quite a shock to all of us."
[…]
"To hear it was a stroke was also pretty surprising because I didn't feel like I was having one. I wasn't dealing with anything that was too abnormal I thought. That's the thing; I didn't feel different. They were just headaches – headaches with the aura of light and sometimes the dizziness that goes along with migraines and the pain. Other than that, mentally, I was doing fine in school."
More than fine, actually: Kohout has been named Academic All-Big Ten each of the last two years. On the field, he started seven games in 2010 as a redshirt freshman, picking up a Freshman All-Big Ten nod in the process. Last year, he played in all 14 games off the bench, including his second consecutive Rose Bowl; he finished with 22 total tackles in both years.
This year, Kohout will remain on scholarship as a medical hardship, and he's not done with football just yet: He'll be part of the team this season as a student assistant coach. Stewardship of the middle of the Badger defensive line falls to juniors Beau Allen and Ethan Hemer, whose mothers continue to implore them to be please be careful out there.
Florida's roster got a boost on Tuesday with the return of several key members of the prog...

Tom Hutton joins the ranks of former Aussie rules footballers joining the college football...

The freshman is already on Heisman lists after throwing the walk-off score in the national...
These seven teams should make the most noise down the homestretch towards signing day

Air Force was forced to cancel 11 athletic events because of the 69-hour government shutdo...

Olson has a lot of the tools offensive coordinators want in a quarterback