Mike Slive, Jim Delany make case for 'collegiate model' while it goes on trial
SEC commissioner Mike Slive and Big Ten boss Jim Delany defend the current model of collegiate athletics while acknowledging that changes must be made.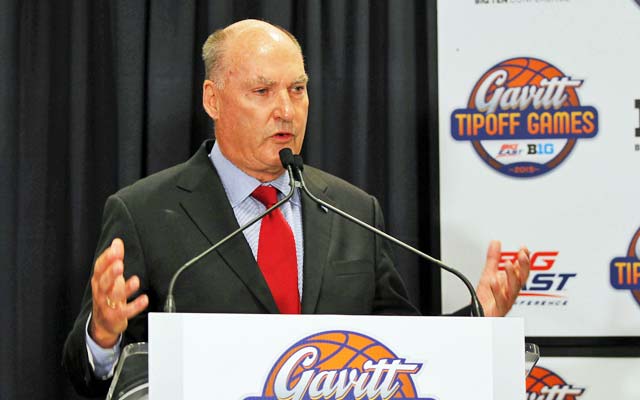 More: O'Bannon news | On CFB: Dennis Dodd | Jeremy Fowler | Jon Solomon
DANA POINT, Calif. -- Outside, the collegiate world roiled and raged. Inside a luxury resort set high on Southern California cliffs, arguably the two most powerful men in college sports approached a couple of reporters.
"Do you need anything from us?" SEC commissioner Mike Slive said.
Well, sure, of course. Any opportunity to speak to Slive and Big Ten commissioner Jim Delany is welcome, especially now. These days, they are the Lennon and McCartney of their profession. For about 20 minutes Tuesday, the pair riffed off each other on the issues of the day.
The model they are doggedly defending is under fire north of here in an Oakland courtroom. Meanwhile, in a quiet Ritz-Carlton hallway, it was obvious those combined 65 years of college administrative experience are going to count for something.
They are not giving up easily what has come to be known as the "collegiate model." One (Slive, 73) is a first-generation college graduate. The other (Delany, 66) is a second-generation college grad who was more than happy with a scholarship that accounted for his $213 North Carolina tuition.
"I believe that college athletics is revered and positive, an American institution," Delany said.
"Part of our DNA as a culture," Slive added.
At the end of a three-hour meeting with their 30 other Division I peers here at the Collegiate Commissioners Association meeting, the pair made their case.
The athlete-student -- it's OK saying that -- has to be protected. What was once believed a costly competitive advantage -- filet mignon at training table, a four-figure stipend -- is being considered well-being for that athlete-student.
"What has really changed?" Delany asked of that precious collegiate model.
"Is it the fact that coaches are more successful? Did that change the relationship between the athlete and the school?
"When I played [for Dean Smith at North Carolina] 40 years ago every game was sold out, every game was on statewide TV. I was well known on my campus. I had an image and likeness. I was just another guy at the time but I was recognized."
And that was enough. Times, technology -- and their jobs -- have changed. Slive and Delany oversee athletic enterprises that produced a combined $630 million in revenue in fiscal 2013.
They want to preserve much of the status quo while improving conditions for the athlete. If that prices some lower-resource schools out of the cost-of-attendance game, what has really changed? Bowling Green doesn't have much of a chance against Ohio State on any given Saturday.
They want change to come from within. Voting autonomy and reform will be controlled by the stakeholders.
The courts -- it seems by now -- will have their say. While O'Bannon plays itself out, there is real concern among the Big Five commissioners about other anti-trust lawsuits, particularly from powerful anti-trust attorney Jeffrey Kessler.
The argument comes down to semantics. If the athletes deserve more benefits, at what point does anyone consider them professionalized?
"I don't know how you viewed yourself, but when I was in college, I knew how I viewed myself," Delany said. "I played basketball since I was eight years old. I viewed myself as an athlete. There's nothing wrong with a person seeing himself as an athlete …
"That's not inconsistent with being a full-time student and getting a degree …
"If you're a dramatic arts major, do you view yourself as an actress or do you view yourself as a student? If I'm a painter, are you a painter or a student?"
That's really the question of the times: Whether the tradeoff is even possible anymore at the highest levels -- integrating that free athletic scholarship into a legitimate educational experience.
Delany asked the same question a different way: "When did it change?"
Well, frankly, when the money got so big that lawyers saw the opportunity for big enough payoffs if they challenged the status quo.
"I wouldn't say that but … " Delany said.
Beyond that, athletes became self-aware. Had administrators and coaches been more sensitive to the demands of major-college sports, perhaps we wouldn't be dealing with unionization at Northwestern.
Maybe the NCAA, coaches, commissioners, presidents, networks got so fat on college sports' popularity they didn't see the challenges coming.
Whether it is a collegiate model worth defending might depend on those faceless lawyers and judges. What has changed? Vanderbilt players are being used as examples of athletic access. Tonya Harding is being compared to Johnny Manziel.
It's silly, it's serious, it's about to be decided one way or the other. On a sun-splashed SoCal day high above the Pacific Ocean, two powerful men discussed a system and why, to them, it was worth saving.
Snippets of their views …
Delany: "The [collegiate model] is unique. It's very unique. It doesn't exist in Asia or Africa. It's been around for 100 years. It binds communities together. It provides opportunities.
"It's imperfect as most American institutions are. Sometimes it's done really, really well. Sometimes it's done not so well. We've been a little bit stuck to be honest with you in making some of the evolutionary changes. [But] we're going to do that no matter what happens in these courts."
Slive: "The litigation is going to take care of itself but the areas in which we have the area to act, we are acting ... The student-athlete comes first. Maybe that hasn't been the philosophy over the last 20-30 years. It is the basis for the entire process we just spent three hours talking about."
"It's a paradigm shift in how institutions think about what we do."
The existing lawsuits, Delany said, will play themselves out in 2-3 years. "Between now and then, we do the best to reshape our lives, do the best we can to support the principles that we believe in through litigation.
"Then it gets played out in America in the courts, which is a better place for it to be played out than other countries. Other countries, they don't have a way to resolve these issues ...
"It's not a Republican issue, it's not a Democratic issue. It's an issue of how we can sustain the collegiate model. The more collegiate it is, the more sustainable it is. The less collegiate it is, the less sustainable it is. Our job is to make the balance happen."
Slive: "What is the glue? What is the differentiating factor? You can be as cynical as you want about it but [education] is a critical part of being an athlete in college ... It provides an opportunity that doesn't otherwise exist to other people in our culture."
Delany: "We have control over restructuring and reform. We are not responsible except to make the best principled arguments we can."
Slive: "That doesn't mean we don't have points of view.
"We have to move from the so-called level field to where the student-athlete is primary. The question I asked you, when you write your book in 2025 about this period, my hope is that you'll write about it as an ongoing evolution."
Reporter: "I just want to see the bands, enjoy the color and cover games."
Slive: "I think the American people want that."
The Fornelli 50 ranks teams based on nothing but their performance in 2017

Find out which of your favorite team's players are among the nation's best midway through...

Anybody can rank the best college football teams, only we rank the worst each week
The Badgers never get talked about, but that might change if they keep up their hot streak

Our computer model simulated every Week 8 college football game 10,000 times with surprising...

Frost was a former star option quarterback at Nebraska