Mike Stoops has 'utmost respect' for Johnny Manziel, despite comments
Oklahoma defensive coordinator has the 'utmost respect for Texas A&M and Johnny Manziel' despite jokes about Manziel's Twitter controversies.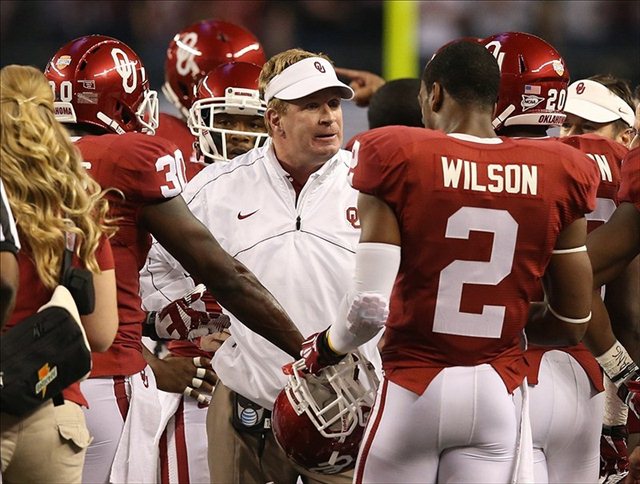 Mike Stoops' long night at the Cotton Bowl led to some interesting comments on the radio. (US Presswire)
Mike Stoops was clearly trying to be funny. He prefaced his comments with effusive, glowing praise. They were made in an off-the-cuff manner on live radio.
No matter: If you say this about the biggest current star in college football and a player on his way toward Paul Bunyan status in East Texas ...
Mike Stoops on WWLS: "If they can keep (Johnny Manziel) out of jail or keep him eligible, he's gonna be pretty good."#Sooners #Aggies #Gigem

— John E. Hoover (@johnehoover) January 11, 2013
... you're going to cause some serious waves, regardless of context.
Which is why the Oklahoma defensive coordinator "reached out through an OU athletics department spokesman late Friday" and told the Tulsa World that he "regretted" (in the World's words) his comments about Manziel. 
Stoops has the "utmost respect for Texas A&M and Johnny Manziel," according to the statement made to the World. And that's easy to believe given what Stoops had to say about Manziel, initially, in his interview with WWLS.
"I've seen a lot of football players play a lot of different styles with guys, but never seen anything like that in my whole life," Stoops said, per the World. "I mean, I've never felt as defenseless as we were the other night [in the Cotton Bowl], that's for sure.

"You know, any time you can go for 500 yards against a team like Alabama, what they did to Notre Dame, that tells you. You don't need to say anything else. On the road at Alabama, that guy was phenomenal that night."
But that's when Stoops took things a bit further.

"They're gonna be tough to deal with. If they can keep him out of jail or keep him eligible, he's gonna be pretty good," Stoops said, possibly referring to Manziel's midsummer misdemeanor arrest (and famous shirtless mugshot). "If they can keep him off the Twitter, he might win three or four Heismans. He'll have that type of ability."
Stoops' reference to Twitter appears to be a shot at Manziel's recent appearances on social media, where he's been photographed flaunting cash won at a casino and partying at a Dallas bar (both legally). Even Manziel himself has joked about his burgeoning Internet party-stardom, Tweeting this Sunday:
Great visit to the hospital today in Connecticut made a ton of new friends. Hopefully this picture passes compliance.. twitter.com/JManziel2/stat…

— Johnny Manziel (@JManziel2) January 11, 2013
But Manziel nonetheless didn't seem to take kindly to Stoops's barbs, passing along to his 265,000 followers the following tweet featuring Every Day Should Be Saturday's Spencer Hall:
RT @edsbs: [puts ten bucks on Manziel staying at his current job longer than Mike Stoops]

— Texas HS Football (@texashsfootball) January 11, 2013
"Utmost respect" or not, any future bowl meetings between the Aggies and Sooners promise to have a little more edge to them as long as Stoops or Manziel are there.
Olson has a lot of the tools offensive coordinators want in a quarterback

The Tigers have a wealth of talent at their biggest position

Pineiro received the award for stopping an attack the morning of Oct. 15, 2017
The first opening weekend lines for college football in 2018 have been posted

A year-end wrap-up of college football statistics you need to know from 2017

Stanford produces apps and Super Bowl participants