Minnesota and Jerry Kill: What does future hold?
Minnesota coach Jerry Kill, who is being treated for epilepsy, will force the Gophers into a difficult decision if they struggle in Big Ten play this year.
• 6 min read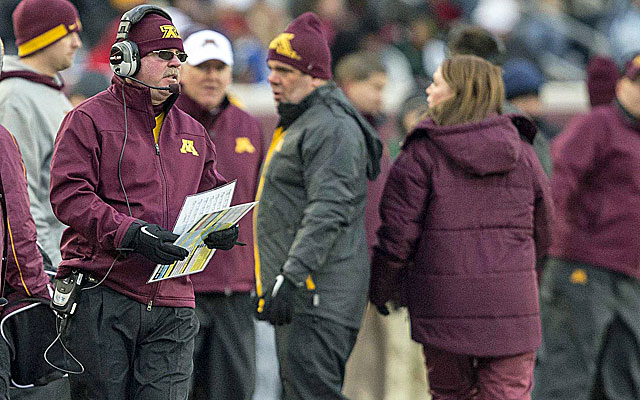 As Minnesota coach Jerry Kill is away from his team to receive treatment for epilepsy, Minnesota faces a question that seems difficult to answer under the circumstances.
How does the school accommodate the sensitive nature of Kill's situation while evaluating his job performance in a results-based business?
The answer isn't so clear-cut, largely because Kill isn't with the team. The school must decide if Kill's tenure should be viewed through the prism of wins and losses or with a broader scope, that maybe Kill can guide a winner if healthy, assuming he gets healthy.
That stipulation hinges on whether he can keep the condition under control in the next few weeks or months.
Another factor in play is whether the program Kill has built for nearly three seasons can withstand a Big Ten schedule without him. The play on the field from now until late November will display the Gophers' improvement or regression under Kill's leadership.
Based on reports about epilepsy and Kill -- who's widely considered by peers and media members as a great man and coach -- the last thing Kill wants is to play a victim or allow the epilepsy to hinder his coaching ability.
With that in mind, Kill's tenure should be judged, at least in part, the same way most coaches are: By whether the on-field product is improving.
After Kill's fifth seizure-related episode while Minnesota's coach, the public concern includes sentiments of hope (I hope he's OK), inspiration (he can overcome it) and acknowledgement (Kill is a great man).
Then there's a different level of concern bubbling under the surface among many in the college football community who wonder what Minnesota's strategy is. They wonder whether Kill should resign after the season, for his own good. CBSSports.com columnist Gregg Doyel wonders the same.
Gophers athletic director Norwood Teague declined comment for this story through a school representative, but Teague has said publicly "our support for Kill is unwavering" while Kill seeks treatment and defensive coordinator Tracy Claeys serves as interim coach.
If Minnesota did its research when Teague's predecessor Joel Maturi hired Kill in December 2010, the Gophers must have prepared for a moment like this. Kill was diagnosed with epilepsy in 2005 after suffering a seizure on the sideline while coaching Southern Illinois.
Nearly 70 percent of epilepsy patients can curb the seizures with the right medication, according to the National Epilepsy Foundation. Minnesota can take hope in this.
But how much will that matter if Minnesota struggles on the field?
State of Minnesota on the field
Minnesota was not exactly a destination job when Kill took over after the 2010 season. The Gophers haven't had a winning Big Ten season since 2003, also the last time they won more than seven games in a year.
Kill walked into a difficult spot with marginal talent. Minnesota likely hired Kill with reasonable levels of patience in mind. At Kill's last two jobs, Southern Illinois and Northern Illinois, he elevated the program to 10 wins in his third season there.
But the current outlook for Minnesota in Big Ten play suggests the Gophers will finish at or near the bottom of the Big Ten Legends Division, a factor that could complicate matters as the late November carousel approaches.
With conference-opening losses to Michigan and Iowa by a combined margin of 65-20, Minnesota (4-2) has a difficult six-game stretch to end the season. The Gophers play at Northwestern, Nebraska, at Indiana, Penn State, Wisconsin and at Michigan State.
The only game where Minnesota might be favored -- and that's a big "might" -- is at Indiana, but that's a road game against a team that knocked off Penn State a few weeks ago.
Let's say Minnesota gets Indiana and drops the remaining games. That would place the Gophers at 1-7 in Big Ten play and 5-19 through three conference slates under Kill, who would be 14-23 overall in that scenario.
Kill would average 1.7 Big Ten wins per season, a winning percentage of .227. From 2000-11, Minnesota averaged 2.9 Big Ten wins out of an eight-game league schedule, or a winning percentage of .363.
On the other side, two more wins and Minnesota goes bowling for back-to-back years. Maybe that's progress. The Gophers could pull off a few upsets to validate Kill's work over three seasons.
It's worth asking … If Kill went 14-23 in three years and didn't have a health issue, would Teague keep him?
The picture is muddled because Kill does have a health issue. But whether it should or shouldn't count against Kill in the evaluation process is subjective.
Prospects for Minnesota to get better
Every program evaluates recruiting vs. perception, so it's natural Teague will consider how recruits perceive Minnesota based on Kill's health.
Recruiting is ruthless enough where other schools can and will use Kill's condition against the Gophers.
Even if Minnesota thinks Kill is a Lombardi-level coach, a good scheme doesn't always offset a challenging recruiting climate. Whether Teague figures Kill faces an uphill battle to attract Big Ten talent is undoubtedly a factor here.
Recruiting rankings are not gospel, but the Gophers could stand to improve on their dead-last ranking among Big Ten teams for the 2014 recruiting class, according to 247Sports.com. The site also ranked Minnesota No. 12 in the conference last year and No. 10 in 2012.
Conversely, the way Minnesota rallies around Kill's condition could help recruiting. With so much exposure in recruiting, high school players can be open-minded and embrace unique challenges. Gophers players seem to care for Kill, and recruits notice that.
Minnesota isn't a recruiting hotbed, but ranking last in a conference that's losing talent to the South because of what Ohio State's Urban Meyer calls an obvious population shift is noteworthy.
Of the top 10 in-state prospects, three have verbally committed to the Gophers and five are undecided. Rutgers and Alabama have landed verbal commits from Minnesota. Keeping local products in Minneapolis is a good start.
Precedent
There doesn't seem to be one.
Whether there's a documented incident of an FBS-level head coach dealing with epilepsy is uncertain, or at least I haven't found one.
Generalizing health concerns is a dangerous practice, since each case is different and should be evaluated as such.
But three health cases with football coaches from recent years provide a small sample size for how administrations might handle such a process. Hint: Schools or coaches move on eventually.
• Paul Gorham, former Sacred Heart head coach
Gorham suffered from idiopathic pulmonary fibrosis, underwent a double lung transplant and had both legs amputated.
Gorham, who went 34-51 in eight seasons, was notified of his release this offseason and told the Hartford Courant, "I am shocked and disappointed by the decision."
• Steve Kragthorpe, LSU offensive coordinator
In Aug. 2011, news surfaced that Kragthorpe had been diagnosed with Parkinson's disease. Kragthorpe relinquished his offensive coordinator duties and remained on staff.
• Dan Allen, Holy Cross. Allen suffered from a condition called multiple chemical sensitivity and was partially paralyzed as a result.
The health issues became apparent in 2002 and he reportedly coached 2003 from a wheelchair. The school relieved Allen of his duties after the 2003 season. Allen, who went 26-63 in eight years at Holy Cross, died in 2004.
Decisions can hinge on whether a coach's condition is perceived as treatable, or able to be overcome completely. Take St. John's basketball coach Steve Lavin, who missed an entire season due to prostate cancer and is back with the team. St. John's went 17-16 last season.
Next step
High-level coaching is an impatient business. Coaches no longer get three years to rebuild a program (see: Jon Embree and Ellis Johnson).
If the Gophers want Kill to coach them long-term, they'll need a few marquee wins this season or just buck the impatience trend and wait for a resurgence. Kill is reportedly under contract until 2017 at around $1.2 million per year.
The operative word for athletic directors is improvement. Even if wins aren't immediate, ADs need to see recruiting strengthened, halftime adjustments made, a locker room united.
For Kill to show that progress, he'll need to be around.
It's hard to find someone rooting against Kill, a grassroots coaching success story who has inspired his team with his fight.
His program could be more resilient than given credit for. Kill and Teague are about to find out in the next seven weeks.
Olson has a lot of the tools offensive coordinators want in a quarterback

The Tigers have a wealth of talent at their biggest position

Pineiro received the award for stopping an attack the morning of Oct. 15, 2017
The first opening weekend lines for college football in 2018 have been posted

A year-end wrap-up of college football statistics you need to know from 2017

Stanford produces apps and Super Bowl participants