Miss. State finalizes $75 million expansion plan for Davis-Wade Stadium's 100th birthday
Century-year-old digs will expand to 61,337 in 2014.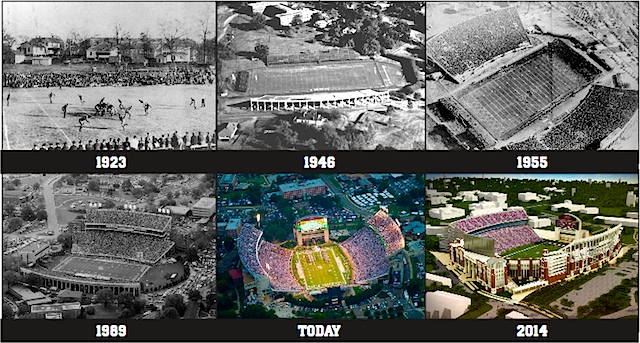 Mississippi State fans have always punched above their weight class, decibel-wise, with a little help from their constantly clanging cowbell friends. As of 2014, there should be quite a few more of both in the stands, courtesy of a nearly 9,000-seat expansion to Davis-Wade Stadium, just in time for its centennial. Final details were announced this morning. Construction is set to begin immediately.
The stadium project is a long time coming, but prior to today seemed to be the stuck in the "planning" phase. Now, there's a concrete plan for the finished product. The final price tag: $75 million, down slightly from initial projections of $80 million. The new capacity: 61,337, after the addition of more than 8,800 new seats/cowbells. (If you're doing the math relative to the current capacity, yes, that means about 2,500 existing bleacher seats in the north end zone will be eliminated to make way for the end zone-enclosing expansion.) The timeline: Two years, in time for the 2014 season. The virtual tour: May be taken here.
The new capacity pushes Davis-Wade Stadium past Ole Miss ' Vaught-Hemingway Stadium (capacity: 60,580) among SEC venues, an important bragging-rights victory in and of itself, even if the post-expansion capacity will make Davis-Wade just the 12th-largest edifice in the conference out of fourteen. (Lagging far behind the pack, it's Vanderbilt Stadium in Nashville, which seats just 39,773 and hasn't actually held that many people since 2008.) Sorted by percent of capacity, though – an actual statistic tracked by the NCAA – MSU fans made Davis-Wade the most over-stuffed stadium in the league last year, exceeding official capacity in every home game, even the ones against Louisiana Tech and Tennessee-Martin. Season tickets for 2012 have sold out for the third year in a row.
Elsewhere in the SEC facilities race, newcomer Missouri has already announced plans to expand Memorial Stadium as it enters the land of 92,000-seat behemoths, and just sold out its allotment of season tickets for the first time ever in its first season in the conference. If you build it, and then sell a home schedule that includes visits from two of the top six teams in the preseason polls, they will come.
- - -
Photo history of Davis-Wade Stadium via Mississippi State Athletics.
A new names joins Saquon Barkley, Baker Mayfield and JT Barrett in the race

Anderson didn't hold back when taking a shot across the state

Arizona State will wear military-themed uniforms against Colorado on Nov. 4
The Gators are off to their worst start since 2014

Just in case you wanted another reason to watch this game

Irvin's son is a sophomore tight end for the Hurricanes