Missouri makes noise in SEC, but biggest tests are still ahead
Missouri was once known as a giant killer, but has been plagued by inconsistency over the years. Now in the SEC, Mizzou tries to build off a watershed win at Georgia.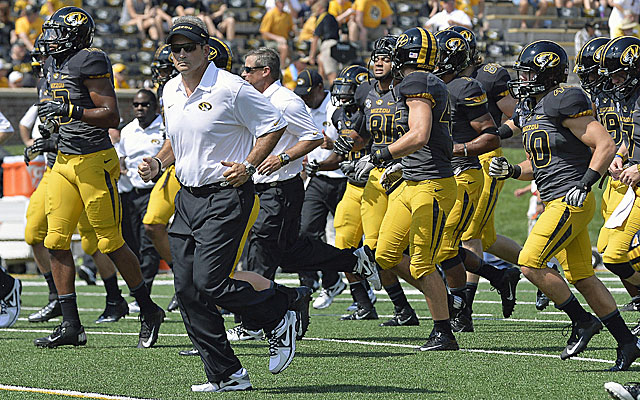 There once was a Missouri coach named Al Onofrio. They called him "Uncle Al" because, well, he looked like your uncle -- or science teacher or driving instructor.
There wasn't much intimidating about Al Onofrio, except that he was one hell of a coach against top 10 teams. During the 1970s, Uncle Al established Mizzou as the upset kings of college football. From 1971-77, the Tigers beat Notre Dame at South Bend, USC at the Coliseum, Arizona State in Tempe, Ohio State in Columbus and Nebraska in Lincoln (as well as Columbia, Mo.).
The problem was Onofrio's teams were maddeningly inconsistent. They lost at No. 6 Nebraska 62-0, the week before they won at No. 8 Notre Dame. In the same year the Tigers knocked off No. 2 Nebraska, they ended the season losing to Iowa State and Kansas. They began 1975 on national TV beating Bear Bryant. They ended it losing to Bud Moore. We'll save you the Google. He was the Kansas coach at the time.
All of it is a bit ingrained in Missouri's history. Even when they win, it seems, there is some sort of soul-crushing result at the end of the rainbow. Such is the case this week as the program drafts off one of the biggest wins in its history, an SEC breakthrough victory Saturday at Georgia. The win in Athens marked the program's first over a top 10 opponent on the road in 32 years. That it came in only Missouri's 10th SEC conference game matters only as a historical benchmark.
This is a program and a school during conference realignment that practically thought it was entitled to an invitation to the Big Ten three years ago. It was skipped over for Nebraska. A year and a half ago there were concerns about football's competitive ability in the mighty SEC. That changed in an instant.
Saturday's win marked the Tigers' transition from member of the SEC to actual participant in the Strength Everywhere Conference. It proved the school wasn't just a warm body for Mike Slive in realignment.
Now what?
For the time being, the road to the SEC East title goes through Columbia, Mo. The Tigers, 6-0 for the third time since 2006, host Florida and South Carolina the next two weeks.
"To me the whole thing is setting up so well for Missouri," said Gary Barnett, Missouri class of 1969 and former coach at Northwestern and Colorado.
Except that they'll embark on this wonderful, dizzying stretch, without starting quarterback James Franklin. He was lost in the Georgia game with a sprained shoulder and will be out three-to-five weeks. And if we've learned anything through the first of this season it's all about quarterbacks.
"We're now running offenses that are totally quarterback oriented," Barnett said. "Used to be you'd get a quarterback hurt, you'd go to the next guy he'd hand it off."
Now you're talking about realignment of another kind. The next man up is redshirt freshman Maty Mauk. He replaces Franklin, who was third in the SEC and 23rd nationally in total offense. Franklin was charismatic, athletic, determined to finish his senior season with a flourish.
Now his senior season may be finished. Period.
"It was a contrast in emotions in that locker room after the game," Mizzou coach Gary Pinkel said. "We have a great win and we're exciting about it, and then you have James there over there on the side, having a great year as good as anybody we've ever had. That's life."
Somewhere Uncle Al is smiling a wry, bitter smile. Something always seems to smack Missouri back down whether it's a Fifth Down or a Flea Kicker.
Unbelievable highs and bottomed-out lows. That's life?
For now, at least, the Tigers are a factor -- in the SEC and nationally. There are only 13 undefeated teams halfway through the season. Missouri is one of them and wouldn't have to face the other in the SEC (Alabama) until the conference championship game.
It's a different league that Mizzou has helped make over since it joined two years ago. The SEC is second-highest scoring conference in the country. Either the national offensive revolution caught up to it or newbies Mizzou and Texas A&M forced their Big 12 offenses on the staid, traditional league. It doesn't really matter.
Both programs have arrived in the nation's strongest conference -- competitively -- earlier than expected. A&M has Johnny Football. Missouri, at this point, has Mauk.
"He's going to be nervous," Pinkel admitted. "We know he's going to be nervous."
Nothing against Mauk but his presence is the living embodiment of that Missouri history this week.
Going into one of the biggest stretches of football in their history, the Tigers will rely on a veteran of exactly six collegiate passes. Mauk finished up admirably at Georgia, guiding the Tigers to a 41-26 win after he entered when an 18-point lead had been cut to two. But he's still the backup and he's definitely not James Franklin.
"The future is getting here a little faster than we wanted it to," said Josh Henson, Mizzou's offensive coordinator. "Maty's biggest positive is what you saw in that Georgia game. He's not nervous at all. He just comes in and plays."
Nervousness may be moveable target this week, but as a whole, these Tigers are playing like they're not self-aware. Coming off a 5-7 SEC debut, not much more was expected in 2013. Pinkel began the season -- in some publications -- on the hot seat.
The team's success to date is almost a direct function of Franklin being healthy. These are more confident Tigers, more productive. There seems to be a lot that fabled "SEC speed." Confidence spreads. Leading a big-play defense, defensive end Michael Sam landed on CBSSports.com's midseason All-America team.
Franklin's presence, though, cannot be undervalued. Even when he played with two bad legs last year at Florida last season, the Tigers came within an eyelash of the upset, losing 14-7. Franklin threw four interceptions, mostly because he couldn't get his feet set underneath him.
"Sometimes you go through a season like we did, last year I think it tests a little bit about who you are. Are you going to step up?" Henson said. "I think the kids all made their minds up we were get the program on track. When you've been winning week after week after week, you get spoiled. Winning's hard."
From the moment Franklin went down against Georgia, the Tigers played like they were going for it.
With the lead cut to 28-26, Henson called for a double pass -- Mauk to receiver Bud Sasser who then threw to an interfered-with L'Damian Washington for a 40-yard touchdown.
"If you lose yards there you look like an idiot," Henson said. "We had talked about if it wasn't there, throw it away. The momentum of the game, it was time for us to take a shot."
Henson himself is rounding into shape as an SEC coordinator. As tight ends and recruiting coordinator at LSU from 2005-2008, he helped win a national championship working under Les Miles. When Dave Yost resigned, then eventually went to Washington State after last season, Henson was the logical choice to move up from Tigers' co-offensive line coach to OC in Missouri's second SEC season.
"I don't know if you can play a team like Florida and be conservative," Henson said.
Take that has foreshadowing -- or a warning. Pinkel maintains that the offense will remain unchanged with Mauk. Henson says only that he will take a little more time off the field going over the game plan with his new quarterback.
After that -- for better or worse -- Mauk will be thrown to the Gators and their No. 3-ranked defense.
Mizzou has been at this spot before. Six years ago, it soared to No. 1 and made the cover of Sports Illustrated after beating previously unbeaten Kansas. The next week, it was drilled by Oklahoma in the Big 12 championship game. Three years ago, it beat a No. 1 team for the first time (Oklahoma, No. 1 in the BCS only), then split its last six games.
As potentially wonderful and dizzying as these next few weeks will be, Mizzou has earned its varsity letter in its new conference. In some shape or fashion -- the Tigers have arrived in the SEC. The league and nation must pay attention. The question is, for how long?
Pinkel this week recalled the spectacle that was the 2012 season opener against Georgia. The Tigers were game in their first SEC game but faltered in the fourth quarter. Franklin was hurt that night beginning a cascade of negative occurrences.
Still ...
"Mark Richt, his thoughts after the game were, 'Mizzou people get it. This is SEC football,' Pinkel said. "One of the many things that stand out about the SEC is the game days. It is the world."
Somewhere Uncle Al is smiling. Isn't he?
Mayfield has also taken an important side in the Katy Perry-Taylor Swift feud

There are seven SEC teams in this week's college football rankings, but Alabama is not No....

For the first time, we have a tie for the top spot in the CBS Sports 130
Mayfield has passed last year's Heisman winner, Lamar Jackson

Georgia-Tennessee has been picked as the SEC Game of the Week

A look back at the weekend that was in college football