Missouri RB Henry Josey returns from knee injury in scrimmage
After horrific knee injury and series of surgeries, dynamic running back Henry Josey returns to practice field.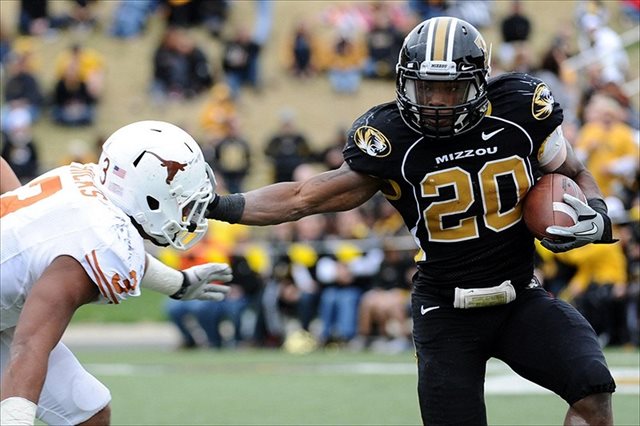 In 2011, only one FBS running back carried the ball more than 100 times and still averaged more than 8 yards per carry: Henry Josey, the Missouri tailback who was well on his way to national stardom when a freak "one in a million" knee injury against Texas tore both his ACL and MCL, ruptured his patellar tendon and eventually cost him the entire 2012 season.
So it's one of the better stories of all of 2013 spring football that Josey is back on the practice field and gearing up for his delayed junior season, taking the first carry of Missouri's first spring scrimmage last Saturday and going for 17 thrilling yards.
"It was like old times," Josey told the Columbia Daily Tribune. "I've been waiting on this moment to get back out here, and I just put my faith in God. I'm finally back out here. I had the support of my teammates behind me. Just getting out here and doing it without thinking about it so much was a big thing, too."
The rest of the scrimmage wasn't as successful as that first run for Josey, who finished with eight carries for 28 yards. But Gary Pinkel, who called Josey's recovery a "great story" he hopes will become a "remarkable story" this fall, believes Josey isn't far from the tailback he once was. 
"He's very close," he told the Tribune. "Honestly, I didn't know what to expect. But he's really close."
A Josey that's even "very close" to the 2011 version would be a huge boost to a Tigers offense that simply can't afford to let the loss of 1,000-yard rusher Kendial Lawrence affect its running game. The Tigers, who had the second-least efficient passing game in the SEC last season, are in the middle of a quarterback battle among three players: James Franklin, Maty Mauk and Corbin Berkstresser. And, despite some quality experience, the offensive line has questions that need answers, too.
In short: This isn't the sort of offense (and it won't play the sort of schedule) that can afford to give up yards on subpar or even adequate play from its tailbacks.
If all Josey can do during the 2013 season is take the occasional live handoff, it will still be a major triumph. If he plays a role in a Tigers recovery from their losing season -- and helps establish them as a viable concern in the SEC East going forward -- it will be one of the stories of the SEC's season.
Occidental College was reportedly down to 35 healthy players for the 2017 season

Midway through the season, we make some (more educated) predictions for the rest of the ye...

Babe Ruth supporting the Fighting Irish is one of the best photos of the week
Could two teams from the same conference make it into the College Football Playoff?

Given the schedule and recent performance, can anyone in the SEC stop Alabama?

SportsLine's Barrett Sallee has gone 29-14 against the spread the last two weeks and loves...