Mizzou treats Michael Sam's sexuality as non-issue
Future NFL player Michael Sam announcing he's gay is a huge national story, but Mizzou treated Sam like a teammate and a great player.
• 2 min read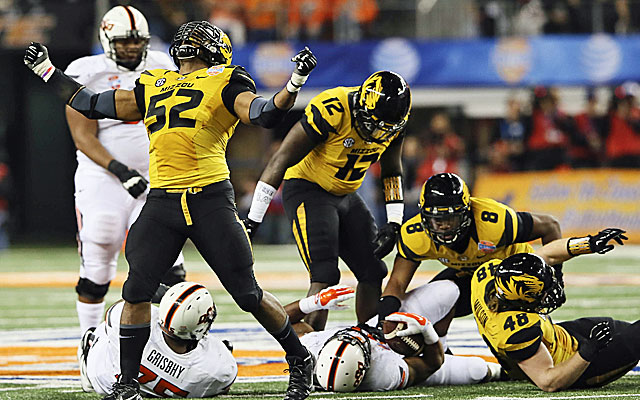 More: Sam says he's gay | Dodd: Future is here | Prisco: What about NFL life?
The NFL could learn from Mizzou, which treated Michael Sam like a teammate and not a story after learning of his homosexuality.
Sam told the Tigers in August. Mizzou not only played the entire season without leaking Sam's preference to the media; It supported him, made him a team MVP and watched him sack the quarterback 11.5 times.
The NFL has long sold the tenet that its locker rooms are sacred places that shouldn't be disrupted. Well, apparently an SEC locker room, with nearly twice the number of players, branded Sam with two labels.
Teammate.
Pass rusher.
"We're really happy for Michael that he's made the decision to announce this, and we're proud of him and how he represents #Mizzou," Missouri coach Gary Pinkel said in a statement Sunday night, a response to Sam's interviews with ESPN and the New York Times announcing he's gay.
Mizzou's official Twitter account countered with a "proud of you" tweet and a picture of Sam with his arms outstretched in what appears to be a pregame introduction. There's a chance some teammates had a problem with Sam -- impossible to speak for every player -- but overall the front seems united.
This news was such a distraction for Mizzou, the Tigers won 12 games and fell 17 points shy of a BCS title game berth in a 59-42 loss to Auburn in the SEC championship.
Of course Sam's coming out has mushroomed into a national story in part because the NFL never has had an openly gay player. Some NFL execs are concerned, according to Sports Illustrated, with the looming distractions and the difficulty acclimating a gay player into a place where racial epithets are still thrown around like Drew Brees screen passes.
NFL locker rooms have produced Richie Incognito bullying and Saints bounties for head shots, and yet Sam would be the distraction?
In fact, the feedback I got from NFL folks about Sam's announcement Sunday night was positive.
One NFC exec: "He's a good player. In the end, that'll always take precedence."
Added a GM: "I couldn't care less -- as long as he can ball."
There's little doubt about that with Sam, who might not be a first-rounder but is considered the ninth-best defensive end in the draft according to CBSSports.com.
For the last few years, I've heard questions persist about whether the turbocharged NFL culture -- which often resorts to anonymous bashing through the media -- could handle a gay player. Mizzou showed it can be done. Perhaps a college football locker room is a different dynamic because players aren't paid, but it's still high-level football. Any Mizzou bigotry could have made the last six months mighty uncomfortable for Sam.
That doesn't seem to be the case here.
When Jason Collins announced he was gay in April, you saw the occasional tweets from people who said this shouldn't be a story. After all, gay and lesbian people are knowingly employed in most workforces across the country and it's not an problem. 
Mizzou took that cue, which, coupled with Sam's courage, made for a special season.
Everything you need to know about the Spartans 2018 spring game

Everything you need to know about Miami's spring practice

How would a NCAA Tournament-style event play out in college football? Let's take a look
The billboard quotes ESPN's Dan Le Batard calling Kansas 'the most incompetent thing' in s...

Money has been tight at the school despite more recent success on the field

March Madness has been great, but it doesn't need to translate to the college football pos...