Mizzou was an SEC leader -- not an outlier -- all along
Mizzou showed its worth on and off the field last season with 12 wins and the acceptance of Michael Sam, which isn't lost on SEC commissioner Mike Slive.
• 3 min read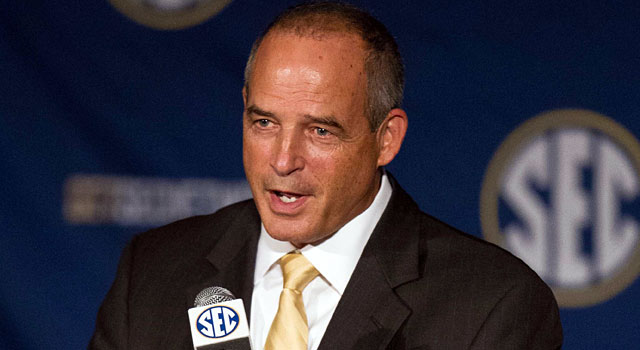 SEC Media Days: Super-freshman Fournette | Day 3 diary | Latest from Birmingham
HOOVER, Ala. -- Missouri has washed away the outlier status branded by an SEC media that last year seemed confused a team from outside the South would try to compete with the deep-fried football down here.
Missouri garners the respect it wanted, and not just for last year's 12 wins and an SEC East crown. Yes, coach Gary Pinkel actually fielded questions about football at this year's SEC media days session Wednesday, instead of whether he belonged. And nearly six months since former Tigers defensive end Michael Sam announced he was gay, that snapshot is still significant to the league.
That Mizzou embraced Sam and blocked all media leaks for a full season -- he told the team in August, then won SEC defensive player of the year -- is a powerful step for a league based in a region not exactly considered progressive in the past.
The Tigers moved into a leadership role. Commissioner Mike Slive has noticed.
"What we have in front of us is tangible evidence of football players in the Southeastern Conference respecting a man for his ability as a person and as a football player," Slive told CBSSports.com. "We can't ask for more than that from young people."
Slive has been big on diversity, and on his watch the SEC hired its first black coach, Mississippi State's Sylvester Croom in 2003. Now he considers diversity a non-issue in the league.
But it's worth asking, would Michael Sam have happened at LSU? Michael Sam at Alabama? Would that transcendent announcement come at Ole Miss or Auburn or Georgia?
Maybe.
Or was Mizzou uniquely qualified to handle?
Maybe.
Slive said he didn't get the sense the Sam announcement was a big deal to SEC states.
Mizzou coach Gary Pinkel doesn't know how others would react, though he's hopeful they would take the same cue. He also realizes the school's location and what his team considers call a family-driven locker room helped.
"I think it was the right place," Pinkel said. "It's not a big deal in the state of Missouri."
Alabama's Nick Saban seems OK with a player's sexual preference, saying in May he's been "on teams with folks like that."
"As long as we respect them and they should respect us, as long as that happens, I'm good," Saban said.
But Saban doesn't have to deal with that, at least not publicly. Missouri did, and it seems better off for it now, as does the league.  
Center Evan Boehm said there were at least a few players uncomfortable with Sam's preference. Team leaders understood not everyone would agree but discussed the situation with those players because Sam trusted teammates wouldn't leak info.
Boehm was more surprised by the reaction in NFL circles than his own locker room.
"How come a group of guys 18- to 22-year olds can handle that but guys who are 23 or older, doing a job, are questioning it?" Boehm said. "That bothered some of us."
That bothered Boehm because Sam is a teammate, and Mizzou has learned the value of fighting for each other -- especially when outside expectations for on-field success are not high.
Despite Mizzou's breakout a year ago, the Tigers won't be topping many preseason SEC East lists. Common names such as Georgia and South Carolina will prevail.
Pinkel wasn't bothered the shortsighted perception last year that Mizzou was outclassed by the rest of the league after a 5-7 debut. Injuries were the problem a year ago. A healthy Tigers team could marginalize good defenses. Pinkel is a skilled offensive coach.
And he does care about one thing.
"I wanted (Mizzou) to be respected in the Big 12 and now the SEC and nationally," Pinkel said.
He got that, on and off the field.
Now quarterback Maty Mauk must do something with that respect.
Mizzou coaches saw early on that Mauk, despite completing 51 percent of his passes in relief last year, had the proverbial 'it' factor.
Mauk and Boehm sported well-trimmed beards at SEC media day, showing a united front on a smaller scale.
"We're not going to drop off," Mauk said.
Scott leads the Spartans with 408 rushing yards

One of the finest restaurants in Columbia has a unique partnership with University of South...

While Mother Nature has wreaked havoc, some teams have been just plain bad so far this sea...
Bryce Love's video game season and early-season turnarounds lead our group

Trust the Process as Tom Fornelli leads you toward his best bets for Week 8 of the season

A tough end to the 2017 slate will have Notre Dame against the ropes for the rest of the s...