Mizzou's Franklin shouldn't be questioned for not playing against Arizona State
Coach says his quarterback refused "shot"; seems like he was questioning his toughness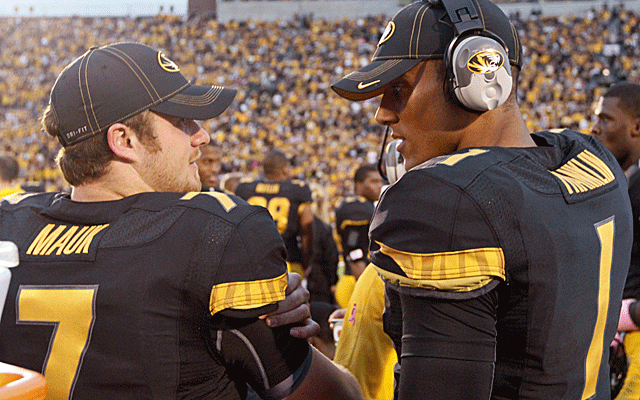 Mizzou quarterback James Franklin talks with his backup QB during the Arizona State game.
(Getty Images)
Missouri quarterback James Franklin didn't play Saturday night, " … didn't want to play …" is how his coach put it. (emphasis added)
And, with that, Gary Pinkel opened a discussion -- a national discussion -- about his quarterback's toughness, the very fiber that is the foundation of the football culture. Franklin said he couldn't go because of a sore shoulder, the same one that was surgically repaired in the offseason.
Franklin's bursa sac was apparently injured in the season opener against Georgia. Pinkel said on more than one occasion, including on national television Saturday, that his quarterback would not take a "shot", inferring a cortisone injection. Cortisone is a strong anti-inflammatory that reduces swelling and, thus, pain.
In his postgame comments, Pinkel later said he was not questioning his quarterback's toughness, but the damage had been done. Read those comments: The perception was that he was, indeed, questioning his quarterback's willingness to go. According to this story, it was not the first time Franklin had refused to take the needle.
"It was just too painful for him, and he didn't want to play," Pinkel said after the 24-20 Missouri victory. "[I] was hoping James could play, but he didn't feel like he could do it."
That was Franklin's choice, which it should be without judgment. There was no structural damage to the shoulder but Franklin said he didn't feel 100 percent. Unfortunately, there is a vibe that Franklin is being judged –  by his coach and perhaps by his teammates.
"Unfortunately in athletics it comes down to reliability," said Arizona veteran trainer Randy Cohen.  "Is a person going to be available when you need them? The dynamic over the years is you did everything possible and you sucked it up."
Cohen wasn't the only athletic medicine professional to tell CBSSports.com that any such decision on such treatment should be between the patient and the doctor. The coach should be removed from the equation.
"The truth is, do the coaches pressure kids? Hell yes, they do," Cohen added. "They pressure these kids not by saying anything."
Pinkel said enough. His disappointment was obvious even though he continued to say he didn't question his quarterback's toughness. Whether there was a message there or not, Franklin's teammate T.J. Moe summed up backup quarterback Corbin Berkstresser by calling him "tough."
By disclosing publicly on several occasions the treatment of one of his players Pinkel may have even violated federal HIPPA laws.  But that's another discussion for another time.
The pressure is there for every player to play until he drops.
"If you have a coach you really like and you know this is his livelihood and you know his wife and family, and you know he might be fired by the end of the year….the kids feel the same pressure," said Cohen who was speaking in general, not specifically about Pinkel.
Franklin – and his family – don't take medication of any kind according to his father, Willie. That's their prerogative. It doesn't really matter if Pinkel knew that when he recruited his quarterback.
It matters that Pinkel seemed disappointed that his quarterback didn't follow The Code.
Franklin has proven his toughness and his leadership. He originally injured the shoulder in the 2011 season while running 217 times and throwing 376 times, leading the Tigers to an 8-5 season. Against hard-hitting Georgia in the opener he ran another 20 times against a top 10 defense.
News started leaking Friday that Franklin might not play against Arizona State. CBSSports.com contacted his father who didn't know and wouldn't know until he talked to his son on Saturday. James Franklin was actually introduced on the scoreboard as a starter but when then put on a ball cap as Berkstresser took the field.
 Didn't want to play? That's about the worst thing a coach can say about a player.
"The whole time he [Franklin] was looking out for the future, and he wants to be able to be 100 percent," teammate Marcus Lucas told the St. Louis Post-Dispatch. "Last year a lot of times he wasn't 100 percent. A lot of people criticized James last year because he wasn't making a lot of plays downfield. But a lot of people didn't know he was hurt all year. So this year he's trying to be smart about it and trying to be 100 percent for the team. So, I don't think it's selfish at all."
The situation was exacerbated when Missouri didn't provide an injury update on Franklin last week. The suddenness of his absence would have been softened if Pinkel had updated the public on his quarterback's sore shoulder. But, again, that's part of The Code. Don't give the opposition any injury information that can used against them.
Repeating, Franklin's stance not to take the needle was is his right.
"I understand the frustration of the coach," said college hall of fame linebacker Chris Spielman, "but I understand who the kid is, what the family is. You respect that."
It might be unfair to mention the recent history of Missouri's athletic training staff, except that many of the same staffers who were there when Aaron O'Neal died in 2005 are still at Mizzou. The school ended up settling a wrongful death lawsuit for $2 million lawsuit. As part of the settlement, no fault was attributed to Pinkel, AD Mike Alden and other athletic training officials.  
Thousands of players have taken cortisone shots. There was a time in the 60s and 70s when the substance was used so much that it was eventually found to cause degenerative conditions. Cohen said cortisone is used much less frequently these days, usually a max of three times per year per injury.
The anti-inflammatories help players get back on the field but they are not a cure. Athletes feel less pain so that can workout. If they can workout, they can get into shape to play.
"My opinion, I don't think very many people play or don't play if they're getting these injections or not getting these injections," Cohen said. "You don't get these injections and all the sudden you can play. It might settle it down."
There is a huge difference between an unpaid student being asked to take the needle and a professional who has to make the same decision based on his livelihood. One is getting a paycheck. The other has a scholarship. One is feeding his family. The other is trying to prove on a daily basis he is worthy of that scholarship. One is a grown man. The other is a growing man.
But The Code is the common bond between pro and college. Players suck it up and take the needle because of the team. They do it because it's the thing to do. They take the injection because they're "tough." But the pro is playing because it's a living. The college player shouldn't be forced to do it – under any circumstances.  
SportsLine's computer model simulated every Week 12 game 10,000 times with surprising resu...

Though a marriage between the Vols and Gruden has been rumored for a while, it seems unlik...

Barrett Sallee is cashing on 67 percent of his best bets and gives 3 strong picks for Week...
The No. 16 Bulldogs will travel to Arkansas Saturday afternoon on CBS

The Owls are 7-3 overall and 6-0 in the Conference USA East division

Wisconsin has a chance to impress the College Football Playoff Selection Committee