Mizzou's Gary Pinkel had no choice but to dismiss Dorial Green-Beckham
Dorial Green-Beckham had become arguably Missouri's best player. But the latest in a string incidents involving not only of DGB, but other Mizzou athletes, forced coach Gary Pinkel to cut ties with the WR.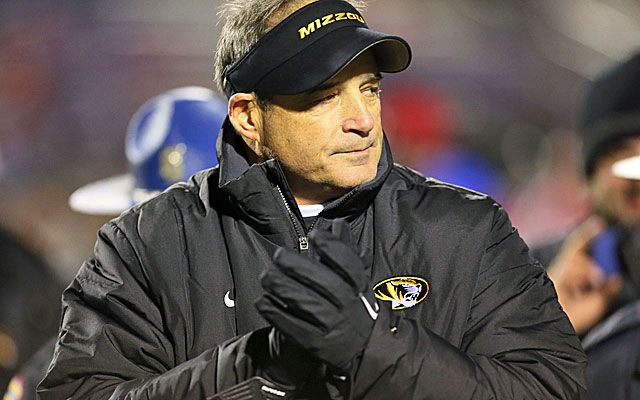 More college football: Bruce Feldman | Dennis Dodd | Jeremy Fowler | Latest news
It may be that Gary Pinkel had no choice.
Missouri's coach kicked his best receiver -- and perhaps his best player -- off the team Friday. It was absolutely the right thing to do to Dorial Green-Beckham and for Pinkel.
Male Mizzou athletes had been involved in a series of -- at least alleged -- incidents against women stretching back to 2011. Green-Beckham was the subject of a recent incident report in he was not charged last weekend but allegedly pushed a woman, "causing her to fall down at least four stairs."
Sometimes too much is too much. And there has definitely been too much at Missouri lately. There have been four incidents of (at least) alleged criminal acts against women regarding Missouri athletes since 2010.
• Former tailback Derrick Washington was sentenced for five years in prison in 2011 for felony deviate sexual assault against a female student. He served four months.
• Basketball guard Michael Dixon transferred within hours of a second rape accusation in two days coming to light according to the St. Louis Post-Dispatch.
• Swimmer Sasha Menu Courey allegedly was sexually assaulted by football players. She subsequently committed suicide. Her plight became a national story earlier this year.
The receiver's dismissal came the same day an independent investigation found the school did not act properly when investigating Courey's alleged sexual assault and suicide.
Pinkel and the administration deserve credit for cutting ties with perhaps the school's most visible athlete. But, really, what choice did they have?
No school should need this many incidents to conclude the obvious: DGB had issues. Perhaps the athletic department needs a massive self-examination. The coach who cut the cord on Green-Beckham on Friday, himself went through a drunken driving episode.
DGB had come to be beloved at Mizzou and was arguably the best player on the field in December's SEC championship game. The kid most likely would have been a preseason All-American. On his official recruiting visit, fans chanted his initials as he watched a Mizzou basketball game. He was, arguably, the biggest recruit ever landed by the program.
His signing was a sign Mizzou not only belonged in the SEC, but it would flourish. Both things happened in the short term. Mizzou has a chance to play in another SEC title game. DGB has the rest of his life to grow up.
His final off-field stat line will read two marijuana-related incidents and the latest incident report. All of it happened in less than two years on campus.
The woman in question did not press charges because "she was afraid of the media and community backlash," according to a Columbia, Mo., police report.
Green-Beckham's girlfriend said in the same report that the receiver drug her out by the neck.
No charges were filed, but Green-Beckham had run out of second chances. He was three months removed from another run-in with police in his hometown of Springfield, Mo. Saturday is his 21st birthday.
Earlier in the day, Green-Beckham issued a statement saying he had been "young and dumb." Now, he'll have to grow up and smarten up somewhere else.
Rosen, a junior, will be eligible for the upcoming NFL draft

Find out which of your favorite team's players are among the nation's best entering the 2017...

Texas A&M has to be better defensively to stand a chance in the SEC West
A letter indicated that there is a growing awareness of the persistent problem in college...

The series will follow the Navy football program throughout the 2017 season

Should college football players still be tested and punished for using marijuana?