Monday Pickups: Setting the TV slate for Week 11, Nov. 9
Here's Monday's conference-by-conference television announcements for the weekend of Nov. 9.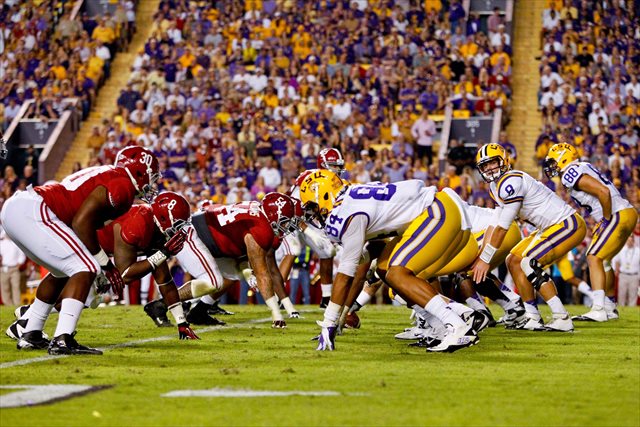 Each Monday, conferences, TV networks, and schools announce when and on what network they'll be kicking off a week from this coming Saturday -- in this case, Week 11, Nov. 9. Here's the rundown of this Monday's television announcements, conference by conference. All times ET. Post will update as announcements go live.
SEC on CBS -- special doubleheader
 
Teams
Comment

3:30 PM

VS.

With the help of Mike Evans, Ben Malena, Jake Matthews, and the rest of the hyper-productive Aggie offense, Johnny Manziel looks to continue his Heisman push against a stingy Mississippi State defense.
 
Teams
Comment

8 PM

VS.

Can the Tide be stopped? In a raucous prime-time atmosphere at Bryant-Denny Stadium, it won't be easy. But Les Miles' team pulled it off two years ago, and came within seconds of downing the Tide again in 2012. AJ McCarron is humming and the Tide defense has been on lock down. But this might still be the best chance the rest of the SEC has at preventing another Alabama BCS championship berth.
Saturday, Nov. 9
Game
Time
TV
Auburn at Tennessee
Noon
ESPN
Missouri at Kentucky
Noon
ESPNU or Fox Sports Net
Vanderbilt at Florida
Noon
ESPNU or Fox Sports Net
Arkansas at Ole Miss
12:21 p.m.
SEC TV (regional)
Appalachian State at Georgia
12:30
"Local/Institutional Point-to-Point"
Saturday, Nov. 9
Game
Time
TV
Penn State at Minnesota
Noon
ESPN2
Iowa at Purdue
Noon
Big Ten Network
Nebraska at Michigan
3:30
ABC or ESPN
BYU at Wisconsin
3:30 p.m.
ABC or ESPN
Illinois at Indiana
3:30 p.m.
Big Ten Network
Saturday, Nov. 9
Game
Time
TV
Virginia at North Carolina
Noon
ACC Network (regional)
Syracuse at Maryland
3:30 p.m.
Regional Sports Networks
Boston College at New Mexico State
3:30 p.m.
ESPN3 (Internet)
N.C. State at Duke
4 p.m.
ESPNU
The ACC and ESPN have exercised a six-day window option for Virginia Tech at Miami, Florida State at Wake Forest and Notre Dame at Pitt. Kickoff times for those games will be announced this Sunday, Nov. 3. All three games will air on either ABC or ESPN.
Thursday, Nov. 7
Game
Time
TV
Oklahoma at Baylor
7:30 p.m.
Fox Sports 1
Saturday, Nov. 9
Game
Time
TV
Kansas State at Texas Tech
Noon p.m.
ABC
TCU at Iowa State
Noon
Fox Sports Net
Kansas at Oklahoma State
4 p.m.
Fox Sports 1
Texas at West Virginia
7 p.m.
Fox
Thursday, Nov. 7
Game
Time
TV
Oregon at Stanford
9 p.m.
ESPN
Saturday, Nov. 9
Game
Time
TV
USC at Cal
3 p.m.
Fox
Arizona State at Utah
4 p.m.
Pac-12 Networks
Colorado at Washington
8 p.m.
Pac-12 Networks
UCLA at Arizona
10 p.m.
ESPN
Nick Saban reportedly wants to hire Freeze, but there may be things keeping that from happ...

Florida State-Miami will be on Oct. 6, and the Seminoles will play Clemson on Oct. 27

Weis Jr. was an offensive assistant for the Atlanta Falcons in 2017
Lott is joined by three current athletic directors and will serve a three-year term

These are the top guys every school is still chasing

College football lost a ton of star power, but these players are studs going into next fal...