Monday Pickups: Setting the TV slate for Week 6, Oct. 5
Here's Monday's conference-by-conference television announcements for the weekend of Oct. 5.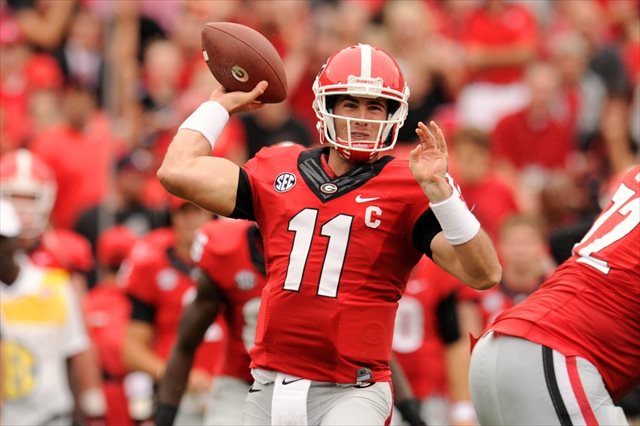 Each Monday, conferences, TV networks, and schools announce when and on what network they'll be kicking off a week from this coming Saturday -- in this case, Week 5, Sept. 28. Here's the rundown of this Monday's television announcements, conference by conference. All times ET. Post will update as announcements go live.
Saturday, Oct. 5
Game
Time
TV
Georgia State at Alabama
12:21 p.m.
SEC TV (regional)
LSU at Mississippi State
7 p.m.
ESPN or ESPN2 or ESPNU
Kentucky at South Carolina
7:30 p.m.
Fox Sports Net
Missouri at Vanderbilt
7:30 p.m.
CSS
The SEC and its television partners have announced that they will use a six-day window option for the games of Oct. 5. The 3:30 p.m. SEC on CBS game will feature either Arkansas at Florida, Ole Miss at Auburn, or Georgia at Tennessee. The two games that are not chosen for the 3:30 p.m. kickoff will kick off at 7 p.m. on either ESPN, ESPN2 or ESPNU.
Saturday, Oct. 5
Game
Time
TV
Ball State at Virginia
Noon
Regional Sports Networks
North Carolina at Virginia Tech
12:30
ACC Network (regional)
Army at Boston College
1 p.m.
ESPN3 (Internet)
N.C. State at Wake Forest
3:30 p.m.
Regional Sports Networks
The ACC announced that ESPN is using its six-day window for the following games: Clemson at Syracuse, Maryland at Florida State and Georgia Tech at Miami.
Saturday, Oct. 5
Game
Time
TV
Penn State at Indiana
Noon
Big Ten Network
Illinois at Nebraska
Noon
ESPN or ESPN2 or ESPNU
Michigan State at Iowa
Noon
ESPN or ESPN2 or ESPNU
Minnesota at Michigan
3:30 p.m.
ABC (ESPN/ESPN2 regional mirror)
Ohio State at Northwestern
8 p.m.
ABC
Thursday, Oct. 3
Game
Time
TV
Texas at Iowa State
7:30 p.m.
ESPN
Saturday, Oct. 5
Game
Time
TV
Texas Tech at Kansas
Noon
Fox Sports 1
Kansas State at Oklahoma State
3:30 p.m.
ABC or ESPN2 or ESPNU
TCU at Oklahoma
7 p.m.
Fox
West Virginia at Baylor
8 p.m.
Fox Sports 1
Thursday, Oct. 3
Game
Time
TV
UCLA at Utah
10 p.m.
Fox Sports 1
Saturday, Sept. 28
Game
Time
TV
Washington State at Cal
4 p.m.
Fox Sports 1
Oregon at Colorado
6 p.m.
Pac-12 Networks
Arizona State vs. Notre Dame
7:30 p.m.
NBC
Washington at Stanford
10:30 p.m.
ESPN
Olson has a lot of the tools offensive coordinators want in a quarterback

The Tigers have a wealth of talent at their biggest position

Pineiro received the award for stopping an attack the morning of Oct. 15, 2017
The first opening weekend lines for college football in 2018 have been posted

A year-end wrap-up of college football statistics you need to know from 2017

Stanford produces apps and Super Bowl participants