Monday Pickups: Setting the TV slate for Week 8, Oct. 19
Here's Monday's conference-by-conference television announcements for the weekend of Oct. 19.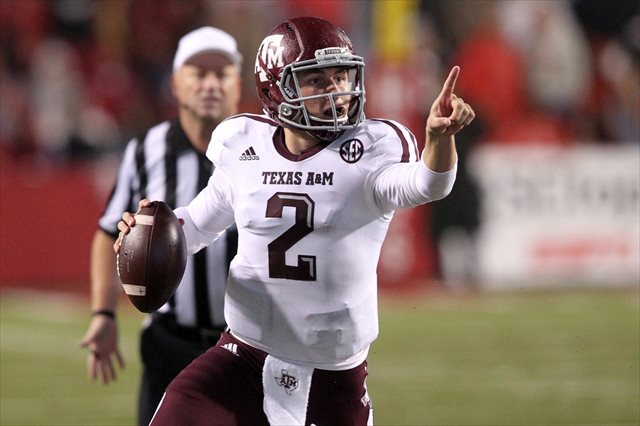 Each Monday, conferences, TV networks, and schools announce when and on what network they'll be kicking off a week from this coming Saturday -- in this case, Week 8, Oct. 19. Here's the rundown of this Monday's television announcements, conference by conference. All times ET. Post will update as announcements go live.
SEC on CBS -- doubleheader
 
Teams
Comment

12 PM

VS.

The banged-up Dawgs will look to get better on the road at Nashville, while the 'Dores aim for a big step towards bowl eligibility.
 
Teams
Comment

3:30 PM

VS.

Auburn is vastly improved, but can the Tigers' productive running game keep pace with Johnny Football and friends in College Station?
Saturday, Oct. 19
Game
Time
TV
South Carolina at Tennessee
Noon
ESPN
Florida at Missouri
12:21 p.m.
SEC TV (regional)
Arkansas at Alabama
7 p.m.
ESPN or ESPN2
LSU at Ole Miss
7 p.m.
ESPN or ESPN2
Saturday, Oct. 19
Game
Time
TV
Minnesota at Northwestern
Noon
ESPN2
Purdue at Michigan State
Noon
Big Ten Network
Iowa at Ohio State
3:30 p.m.
ABC
Indiana at Michigan
3:30 p.m.
Big Ten Network
Wisconsin at Illinois
8 p.m.
Big Ten Network
Thursday, Oct. 17
Game
Time
TV
Miami at North Carolina
7:45 p.m.
ESPN
Saturday, Oct. 19
Game
Time
TV
Syracuse at Georgia Tech
12:30 p.m.
ACC Network (regional)
Maryland at Wake Forest
3:30 p.m.
ESPN2 or ESPNU
Duke at Virginia
3:30 p.m.
Regional Sports Networks
Virginia at Maryland
3:30 p.m.
ABC, ESPN2 or ESPNU
Old Dominion at Pitt
7 p.m.
Regional Sports Networks
Florida State at Clemson
8 p.m.
ABC
Saturday, Oct. 19
Game
Time
TV
Texas Tech at West Virginia
Noon
Fox Sports 1
TCU at Oklahoma State
Noon
Fox
Oklahoma at Kansas
3:30 p.m.
ABC or ESPN or ESPN2
Iowa State at Baylor
7 p.m.
ESPNU
Weis Jr. was an offensive assistant for the Atlanta Falcons in 2017

Lott is joined by three current athletic directors and will serve a three-year term

These are the top guys every school is still chasing
College football lost a ton of star power, but these players are studs going into next fal...

Pac-12 referee Chris Coyte ejected Kentucky RB Benny Snell Jr. for initiating contact with...

The 21-year-old quarterback was expected to start for the Cougars in 2018