Monday Pickups: Setting the TV slate for Week 9, Oct. 26
Here's Monday's conference-by-conference television announcements for the weekend of Oct. 26.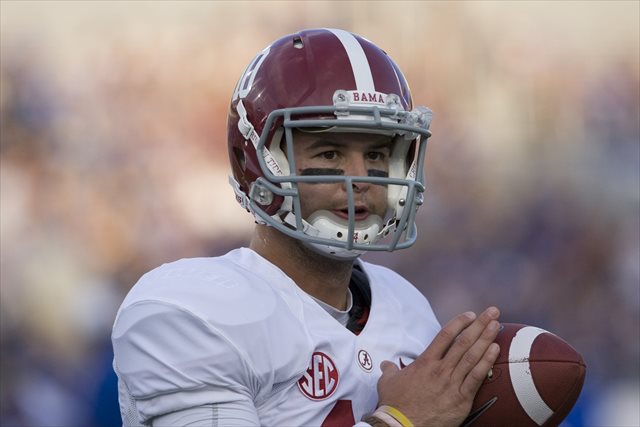 Each Monday, conferences, TV networks, and schools announce when and on what network they'll be kicking off a week from this coming Saturday -- in this case, Week 9, Oct. 26. Here's the rundown of this Monday's television announcements, conference by conference. All times ET. Post will update as announcements go live.
SEC on CBS
 
Teams
Comment

3:30 PM

VS.

Butch Jones came just short of a signature win vs. Georgia. Does he have any shot at nabbing it against the defending national champions (on the road, no less) instead? Or will the Tide keep rolling?
Thursday, Oct. 24
Game
Time
TV
Mississippi State at Kentucky
7:30 p.m.
ESPN
Saturday, Oct. 26
Game
Time
TV
Vanderbilt at Texas A&M
12:21 p.m.
SEC Network (regional)
South Carolina at Missouri
7 p.m.
ESPN or ESPN2
Furman at LSU
7 p.m.
PPV
Florida Atlantic at Auburn
7:30 p.m.
Fox Sports Net
Idaho at Ole Miss
7:30 p.m.
CSS
Saturday, Oct. 26
Game
Time
TV
Wake Forest at Miami
Noon
ESPNU (regional)
Georgia Tech at Virginia
12:30 p.m.
ACC Network (regional)
Pitt at Navy
1 p.m.
CBS Sports Network
Clemson at Maryland
3:30 p.m.
ABC/ESPN2 or ESPN
N.C. State at Florida State
3:30 p.m.
ABC/ESPN or ESPN
Duke at Virginia Tech
3:30 p.m.
ESPNU
Boston College at North Carolina
3:30 p.m.
Regional Sports Networks
Saturday, Oct. 26
Game
Time
TV
Nebraska at Minnesota
Noon
ESPN or ESPN2
Northwestern at Iowa
Noon
Big Ten Network
Michigan State at Illinois
3:30 p.m.
ABC/ESPN2
Penn State at Ohio State
8 p.m.
ABC
Saturday, Oct. 26
Game
Time
TV
Oklahoma State at Iowa State
Noon
Fox Sports Net
Texas Tech at Oklahoma
3:30 p.m.
Fox
West Virginia at Kansas State
3:45 p.m.
Fox Sports 1
Baylor at Kansas
7 p.m.
ESPNU
Texas at TCU
7:30 p.m.
Fox Sports 1
Saturday, Oct. 26
Game
Time
TV
Utah at USC
4 p.m.
Pac-12 Network
UCLA at Oregon
7 p.m.
ESPN or ESPN2
Arizona at Colorado
8 p.m.
Pac-12 Network
Stanford at Oregon State
10:30 p.m.
ESPN
Cal at Washington
11 p.m.
Fox Sports 1
Chip and Barton pick win totals for Ohio State, Penn State, Michigan and more

These three teams could surprise quite a few people in 2017

With the Chargers moving to Los Angeles, the Aztecs now need to find a new home -- fast
Lawyers representing Ole Miss want Leo Lewis and Kobe Jone to show at an infractions heari...

The redshirt sophomore will not only decide Auburn's fate, but the landscape of the SEC

Ohio State filed for apparel rights to 'OSU' in February 2017