Montana hit with NCAA sanctions over booster benefits
The NCAA handed Montana three years of probation, vacated wins, and reduced the Grizzlies scholarships after a booster scandal.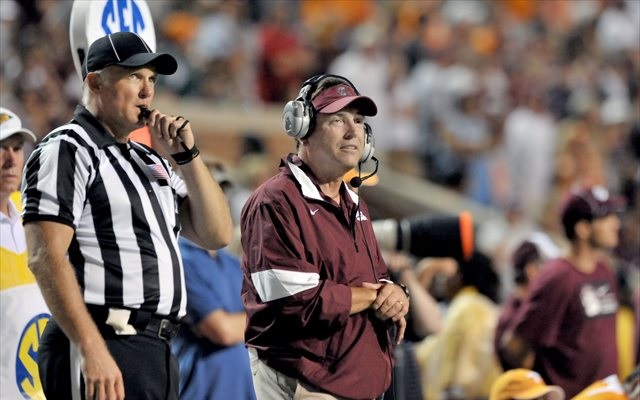 FCS powerhouse Montana has been stung with scholarship losses and other sanctions after an NCAA investigation uncovered major benefits provided by boosters to players -- and that the former head coach and athletic director did nothing to stop them.
The NCAA announced Friday the Grizzlies will face three years of probation, four lost scholarships for each year of that period and the vacation of five 2012 wins in which ineligible players participated. The players received free legal representation prohibited by NCAA rules.
The sanctions were a mix of penalties self-imposed by the school and dictated by the NCAA.
The bulk of the NCAA's investigation focused on boosters' response to the 2011 arrests of cornerback Trumaine Johnson and backup quarterback Gerald Kemp on disorderly conduct charges. Per the AP, "the NCAA found that a booster bailed the two out of jail and an attorney provided each with about $1,500 in free legal representation."
Even more damaging, the NCAA found that then-head coach Robin Pflugrad knew that the booster had posted the players' bail, but did not report it to university officials. Then-athletic director Jim O'Day and the Grizzlies' compliance director also knew that a booster was providing legal advice to Trumaine and Kemp.
Pflugrad and O'Day were fired in March 2012, amid not only the news of the NCAA investigation but Departments of Justice and Education investigations into school and city officials' responses to on-campus sexual assaults.
Pflugrad -- now offensive coordinator for Montana's Big Sky Conference rival Weber State -- is suspended for the first game of the 2013 season and faces recruiting restrictions this season.
Montana president Royce Engstrom and A.D. Keny Haslam issued statements Friday announcing an expanded compliance office and further efforts to educate Grizzly fans on NCAA rules, efforts that include an "Ask Grizzly Compliance" section on the university website.
Among the games vacated were a win over rival Montana State and two playoff victories. The Grizzlies won the Big Sky and advanced to the FCS semifinals before losing to Sam Houston State.&
Many NFL-eligible juniors ignore advice provided by the league and risk going undrafted each...

Snyder died in Manhattan, Kansas, on Wednesday

Locksley joined Alabama's staff in 2016
Saban reportedly wants to hire Freeze, but there may be things keeping that from happening

Florida State-Miami will be on Oct. 6, and the Seminoles will play Clemson on Oct. 27

Weis Jr. was an offensive assistant for the Atlanta Falcons in 2017