More branding for Iowa State? Campbell hints at it
Could Iowa State see more uniform alterations in the future?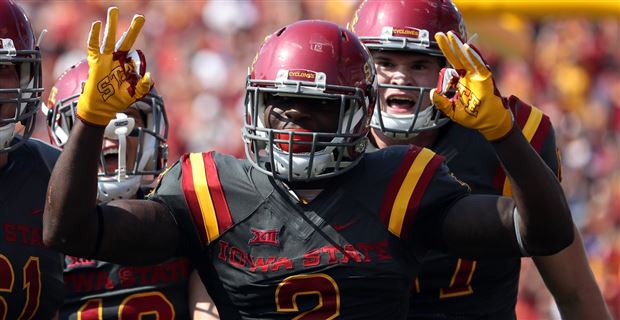 AMES, Iowa — Whether Iowa State wears white helmets or cardinal ones, gray uniforms or gold ones, Matt Campbell knows the outcome of a game will be no different.
But the 37-year-old Campbell, while admitting to being a traditionalist, also understands the power of something so simple as the makeup or variety of uniforms. From his first day in Ames last fall, Campbell has embraced social media to sell a rebuilding program and he understands that uniforms and branding have the ability to move fast and far.
It's part of the reason for white helmets and gray uniforms in 2016.
So does Campbell think there could there be more in 2017 and beyond?
"You know, I do," he told CycloneAlert on Thursday in a wide-ranging interview from his office. "How do we continue to make ourselves relevant? We've certainly got great traditions here at Iowa State. Our colors and some of the great traditions that we have are fantastic, and I'm at heart a traditionalist, but also understanding the ability now to continue to get Iowa State out there to our recruits and to our fan base. It's what makes this place special anyways, it's the people, and to continue to showcase that and then to find different ways to be unique and different.
"I know it's not always perfect and not always going to be perfect, but I think it adds excitement to what we're doing and it adds maybe a new wrinkle here or there. So I definitely think you can expect that."
The white helmets that emerged before the season had been rumored for months, but the gray uniforms that popped up in non-conference play came as a surprise given Nike's lengthy uniform design process. Whatever uniform tweaks or changes Campbell has in mind for 2017 or beyond are being held close to the chest.
(What's next for the Cyclones? Make sure you're in the loop — take five seconds to sign up for our FREE Iowa State newsletter now!)
Craig Kuligowski is reportedly leaving Miami to take the same job with Alabama

BT Potter is about to be very popular in the Clemson locker room

McElwain will coach receivers and help coordinate the offense for the Wolverines
Nathaniel Watson Jr. was involved in a car accident that injured a passenger in early Febr...

The honorable Tom Fornelli presides over the ASU vs. UM case

Arkansas State is seeking $650,000 for a canceled home game last September due to Hurricane...