More meals? NCAA needs more than Gummy Bears in player rights battle
The NCAA announced Tuesday it allows unlimited meals and snacks for players -- which is nice, but much more must be done.
• 2 min read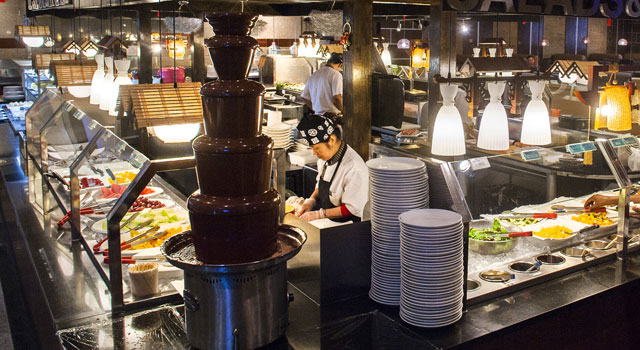 Don't worry, everybody. The fight for player rights is complete. Doritos may flow in abundance.
UConn guard Shabazz Napier's declaration before last week's national title game that he sometimes goes to bed "starving" fueled a convenient storyline Tuesday, when the NCAA announced it will allow unlimited food supply for players. The truth is this plan had been in the works for a while.
But a killer buffet won't satisfy the cravings of lawyers from O'Bannon and Kessler lawsuits and players from private schools considering whether a union is the best option for them.
The fact the NCAA even had to tweak its cream-cheese-is-now-OK rule accentuates broader issues with the amateurism system. The full-service dining should begin an extensive list of changes in the next six months for the NCAA to even have a chance to curb the momentum against it.
Even then, $3,000 stipends are probably Band-Aids in the player fight.
Since hunger in locker rooms isn't exactly a widespread problem -- players got three meals a day or a player stipend before the ruling, the NCAA said – this was a nice gesture, and helpful, but hardly a push for real change.
Far beyond the pay-for-play argument, there are anecdotes around the country that fit nice and tightly in a growing file for player rights.
Notice how the College Athletes Players Association, which spearheads the Northwestern union push, isn't asking for more food.
Enhanced medical coverage and brain trauma prevention for current and former players top the list.
Otherwise, some common sense will do, maybe a little thoughtfulness.
The examples are all around. I found one while in Auburn this week and catching up with running back Corey Grant, who knows how challenging the recruiting process can be.
It's common knowledge around the SEC that Grant was an Alabama signee who left the Tide because he wanted to be a running back, not a cornerback.
But Grant, now a senior, recalls his recruitment out of Opelika, Ala., how the high schooler asked the Tide coaching staff -- several times -- whether they would convert him to defense after he signed. 
They said no way. Being a running back was the only conversation, which is what Grant wanted.
When he got to campus, his Letter of Intent signed long ago, he was asked to switch positions.
Grant eventually decided to transfer, and Nick Saban asked Grant to give cornerback one try. He couldn't do it. He maintains he didn't feel misled but called it a "learning experience," and one that's not unique in the college football culture of recruiting promises and stockpiling talent.
Grant hasn't closely followed the union developments, but now that he thinks about it, he wouldn't mind certain protections for signees.
Having to sit out a full year and totally redirect his career was more important to Grant than a few packs of Gushers to snack on.
"Once you sign those papers, there's no telling what happens." Grant said.
This example seems small in scope but is emblematic of the problems the NCAA faces with players. It's not just the money; it's having a system that gives you options.
Apparently the food on the training table is better than ever. The right ingredients are still hard to find.
Let's pay some respect to a couple of overlooked teams in this week's college football ran...

Jones has been with the program since its inception for the 2009 season

SportsLine's computer model simulated every Week 13 rivalry weekend game 10,000 times with...
Mayfield grabbed his crotch and shouted expletives at Kansas on Saturday

The statue will go up in 2019 after Illinois completes its new football performance center

The junior injured his finger diving for the pylon late in the first quarter of the loss to...