Most CFB coaches want early signing period ... Will they get it?
Nearly 80 percent of FBS coaches told CBSSports.com they want an early signing period for football recruiting. Will conference commissiones give what they want?
• 4 min read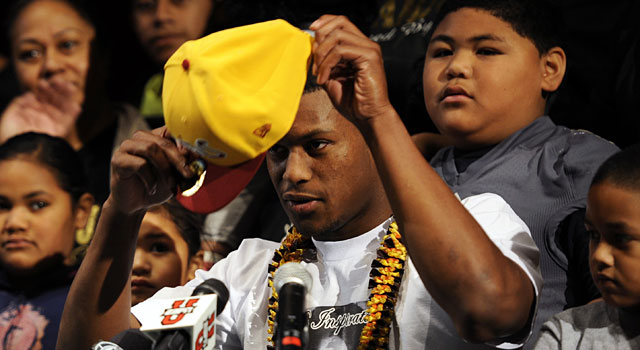 More college football: Jon Solomon | Dennis Dodd | Jeremy Fowler | Latest news
Coaches want an early signing period. Oh, how they do (Save Stanford's David Shaw and a few others).
In fact, an informal CBSSports.com poll of 25 coaches this week revealed 19 unequivocally want to shift from the current early February setup to August or December. Five are either indifferent or can learn to accept it. Kentucky's Mark Stoops is against the notion because of how it could change the recruiting calendar.
Will coaches get what they want? That depends on the Conference Commissioners Association, which has agreed to evaluate the matter and has a meeting in mid-June. At least one proposal -- the ACC's recommendation for a Aug. 1 signing day -- will be on the table.
No doubt this topic will echo through conference meetings taking place this week, including the SEC's meetings in Destin, Florida, starting Tuesday.
The American Football Coaches Association will not recommend an early signing date to the CCA, AFCA president Grant Teaff said. The AFCA last presented a December date three years ago and the plan was shot down. Most of his FBS coaches still want December, Teaff said.
Central Florida coach George O'Leary knows what he's bringing up at the American meetings next week -- his disdain for a February signing day. The last few seasons, O'Leary has noticed players more than ever making their minds up on a college preference before playing a senior-season down.
"What are we doing? We're spending thousands of dollars to fly and rent a car for a kid that's already verballed," said O'Leary, who advocates a December signing period built around junior college signees for a seamless transition. "The recruiting calendar changed and we never adjusted. It's like making a reservation at a hotel."
Of the coaches that gave a date preference to CBS, nine want December and four want August.
Basically, a player wouldn't have to sign early but they could. One argument for December is to let most high school players finish their prep eligibility.
Any change could be slow to develop because of the NCAA's current legislative overhaul.
New governance -- built around the power five conferences having autonomy over certain legislative matters -- will likely be given the green light in August. Detailed changes might not be rolled out until the NCAA Convention in January. The CCA could decide to vote "yes" on an early signing period now or postpone until after the new NCAA model has clarity.
"I think within the next year there needs to be consensus within football of what's desired and move accordingly," said Texas Tech athletic director Kirby Hocutt, chairman of the NCAA Division-I football recruiting subcommittee. "Within our league, there continues to be interest exploring an early signing period. It would be closely aligned with the junior college signing date in December. Would it be the exact same date or preceding or following? All of that could be discussed."
Is there enough support for the commissioners to pass? Hocutt says he doesn't know, but after his talks with Big 12 commissioner Bob Bowlsby on the topic, "they would be interested in hearing what they want to do with it" if a proposal becomes ready.
Many coaches wonder whether the ACC's recommendation will be a non-starter because of the high school scene – high school coaches, who comprises a large percentage of the AFCA, likely won't want their players entering their senior seasons without incentive. But, the AFCA doesn't have the power here. the CCA does.
Plus, some bigger conferences might want four extra months to poach players committed to smaller-conference schools.
In the SEC, Mississippi State coach Dan Mullen said there has been league support for a signing date the Monday after Thanksgiving.
SEC spokesman Chuck Dunlap said in a statement, 'The SEC has historically not supported an early signing period in football.' Auburn athletic director Jay Jacobs said he expects early signing period to be a topic in Destin because "it seems to come up every few years."
Tennessee's Butch Jones and Stoops both want to preserve the recruiting calendar, including the July dead period, but Jones said he likes the discussed model that allows early signing for players who haven't taken official visits.
That would be cumbersome for Minnesota's Jerry Kill, who's "a long way away" from many players that visit his campus.
"If it was signing day where after you can bring some in on official visits, at a different time, I would certainly take a look at it," Kill said.
But summer unofficial visits are the new official visits, O'Leary says, which expedites the commitment process.
"And then you babysit them for five months," O'Leary said.
Part of Shaw's argument against early signing is it would challenge academic-minded schools on player eligibility. Sometimes a player might need his full senior year to qualify at Stanford, he says.
This is a valid concern, though O'Leary adds new NCAA requirements set for 2016 will aid coaches in knowing who can get into school and who can't.
Some coaches are looking for more debate on the matter. For the buzz surrounding the issue, Memphis' Justin Fuente said he'd still like to have an intelligent discussion about it with the right people.
"I would be interested in hearing both sides of the argument," Fuente said.
He'll get them soon enough.
Rhoads led Iowa State to three bowl games in seven years as head coach

The Georgia middle linebacker is one of the most valuable players in college football

Explaining my 2017 Heisman Trophy ballot and Jackson's tremendous season
Mayfield is the sixth Oklahoma player to win the Heisman since its inception

The Heisman Trophy will be presented to the best college football player this season

Army topped Navy for the second straight year in an absolute thriller in Philadelphia