Murray on final SEC championship play: 'It's a touchdown' if not tipped
Aaron Murray supported his coach's decision to forgo spiking the ball on the decisive play in the SEC Championship Game.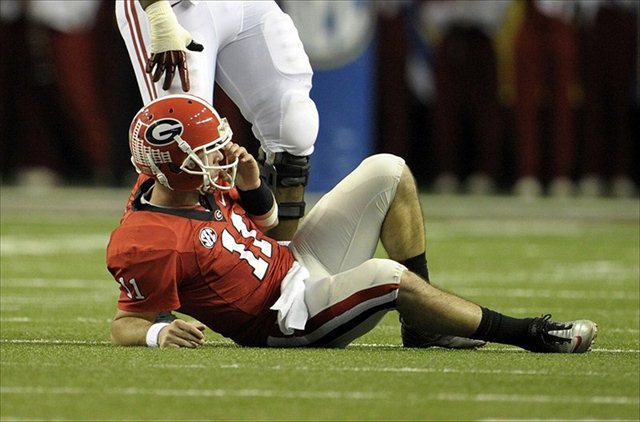 Aaron Murray says his coaches made the right call in Atlanta. (US Presswire)
The moment that Aaron Murray's final, fateful pass in the SEC Championship Game was tipped by Alabama's C.J. Mosley into the hands of Georgia wideout Chris Conley -- ending the game without even one additional shot into the end zone after first-and-goal -- the second-guessing of Mark Richt began.
But Murray came to his coaches' defense on Tuesday, saying that not only did he support the decision to call a play, but that the play-call would have worked if Mosley hadn't made what might be fairly called the biggest play of the 2012 college football season.
"Oh, it's a touchdown," Murray said of the play minus Mosley's intervention, per the Macon Telegraph. "It's a 50-50 ball. The guy's facing Malcolm [Mitchell], and Malcolm just has to go up and catch the ball ..."
"I don't see any problem with the play call at all. It's not like we were designed to throw a short pass. It was a fade into the end zone and either a catch or an incompletion."
As he had done previously, Richt reaffirmed his decision not to spike the ball.
"If you run a system where you're used to going fast, it's no big deal. You just run the next play. If you spike it, you give [the defense] a chance [to get ready]," Richt said. "The problem wasn't the play; the problem was that the ball was tipped."
Richt's explanation and Murray's support won't do much to stop the second-guessing, of course; a quick spike might have even gotten the Bulldogs a third shot at the score. And if Richt is right that a spike would have given Alabama time to set its defense, the Bulldogs' ever-so-slight delay in getting the play in, the players aligned and the ball snapped suggested they could have benefitted from a mental regrouping, too. That Mosley was able to get close enough to Murray to bat down a fade makes that argument even more compelling.
But in the end, whatever decision Richt made or whatever play-call came in from the sideline, it was going to come down to execution. On that play, it was Mosley who executed and the Bulldogs who didn't.
It wasn't only the massive $75 million contract that got Fisher to depart for College Stat...

Weinke was injured when Florida State lost to Tennessee in the 1999 BCS title game

It was one of the busiest offseasons for the assistant coaching ranks
Oliver's star has already been born, but 2018 is when it will truly be recognized

Craig Kuligowski is reportedly leaving Miami to take the same job with Alabama

BT Potter is about to be very popular in the Clemson locker room