Muschamp fires back at critics over reinstating suspended players
Florida coach Will Muschamp responded to critics of his decision to reinstate three suspended players even though Florida's opener was canceled.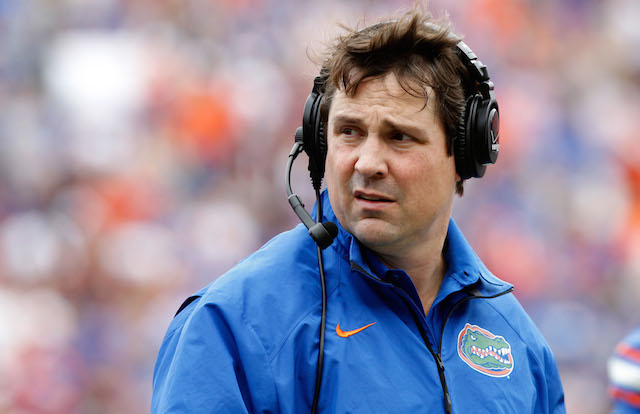 On Monday Florida coach Will Muschamp reinstated three players -- Demarcus Robinson, Jay-nard Bostwick and Darious Cummings -- who were suspended for the team's season opener against Idaho. The decision raised some eyebrows because that season opener was never played due to storms in the area.
Well, Will Muschamp doesn't care what you think about his decision.
"It's not just about suspending players for games," said Muschamp during his weekly teleconference. "There's a lot of things that go into discipline. It's about altering and changing behavior, which we've done. I think our discipline speaks for itself and how we've handled our football team, OK? If it was about suspension, you'd never have an issue. Right?
"At the end of the day, it's more than that. There's a lot of things that go into those situations, a lot more than people know. And it's very frustrating for me as a coach ... to have someone being critical and you don't even have all the information."
And Muschamp is right, we don't have all the information, but that lack of information is precisely why eyebrows were raised about the decision. It wasn't announced that the three players were suspended until Saturday afternoon, a few hours before the game was scheduled to begin. So while there was no reason given for the suspensions, the fact they weren't announced until just before the game gives the general public the perception that they're suspended for the game.
So when that game's not played and the players are reinstated 48 hours later, well, what's everybody supposed to think?
The truth is nobody is at fault here. Will Muschamp has all the information about why the players were suspended, so it's up to him to decide what the proper punishment for them is. I'm not questioning that at all. It's just that when the media or the public don't have all the information, asking questions is the natural reaction. That's how you get the missing information.
A magic trick turned into a scholarship surprise for this Texas lineman

Michigan's notorious secrecy is getting called out again

Key was named a 2017 CBS Sports Preseason All-America selection this week
Our bowls expert looks at the toughest -- and weakest -- nonconference schedules in the na...

The new uniforms will be worn on Oct. 28 at Kyle Field vs. the Bulldogs

Kiffin's Owls have added myriad troubled players since he took over in Boca Raton