Muschamp, Saban jab at Bob Stoops' 'propaganda' comments
Oklahoma's Bob Stoops made waves when he called the SEC's reputation a product of 'propaganda,' drawing some mild responses from SEC coaches Will Muschamp of Florida and Nick Saban of Alabama.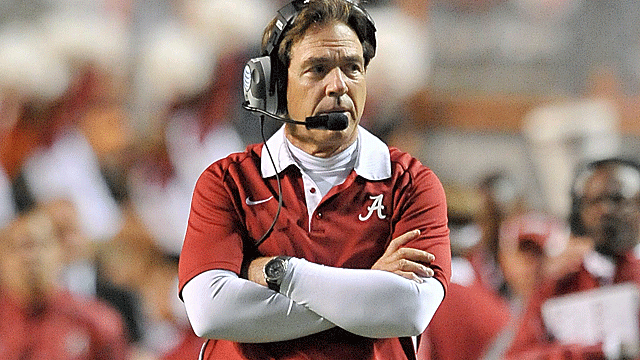 Surprise, surprise: Oklahoma's Bob Stoops claiming the SEC's reputation is a result of "propaganda" -- and not wins like, say, Texas A&M's 41-13 Cotton Bowl dismantling of Stoops' own Sooners -- has caused plenty of waves across SEC country.
Waves enough, in fact, that both Florida's Will Muschamp and Alabama's Nick Saban have offered public responses this week. Not surprisingly, neither thought much of Stoops' comments -- but neither was willing to spark a war of words over them, either.
"I'd be saying the same thing if I were in the Big 12," Muschamp, a former Texas defensive coordinator, said with a laugh on Wednesday. "I said it for three years."
Speaking at a "Crimson Caravan" fan gathering similar to the one at which Stoops made his comments, Saban was maybe a little more forceful than his SEC East counterpart.
"You're going to have to tell me what he said," Saban said, per al.com. "I've got more important things to do than sit around and read what Bob Stoops has to say about anything."
Saban did go on to say that he likes Stoops, "respect[s] him as a coach," and "certainly respect[s] the great program that they have at Oklahoma and the other good programs that they have in the Big 12."
But, after being informed of Stoops' comments, he also made it clear he starkly disagreed that the SEC's reputation is unearned, as well as Stoops' contention that the bottom half of the league is weak.
"I really don't think that people that don't play in our league really don't understand the quality of our league from top to bottom," he said, adding that "animosity" over the SEC's success was likely fueling its detractors.
It's entirely expected that coaches like Saban and Muschamp aren't going to take another member of that coaching fraternity (particularly the very-well-paid wing of that fraternity) totally to task for comments made off the cuff in an informal setting; next time, it might be them saying something that makes headlines they'd have rather avoided. (Which is not to say that Stoops regrets making his comments. His point that the SEC's lower-rung teams aren't up to the standard of the Big 12's in recent seasons is an accurate one, for whatever that's worth.)
But there's enough edge to both Saban's and Muschamp's responses to think they won't mind if they or another SEC team get another crack at Stoops in next year's Cotton Bowl, either. 
Kelly is presently deciding whether to start anew with the Gators or Bruins

There are a handful of conference championship games still to be determined

SportsLine's top college football expert, on a 30-18 run, locks in his top picks for a loaded...
Haynes was 14-45 in five years with the Golden Flashes

True romance isn't dead yet

The Egg bowl will be a Thanksgiving night treat for the college football world