Music City Bowl Primer: Vanderbilt vs. NC State
The Commodores look for their second bowl win in five seasons -- and their third in 112 years of football. NC State stands in the way.
There are 35 bowl games. Here's everything you need to know about one of them.
---
Vanderbilt Commodores (8-4 overall, 5-3 SEC [!])

If what James Franklin did in 2011 was remarkable -- taking a Commodores program that was 2-10 the season before and guiding it to a .500 record and Liberty Bowl berth -- what he's done across 2011 and 2012 is nothing less than astonishing. Franklin didn't just produce the school's first back-to-back bowl berths, he did it with a talent-shy roster shorn of 2011 stars like Casey Hayward and Chris Marve, and he did it in style. The Commodores posted their first eight-win regular season since 1955, their first winning SEC record since 1982, and with a win over the Wolfpack would tie a school record for victories set in 1915 -- all in the muderous modern-day SEC. Take a bow, Mr. Franklin.
At their best: If there's any caveat to the above list of accomplishments, it's that only one of Franklin's 14 victories has come over a bowl-bound team: the Nov. 10 27-26 escape from Ole Miss in which Jordan Rodgers' 26-yard touchdown pass with 52 seconds remaining helped overcome an 87-yard deficit in total offense. But that's not to say the Commodores haven't had their share of impressively dominant wins over lower-grade opposition, too, starting with their 41-18 demolition over hated Tennessee. Rodgers finished with 245 passing yards and three touchdowns -- one a 71-yard bomb to Jordan Matthews -- on just 26 attempts, giving him his highest QB rating of the season (152.62) vs. SEC competition. While Vandy remains firmly a run-first operation behind Zac Stacy, Rodgers remains the difference between the Commodores being a decent team and one that, well, destroys the likes of Tennessee.
At their worst: As for what happens when Rodgers is OK at best and the Vandy lines get chewed up and spit out by the road-graders on a top-tier SEC contender, look no further than Georgia 48, Vanderbilt 3. The 'Dores are improving. They're not an SEC East threat just yet.
Headliner: After Vanderbilt's years upon unending years of quarterbacking futility following the departure of Jay Cutler, Rodgers' ascension hasn't just paid dividends in the win column. Jordan Matthews set a school record with 1,262 yards and hauled in 87 passes on his way to becoming the first Vandy player named first-team All-SEC since 2008. Matthews and sophomore Chris Boyd (46 catches, 756 yards) are the only two wideouts Rodgers ever bothers throwing to, but they've been good enough he hasn't usually needed any others.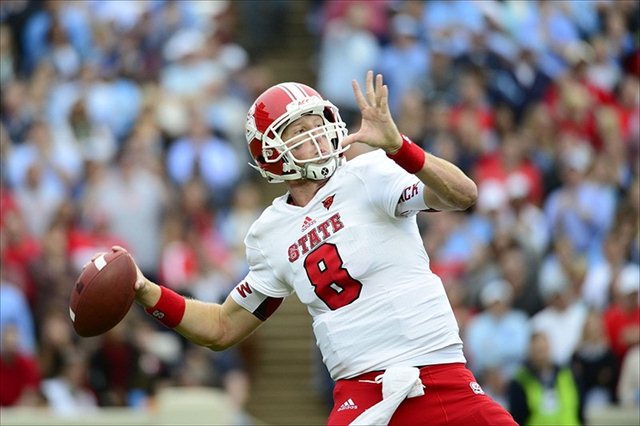 Mike Glennon was the engine of the NC State attack. (US Presswire)
NC State Wolfpack (7-5 overall, 4-4 ACC)
Give Tom O'Brien this: His final season at NC State may have been the most NC State season of them all, the Wolfpack-prototypical Coney Island Cyclone ride between handing Florida State its only loss of the season, losing to woeful Virginia 33-6 (at home) three weeks later -- and ultimately pulling into the station in the same ho-hum 5-6-or-7-win range where NCSU has spent eight of the past 10 regular seasons. Week to week, the Wolfpack under O'Brien were as volatile as any team in the country; year to year, they were consistent enough to build almanacs around. It's too bad for O'Brien that consistency only goes so far after a single nine-win season in six tries.
At their best: The Wolfpack finished 79th in the FBS on total defense while playing in a league not exactly bursting with great offenses, so no, it wasn't a good year ... save for the borderline-magical night of Oct. 6, when David Amerson and Co. rose up and held the undefeated Seminoles scoreless for the entire second half, giving Mike Glennon just enough opportunities to squeeze out the 17-16 win. There's no telling whether or not the same Wolfpack defense will show up in Nashville or not, but if it does, a Vandy offense few would describe as "explosive" could have troubles.
At their worst: Of course, no one would have much nice to say about the Virginia offense, either, and the Cavaliers hung 33 points on the Wolfpack without breaking much of a sweat ... not that it's hard to put up a lot of points when the NCSU offense is turning it over five times. Glennon took six sacks and accounted for four of those turnovers with three picks and a fumble.
Headliner: N.C. State went 7-5 mostly by virtue of doing everything OK rather than any one thing particularly well, and that goes for Mike Glennon, too; while he ranked 11th in the FBS in passing yardage at an impressive-sounding 304 yards a game, that was mostly due to Glennon putting the ball in the air almost 43 times a game, the fifth-highest total in the FBS. (In QB rating, Glennon finished 65th.) Still, after Amerson's disappointing season, Glennon is the closest thing NCSU has to a star -- and is undoubtedly the player the Wolfpack most need to have a good game to down the 'Dores.
---
What: Music City Bowl
When: Monday, Dec. 31, noon ET, ESPN
Where: LP Field, Nashville, Tennessee
Weird: The SEC has sent a representative to 13 of the 14 Music City Bowls, skipping only the 2005 edition. Before that year, the league had gone a dismal 1-6 against Big East and Big Ten competition; since, the SEC has gone 4-2, all against ACC teams.
Line: Vanderbilt -7.5
Prediction: Make no mistake: With Glennon, one of the nation's deepest secondaries, and a stout offensive line, the Wolfpack have the more talented team. But how focused will they be under interim coach Dana Bible? Playing a virtual home game, and with the Commodores' surprisingly decisive loss to Cincinnati in the 2011 Liberty Bowl still stinging, Vanderbilt won't have those issues -- and as long as Rodgers doesn't throw a handful of picks in Amerson or Earl Wolff's direction, that should be just enough.
Vanderbilt 27, NC State 23
Weinke was injured when Florida State lost to Tennessee in the 1999 BCS title game

It was one of the busiest offseasons for the assistant coaching ranks

Oliver's star has already been born, but 2018 is when it will truly be recognized
Craig Kuligowski is reportedly leaving Miami to take the same job with Alabama

BT Potter is about to be very popular in the Clemson locker room

McElwain will coach receivers and help coordinate the offense for the Wolverines