My first SEC media days: a Day 1 Diary
Your humble college football blogger is attending SEC media days for the first time. Here's a diary from the first day.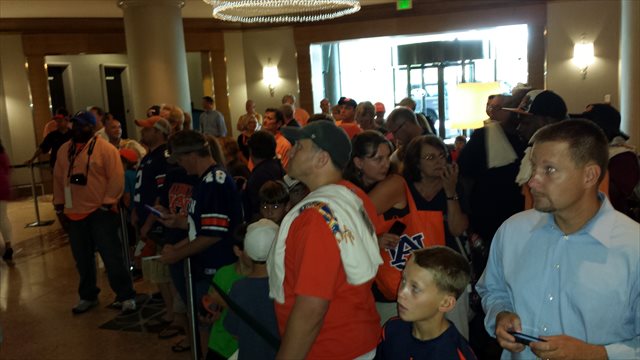 More college football: Jon Solomon | Dennis Dodd | Jeremy Fowler | Latest news
Hi, I'm Jerry. I am a college football writer. I grew up in Alabama and consider the story of Phillip Fulmer dodging a subpoena at SEC media days an American legend on par with Paul Bunyan and Babe the Blue Ox. But due to circumstance, I had never attended an SEC media days myself, spending the last several years following along on TV broadcasts and Twitter.
Until Monday, that is. Here's a diary of a first-timer's first day at SEC media days, allegedly the craziest show on college football's Earth:
10:30 a.m. Are you a fan of Arrested Development? Do you remember the "free speech zone"? Walking into the lobby of the Wynfrey -- excuse me, walking into the lobby of the "Hyatt Regency Birmingham," per a memo distributed on virtually every flat surface available -- it's impossible to look at the gaggle of fans cordoned off behind crowd-control tethers and not think of Lindsay Bluth and a cageful of placards.
There's one major difference, though: at this hour there's no shortage of local TV reporters interviewing said fans to no doubt discover why these fans would bother to show up today. Here's to hoping at least one answered "to be interviewed by a local TV reporter."
11:30 a.m.: Mike Slive delivers his annual "state of the SEC" address, which is notable for a couple of reasons, neither of which have anything to do with news:
1. In an address that doesn't feature a lot of vocal emphasis on any particular point, the not-so-subtle-at-all emphasis Slive places on the phrase "for the benefit of student-athletes" when describing his hopes for greater autonomy for the Power 5 conferences
2. The extremely casual, almost sedate way in which Slive, moments later, threatens to rip apart the century-old fabric of American college athletics with a split from the NCAA. 
Slive also opens his speech by wishing his wife a happy anniversary after 46 years. This draws a chorus of "Awwwwwwww!"s from what one can only assume are his family in the rear of the room, and stoned silence from the media. We're professionals, after all. Heartless, heartless professionals.
12 p.m.: Twitter alerts me that Ring Man is back in the building! If you've forgotten Ring Man, here is Ring Man:
Alabama Ring Man is here. Reminder: Alabama does not arrive until Thursday. #SECMD14 pic.twitter.com/u6zmn9s0xS

— Matt Scalici (@MattScalici) July 14, 2014
That picture is, sadly, not mine; by the time I make it downstairs to the Free Speech Zone, my quarry has escaped. The good news: this isn't even Alabama's scheduled day at the Wynfrey Hyatt Regency Birmingham, so I'm assuming my odds of catching him this Thursday (when Nick Saban and Co. will be in the building) are, well, favorable. 
One other note on Ring Man: yes, he spent a reported $300 on his ring hat. But before you make fun, consider 1. between last year's SEC media days, this year's SEC media days and (we can only hope) future SEC Media Days, he's absolutely doing his best to get his money's worth 2. how many times you've blown $300 on some item or experience you clearly didn't enjoy as much as Ring Man enjoys his ring hat. Respect, as the kids say.
12:15 p.m.: My local Piggly Wiggly growing up sold cheap generic cat food labeled, in black all-caps on a white label, "CAT FOOD." That was it. Just "CAT FOOD."
I thought about that when looking at this notebook provided to media members: 
1 p.m.: Gus Malzahn drops a couple of items of Auburn news, but the real highlight is when he gets the biggest laugh of media days so far with his response to a question about how prevalent marijuana use is among SEC players.
That's not because Malzahn was trying to get a laugh; he said, in response to a lengthy, multifaceted question, and I quote:
"We have school rules.  Of course, I have team rules.  We abide by them."
End quote. Would Gus Malzahn rather talk about his team's potential marijuana use, or actually sit down to smoke marijuana with, say, a pack of rabid ferrets? It was hard to say.
1:30 p.m.: Malzahn moves from interview room to interview room surrounded by multiple Alabama State Troopers, a phalanx of TV cameras, several other people whose purpose isn't immediately clear but who are no doubt very important ... the impression is of either 1. the President 2. a surprisingly buoyant accused celebrity attempting to escape the county courthouse without answering any specific question.
2:30 p.m.: Will Muschamp takes the podium and carries on a fine, time-honored SEC media days tradition: filibustering through his question-and-answer time by running down half the members of his Florida roster. As with Malzahn, Muschamp is clearly more interested in avoiding saying anything interesting than, well, saying anything interesting.
Nonetheless, the overall impression of Muschamp -- from my seat near the back, anyway -- is one of defiance. He mentions the "chatter about the hot seat" up front. He says he has more offensive talent than he's ever had at Florida. He responds to a question about his inexperienced defense by saying he'd rather have talent anyway.
Your mileage may have varied, mind ... 
Muschamp always sounds like a nervous Ole Miss fraternity treasurer trying to book a formal venue.

— Steven Godfrey (@38Godfrey) July 14, 2014
... but me? I think Muschamp sounded like a coach who believes -- who truly, deep down, really does believe -- that things really are about to turn around for his football program. Does that mean it's more likely things actually will? Maybe, maybe not. But what the hell: let's go ahead and say yes.
More from Hoover tomorrow. 
A magic trick turned into a scholarship surprise for this Texas lineman

Michigan's notorious secrecy is getting called out again

Key was named a 2017 CBS Sports Preseason All-America selection this week
Our bowls expert looks at the toughest -- and weakest -- nonconference schedules in the na...

The new uniforms will be worn on Oct. 28 at Kyle Field vs. the Bulldogs

Kiffin's Owls have added myriad troubled players since he took over in Boca Raton