My first SEC media days: a Day 4 diary
Your humble college football blogger is attending SEC media days for the first time. Here's a diary from its fourth day.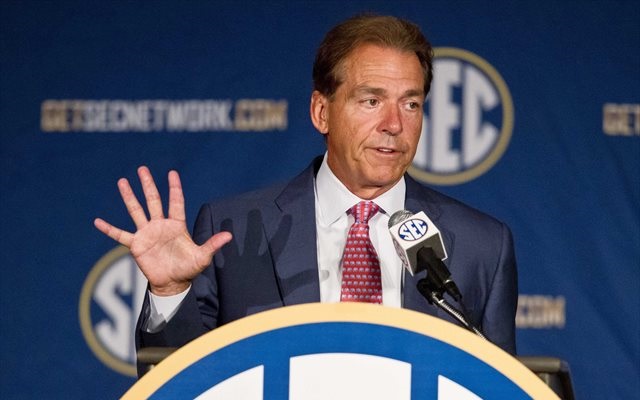 Hi! I'm Jerry, a college football writer who's attending my first-ever SEC media days. I've been keeping diaries of my experience: here's Day 1 (featuring Gus Malzahn on marijuana), here's Day 2 (featuring Stephen Garcia), and here's Day 3 (featuring four different players in bow ties).
Talking to many of the attendees here at the Wynfrey Hyatt Regency Birmingham, the consensus at this point is all but universal: between the addition of a fourth day and the absence of a Johnny Manziel-slash-Jadeveon Clowney-type superduperstar, the 2014 edition has been the mose sedate, most orderly edition in years -- more Ernst and Young than Barnum and Bailey.
Fortunately, Day 4 (and the arrival of this event's biggest rock star, Nick Saban) promised to shake things up. Here's my completed diary:
3:30 p.m., FINAL DIARY ENTRY: As I write this, the hotel staff is packing up tables and chairs, shifting the movable walls around in anticipation of the next event -- which we have been told in no uncertain terms WILL begin in the former main media room at 4 p.m. -- and moving other pieces of equipment into place. The media ranks have thinned dramatically, every 20 seconds or so another hack hoisting his computer bag onto his shoulder and exiting the room with a wave to a colleague. The circus, as they say, is leaving town.
But these media days never actually felt like the circus I'd heard about for so many years. Coaches took the podium on time. They were asked reasonable questions and responsed with reasonable answers. The players came into the main ballroom soon after. There were no "scrums" surrounding them. They, too, answered professional questions in a professional manner. Everything ran smoothly. Everything ran on time. Everyone got along.
That's not to say it didn't feel like a major, major event. There was the sheer crush of media numbers, the phalanx of TV vans outside and camera-toters inside, the presence of titans of our sport like Steve Spurrier, Nick Saban, Les Miles, all the rest. If you wanted to say everything took place under "a big top," well, yeah. It was that big and then some. For someone who wasn't around for 2013's 14-teams-in-72-hours spectacle, though, it was hard to avoid the sense that I'd arrived at a party just as it died down.
In search of my necessary post-lunch coffee after Mark Stoops' appearance, I left the hotel and headed into the Galleria. For those of you not from Birmingham: the ex-Wynfrey is attached to a large suburban mall, and you can walk directly from the fan-packed lobby through radio row and into the mall's main atrium and food court.
If descending from the hermtically-sealed atmosphere of the upstairs ballrooms into the frenzy of the lobby was jarring, entering the sunlight-flooded, carousel-bedecked Galleria was like walking off a spaceship onto an entirely different planet:
Before coming to Hoover, I had a question I wanted answered for myself: How has SEC media days become this 500-pound gorilla, this looming Devil's Tower rising up out of college football's offseason?
Walking into the mall, the answer seemed to be that it's succeeded through creating its own unique world-within-a-world. College football (like any sport) is always mostly meaningless outside of its own self-developed bubble, and the offseason rhythms of minor arrests and coaches' soundbites feels more meaningless still. For a few days in July, SEC media days -- where even college football's fans are, literally, only heard as faint echoes down the stairs -- forges a place where those soundbites are revelations, where the players are oracles, where there's a story to be written every place you look. 
It's not all that real, even by the standards of college football and its media coverage. But is it awfully fun to pretend otherwise for a while? Yes. Yes it is. It may not have been a circus, but I know good and well I'll merrily buy the same ticket next year.
Still: it's been four days. Even in this mall atrium, there's so much light. See you next July, SEC media days.
2:30 p.m.: The final coach to make his appearance at the 2014 SEC media days podium, Mark Stoops seems like an engaging enough guy. He opens by telling the assembled media they "deserve an award" for lasting through four days of THIS PUREST INCALCULABLE HELL, and look, Mark, if you're serious, I'm not going to say no to like a $25 Chili's gift card. He was reasonably candid about his stunning success recruiting in Ohio, his experience watching his former Florida State team win a national title, etc.
But I'm going to be perfectly honest with you, dearest reader: by this stage of proceedings, I was in dire need of a good cup of coffee -- not get too "inside baseball" with you, but the Caffeine in American Journalism Act of 1983 requires any member of the written media to consume no less than 36 oz. of coffee per standard workday, for the good of the industry -- and the media coffee on offer outside the main ballroom was so lukewarm as to be nonpotable.
So I spent much of Mark Stoops' comments daydreaming about free Southwestern egg rolls. Sorry. To make it up to you, reader, I took you this picture of Wildcat defensive end Za'Darius Smith's exquisite three-piece suit:
Dapper as it gets, there.
1:15 p.m.: A series of audible "ROLLLLLL TIDE!"'s bubble up from what I've thought of (ever since Tuesday's "Titanic" metaphor) as the steerage section -- less prim! less money! more fun! -- of the good ship S.S. Media Days. One last shot of what riding down the escalator today was like:
One BREAKING EXCLUSIVE NEWS follow-up to Monday's diary: neither Ring Man nor his ring hat was among the throng Thursday, having told CBSSports.com earlier in the week he would be out of town visiting family. So all of you who had something to say about Ring Man showing up on Monday had best walk it back. #TeamRingMan.
1 p.m.: In something of an upset, not even the local angle can push any of the three Crimson Tide players in attendance -- Amari Cooper, Landon Collins or Christion Jones -- past the mob that gathered for Georgia tailback Todd Gurley this morning:
With only Kentucky players to come, we feel comfortable in declaring Gurley the 2014 winner of the make-believe Tim Tebow Award for "largest assembled crowd for player at media days." 
12:30 p.m.: Saban kicks off his podium appearance with a long-winded, dour discussion of "the behavioral culture of our young people now," which as you'd guess from that phrase isn't exactly in the "Millennials will prove themselves to be the new Greatest Generation!" camp. Saban's point eventually seems to be that giving players the tough-love boot for disciplinary issues isn't always really in their best interest, a point that seems relevant in the wake of the Kenyan Drake arrest but also seems a kind of response to a potential comparison between himself and coaches like Mark Richt and Gary Pinkel who've recently made some high-profile dismissals.  
The only thing is ... is anyone actually making that comparison? Has anyone really accused Saban -- who if anything has a reputation for a quick trigger when it comes to managing his roster -- of being soft on discipline? One might be tempted, if one was inclined, to think about the lobby Saban passed through only minutes before -- and wonder if in the absence of actual criticism from either the most reverential fanbase in college football or a media that's forced to acknowledge his overwhelming level of success first and foremost, he's felt the need to create some criticism of his own.
Then again, it's hard to read Saban's motivations into anything he says at the podium. His demeanor might best be described as "world-weary," his expressions suggesting he's quite, quite over having to go through this particular song-and-dance again and desperate to go back to smoothing out the two-loss disturbance in his universe. Then again: he's asked a question about his new grandbaby, and responds with no shortage of verbal verve about Little Debbies, grandparenting styles vis a vis letting the grandchild cry or not, and the potential disappointment when the spoiled grandchild isn't greeted with a "standing ovation" when she goes to kindergarten. And here's the thing -- his demeanor doesn't change during that answer at all. He segues into answering a question about Trey DePriest, and the seriousness he showed when discussing his granddaughter is identical to the seriousness showed when discussing his star linebacker. 
Saban ends his appearance with a well-done barb at the media for picking the Tide as the 2014 SEC champion -- "Every year that we've been fortunate enough to win the championship, you picked somebody else to win it.  So, just to let you know, we're evaluating you" -- and again, it's delivered in the same deadpan monotone he used when denying that he'd been offered $100 million by Texas.
As with every coach here, this is my first time seeing Nick Saban in person. In this setting, at least, it doesn't seem true at all to say he doesn't have the same personal, more human side as any coach here. He's got jokes! He's got kids and grandkids! The problem is that the human side just sounds the same coming out of Saban's mouth as the same numbing coachspeak that comes out of everyone else's, and it's hard to think that -- along with his unquestioned and unquestionably brutal desire to win -- hasn't colored public perception of him. 
11:30 a.m.: Sounds like there's some commotion downstairs, let's just head down the escalator towards the lobby and see what's happening ...
Oh. That. (If you can't tell, that's Saban on the left. Look, I'm shooting mid-escalator ride with a cell phone in weird light and I have taffy fingers.) 
I start to snap another shot of the buzzing crowd (that one would have won the Pulitzer) and am told the area I'm standing in needs to be cleared. This can't be emphasized enough: leaving the tranquility of the main media room and riding down the escalator into the lobby is the closest I have ever come to experiencing the phrase "descent into madness" made literal. Saban's next at the podium.
11 a.m.: Hey, Ole Miss 's quarterback isn't wearing a bow tie ...
... but he is wearing a BO tie! HA HA HA HA I've been here since Monday, and if you knew how long I'd been sitting on that joke, you'd cry. 
Anyways, if you're one of the many denizens of the Internet who have enjoyed calling Wallace "Dr. Bo," he said the world was free to call him whatever it liked ... but he also didn't exactly give the nickname a ringing endorsement. Oh well.  
10:30 a.m.: Hugh Freeze's appearance at the podium is occasionally punctuated by the distant sounds of cheers and whooping from downstairs, like the sounds of war drums from an advancing army. Though in this case, the army is armed only with Sharpies and can't advance past the nice women checking credentials at the escalators anyway. 
10 a.m.: His name is Anthony, and if you're wondering, no, he is not an Alabama fan who happened to move to Australia; he is a native, thick-accented Australian from a small town in New South Wales who happened to marry an Alabama grad:
Anthony now says his wife is somewhat "embarrassed" by how big an Alabama fan he's become. SEC FOOTBALL: NOT EVEN ONCE. Though if you do become an SEC football addict, it's OK -- you're going to have plenty of company:
9:30 a.m.: With all three Georgia Bulldogs players in attendance wearing bow ties, it's officially time to start counting the players that don't wear bow ties rather than the ones that do. Here's linebacker Ramik Wilson:
This is a good thing, of course; would anyone complain about SEC media days featuring too many free pints of Haagen Dazs, or an impromptu acoustic Bruce Springsteen performance, or ducklings? Of course not.  
Dawg wideout Chris Conley was also here, also bow-tied, and also crushing it, but I didn't get around to asking him anything; as a hopeless geek, I'm honestly intimidated by geeks who are even geekier than I am.
9 a.m.: Mark Richt is first up at the podium, and his media days reputation is of a coach who's not exactly milquetoast, but not exactly going to hold the room in the palm of his hand like a Spurrier or Miles, either. 
That proves to be a fairly apt description of Richt's performance, but it's also true that a transcript of his remarks doesn't do justice to the glints of defiant confidence that seeped into his delivery on occasion. The record shows that Richt wrapped up in response to a question about his transfer-gutted secondary by saying: 
We feel like we're going to be just fine.
But that sentence was delivered with an emphasis on the final two words, legitimate conviction, and maybe even the hint of a sly-fox smirk. Richt said he was happy to see the media pick his team second in the East (thanks to our horribawful track record) ... but he also subtly suggested the media was overreacting to the loss of Aaron Murray, and opined "I think in the end it's going to be Georgia " with more than a hint of irritation.
Richt also lived up to his good-guy reputation by saying "life's too short" to worry about Tray Matthews' transfer to Auburn or facing him in 2015, and affirming he was perfectly happy with Georgia's stricter-than-necessary marijuana policy. But if Richt's record in Athens wasn't already evidence enough, the impression left at the podium only confirmed: yes, he's every ounce as competitive as any of his SEC peers.
Miami looks to cap an undefeated regular season at Pitt on Black Friday

Fitzgerald was injured while running during the first quarter of the Egg Bowl

D.K. Metcalf certainly had an interesting spin on his touchdown celebration
The Commonwealth Cup has resided in Blacksburg for over a decade

The biggest game in the AAC this season takes place Friday

Can Arkansas spring the upset on a Missouri team that has caught fire after a sluggish sta...