My first SEC media days: a running Day 3 diary
Your humble college football blogger is attending SEC media days for the first time. Here's a diary from its third day.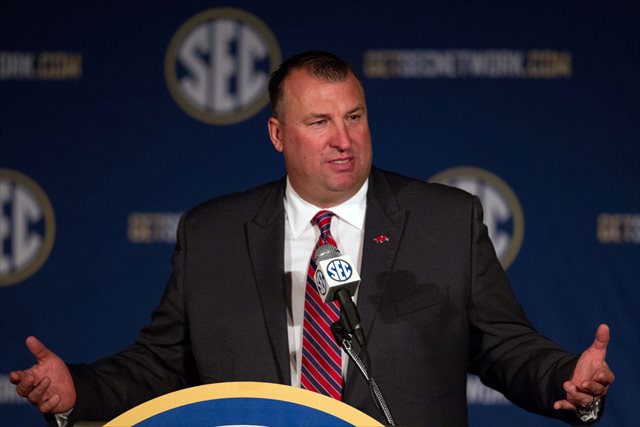 More college football: Jon Solomon | Dennis Dodd | Jeremy Fowler | Latest news
Hi, I'm Jerry, a college football writer who's attending his very first SEC media days. I've been keeping diaries of my experience -- here's Day 1's, and here's Day 2's. I overheard a conversation late Tuesday afternoon in which one media member asked another if it had been a "boring" media days so far, to which the other agreed, yes, it had been "boring."
I did not find either Steve Spurrier or Kevin Sumlin boring, to say the least. And Day 3 provided both Les Miles and Bret Bielema, neither of whom qualified, either. Maybe there hasn't been a bombshell yet, but there have been interesting quotes, unaffiliated bulldogs, questionable ballots and bow ties.
Read on in my running Day 3 diary:
3:30 p.m.: As promised, Arkansas's players all wore bow ties, bringing our unofficial running tally of bow-tied players today to: all of them. (Which is how many there should be.) Here's offensive lineman Brey Cook:
But there's more going on here than just a bow tie. Note the GoPro camera in front of him: Cook spent some of his time being filmed Wednesday by filming the filmers. Also, if you can't see the cufflink, let's try and zoom in ...
They're Superman cufflinks! Cook said his grandmother picked them out, and "you don't question Memaw."
No, no you don't, especially when she's suggesting you wear Superman cufflinks to SEC media days.
3 p.m.: The instant Gary Pinkel let drop this morning that he believed Bret Bielema's claims that no-huddle offenses increase injury risk to be "fiction" (see below), anybody and anything in the room up to and including the empty styrofoam coffee cups could have told you Bielema was going to have a response.
The cups were, unsurprisingly, not wrong.
"I'm probably more of a reality-based movie guy more than fiction, I guess," Bielema said. "I think I deal more in what I know, what I see, what I believe ...
"A lot of times no-huddle offenses can play really good offense and bad defense and still win. That's just not how I'm going to work.  I have seen a couple good fiction movies, though, so I know good fiction when I see it. Had to give you guys one to run."
That last bit was delivered with a smile, and following an extended defense of his commitment to player safety in which he noted Arkansas was not called for targeting in 2013. Bielema was also, of course, asked about his prickly relationship with Gus Malzahn:
I think the greatest thing I've learned in life is, you respect the opposite of what you believe in more than anything. By that I mean, Gus runs an offensive style and philosophy that is completely opposite of what I believe in, but who can argue with his success. That makes me respect him even more.

As far as communicating, we've talked on the phone a couple different times about different issues. None of them have been player-safety related, I can assure you of that.

We do have conversations within the room, SEC coaches that are very respectful, very true. I think he doesn't hold anything back. I don't hold anything back. I have a tremendous respect for him and his staff, what they did ... I can't say that we're breaking bread together and going to dinner when we can, but I'm not throwing bread at him and rocks and everything else. It's just what it is. Greatly respected.
Bielema has a reputation as a loose cannon, one that's not undeserved given some of his comments at Wisconsin, his angry "I'm not a comedian" response to Malzahn at 2013 media days, and other missteps. Between the "reality-based movie" quote and admission that he and Malzahn simply aren't ever going to be bosom chums, it's also fair to say that Bielema once again strayed from the standard how-to-handle-the-media playbook Wednesday.
But give Bielema this much: in person, it was clear he was trying to be gracious where Malzahn is concerned, trying to both acknowledge that he disagrees with Pinkel but isn't going to take it personally (as he seemed to in Hoover last year). He's never going to be, well, Steve Spurrier. But he's making an effort.
2:30 p.m.: DAILY LOBBY REPORT: Not much in the way of fans, somewhat surprisingly given that LSU in the house -- the Tiger faithful have a reputation both for the sort of crazy that lends itself towards chilling in a hotel lobby for eight hours on a weekday and aren't without representation in the Birmingham area.
But there's just a handful of Tigers around, and one bulldog named Penelope:
"Mississippi State fan?" I asked the owner. Nope. "Georgia?" Nope. Just a Tennessee native living in California visiting Alabama fans in town who decided to come together to SEC media days and bring the bulldog along, because: SEC media days!
Also, remember Day 2's digression regarding the folks at the bottom of the up escalators making sure none of the unwashed credential-less masses make it upstairs? Today's are named Tim and Aaliyah:
I asked if they had ever seen "The Neverending Story." Neither had. I asked if they fried anyone who tried to go up the escalators without a credential with bolts of lightning from their eyes. They said no. Life can be so dull sometimes, you guys.
2 p.m.: My preseason All-SEC ballot and predicted order of finish has been filed with the SEC; you can view it here (PDF).
In the West, I went: 1. Alabama 2. Auburn 3. LSU 4. Ole Miss 5. Mississippi State 6. Texas A&M 7. Arkansas. In the East: 1. South Carolina 2. Georgia 3. Florida 4. Missouri 5. Tennessee 6. Kentucky 7. Vanderbilt. (For a little bit more on my thoughts on each team, I recently broke down each team's over/under win total. East's here, West's here.)
Looking over those predictions, the one thing I would say is: BOOOOOOOOORRRRRRRRRING. Too boring to be right, anyway. Save for the Gamecocks over the Bulldogs and maybe Wildcats over Commodores, I'd expect them to track the SEC Media Days' consensus at large -- and it's no secret that consensus has been gawdawful at its "job." But I keep looking up and down the schedules and rosters involved (it's not entirely by accident that every team in my West projection hosts the team ranked a spot below it), and that's what I get. Maybe after the meteor-strike of dual Auburn/Missouri titles in 2013, 2014 will be the Age of Order and Prognosticative Enlightenment? (It will not be. Ole Miss will play Florida in Atlanta. But whatever.)
1:30 p.m.: I may be a little overexcited by the trend, but whatever: it makes me feel better about the steady, slow progress of the human race and our collective ability to overcome whatever obstacles lay in front of us to realize bow ties have become this season's must-have accessory among star college football players. (Arkansas's players are reportedly going to be wearing coordinated bow ties as well.) LSU tailback Terrance Magee:
1 p.m.: Les Miles is up. In case you were wondering why there is a helmet next to the podium, it's because when you shoot from the right side of the room ...
... BAM! Helmet prominently in the shot, no effort! 
As for Miles' comments, the early highlight was mentioning Michael Jordan no less than four times in a single sentence on five-star tailback Leonard Fournette. (Remember the "Being John Malkovich" scene where Malkovich travels inside his own head? It was like that, but for Miles. And Michael Jordan.) Miles also casually mentioned in his opening statement that Fournette had been the No. 1 running back in the nation in the class of 2014. Maaaaaaaaybe Miles is excited about Fournette's potential, we guess, maybe, perhaps, possibly.
Overall, the personal impression from Miles' appearance was that 1. he believes his new recruiting class is the bee's proverbial knees 2. he remains Les Miles. Steve Spurrier was charming while giving the undeniable impression he was in complete control of every word that came out of his mouth; Miles is charming while giving the undeniable impression the next words out of his mouth could be "trombone daffodil Richard Nixon spaceship."
12 p.m.: The SEC will release the media's preseason All-Conference teams Thursday, and already I can promise you there will be Alabama fans outraged over the unconscionable snub of quarterback Jacob Coker, LSU fans baffled by the exclusion of five-star tailback Leonard Fournette.
There will be a very simple explanation for those "snubs," though: the media aren't allowed to vote for them. Here's a screencap of the electronic ballot provided to media for All-SEC quarterback:
Not only is there no Coker, there's no Hutson Mason, or Anthony Jennings, or Justin Worley, or Kyle Allen. (There's also no method of writing them in.) Even if each of those quarterbacks do happen to be embroiled in quarterback battles of some degree of severity, is it that hard to think someone out of the assembled media throng would believe them capable of an All-SEC season?
It's not, but I spoke to SEC media honcho Chuck Dunlap, and received a simple explanation: it's up to the schools. Each team submits a list of players they wish to nominate for the preseason All-SEC team, and any player not among those nominees is excluded from the ballot. So it makes sense that Alabama and LSU and Texas A&M wouldn't submit a quarterback on their list of nominees, since none of those teams is ready to even declare a starting quarterback at all.
So speaking as a member of the voting media to any fans irritated by Thursday's All-SEC announcement, let me be the first assure you: it's not my fault.
11 a.m.: Look, I'll keep this simple: Bill Hancock's presentation on the process of selecting and seeding the College Football Playoff will do nothing to change the talk this SEC media days is ... not a circus. Not exciting. Not wild. It is very, very much the opposite of any of those things. It is a circus, but in hell, where the performing elephants pore over actuarial tables.
10:30 a.m.: A presentation on the SEC Network ends with a highlight montage soundtracked by, uh, Johnny Cash's "The Man Comes Around." It's a great song, but it's great because of its, you know, terrifying portrayal of religious apocalypse. If getting the SEC Network portends "voices calling and voices crying / Some are born and some are dying / Alpha and Omega's kingdom come," maybe DirecTv kind of has the right idea here.
10 a.m.: Lineman Evan Boehm and quarterback Maty Mauk promised in April that the Missouri offense's look for 2014 would be "mullets and beards." These are clearly men of their word. Boehm: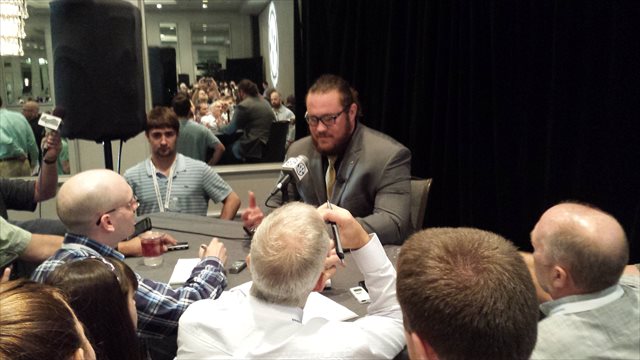 Mauk: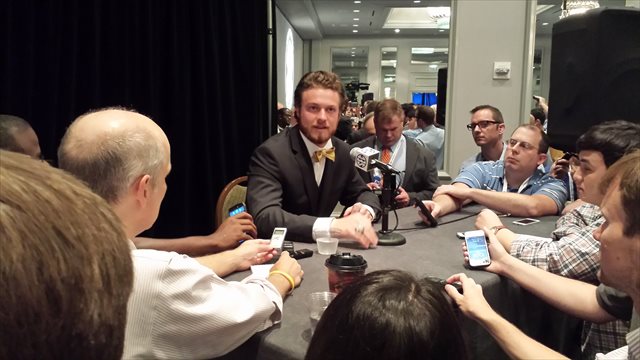 Mauk may have to put further effort into his mullet game, but the bow tie helps even things out regardless (even if -- shocker!!!! -- he reportedly did not tie it himself). Thumbs up all around.
9:30 a.m.: Gary Pinkel is up next. If you'd asked me ahead of time what the one hot-button issue of these media days would have been, I would have said the Hatfields-McCoys-caliber feud over hurry-up offenses and the proposed (and defeated, for now) rules change to slow them down. Surprisingly, both Gus Malzahn and Kevin Sumlin -- proponents of the no-huddle as committed as you and I are as proponents of oxygen -- didn't wind up saying much of note on the topic.
Things were just a bit different with Pinkel:
I don't know where all this started with. I just know this, okay: never once in all those years in the fastest league I think that plays football in the Big 12 did I have my team doctor, my trainer, any of my coordinators walk into my office and say, I'm concerned about the health of our football team. It didn't happen ever. Didn't happen last year or the year before.

It's another form of football. I think it's great that that's another component to football and being creative. But I don't buy the health issue in any way. It's never happened. No one has ever come into me all those years and said, Gosh, I'm really concerned about the health of our teams playing these fast paced offenses.

I think it's fiction. Fiction based on that. Never even come up before.
Chances that "fiction" remark comes up during Bret Bielema's comments this afternoon: whatever number is greater than 100 percent.
9 a.m.: First up Wednesday is SEC coordinator of officials Steve Shaw. "We were pleased with our season overall," Shaw says, after the SEC's officials went 7-5 and lost to North Carolina in the Music City Bowl, "but we've got to continue to improve our performance." He says the league's officiating crews have lost some major contributors, but that "we've got some really good officials that are ready to step into those roles and I'm looking forward to that."
Next year, Shaw should fill in for, say, Dan Mullen and see how long he can coachspeak at the podium before anyone notices. Eventually Shaw does get specific about officiating changes for 2014 and delivers a PowerPoint presentation -- complete with relevant video from SEC action -- that winds up being far more interesting than "head of officiating delivers PowerPoint presentation" sounds.
The highlight: a discussion on the targeting rule, which this year will not result in a 15-yard penalty if the call is overturned on replay. Because Steven Godfrey's photo was better than mine:
Here's the "clarity" on targeting foul revisions. pic.twitter.com/jsk4UhAXHj

— Steven Godfrey (@38Godfrey) July 16, 2014
All right, look, I promise this was interesting. Really! Mostly!
College football bowl games were all announced on Sunday, and you can check out the entire...

SportsLine simulated every bowl game 10,000 times for pick'em leagues and confidence pools

Everything you need to know to watch and pick the Las Vegas Bowl on Saturday
Everything you need to know to watch and pick the Camellia Bowl on Dec. 16

Everything you need to know to watch and pick the New Mexico Bowl on Dec. 16

Everything you need to know to watch and pick the Cure Bowl on Saturday