My first SEC media days: Day 2 diary
Your humble college football blogger is attending SEC media days for the first time. Here's a diary from its second day.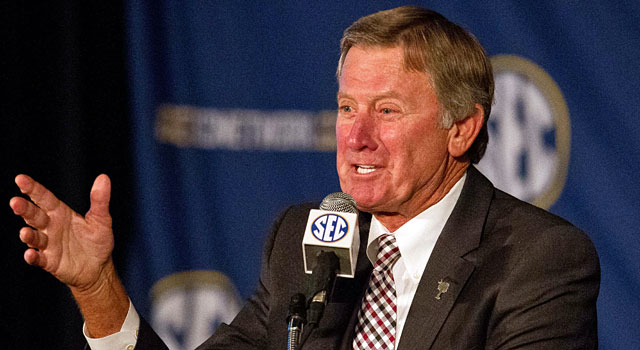 More SEC media days: Solomon: SEC's new network world | SEC media days latest
Hi, I'm Jerry. I'm a college football writer attending SEC media days for the first time. Monday I wrote a diary of my experiences from Day 1 at the Wynfrey Hyatt Regency Birmingham, and I wouldn't dare suggest I was anything like "disappointed."
But given media days' reputation as the wildest, craziest, wackiest event on Earth to involve hundreds upon hundreds of collared shirts, it seemed much more ... orderly than I'd expected. The wacky seemed pretty well contained to the fans in the downstairs hotel lobby toting heavily-autographed mini-helmets, while the actual media days activity upstairs proceeded with leisurely, mannerly efficiency. The experience was a bit like being an upper-class passenger extra in James Cameron's Titanic, just with a lot more laptop cords. (In this version, the iceberg will be colored garnet and gold in post-production.)
After speaking to multiple SEC media days veterans, I've been assured this is due to 1) the event having been spread out over four days for the first time; 2) Alabama fans pacing themselves until Saban's arrival Thursday. By the end of Day 2, though, none of that mattered: crazy or not, wacky or not, I got to hear Steve Spurrier at the podium in person and watch Kevin Sumlin lay waste to the assembled media like a fire-breathing dragon descending on a city of balsa wood and leaking gasoline cans. It was a good day.
And so, here's my second day's worth of diary:
8:45 a.m.: I'm just about to enter the hotel when I realize I've left my media credential in my car. You should know the primary barrier between the lobby rabble and the glory of the upstairs ballrooms are two well-dressed individuals, stationed to either side of the up escalator, who check to ensure anyone going up has a credential. They probably can't shoot interlopers dead with bolts of magic energy from their eyes like the statues in the "Neverending Story," but I figure it's best not to take chances and turn around.
8:55 a.m.: The first thing I spot in the lobby is a young Auburn fan, complete with Kick-Six taunting orange T-shirt, having his picture taken with local radio personality and famous former Alabama quarterback Jay Barker. Cats and dogs living together, man.
But overall, the lobby -- with its handful of Tennessee, Texas A&M, and other lone SEC representatives -- isn't nearly as lively as during Auburn's appearance yesterday: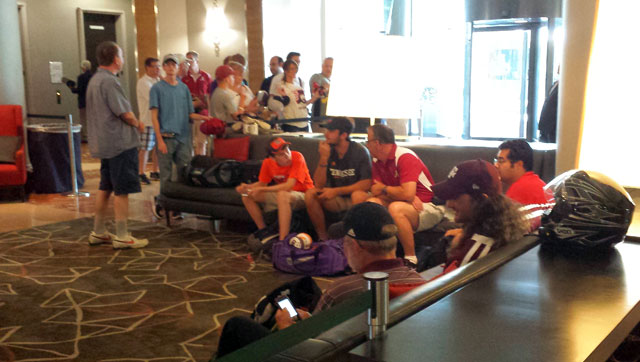 9 a.m.: Steve Spurrier takes the podium. This is the first time I have ever heard the Ol' Ball Coach speak in person. It takes ... 30 seconds? 45? maaaaaybe 2 minutes? ... to realize that everything ever said about Spurrier's public charisma and skill is absolutely true.
His comments are smart, sharp, tightly controlled -- for example, see the shade he throws in the direction of Nick Saban during this performance -- but delivered in such folksy, off-the-cuff fashion that Spurrier comes across as making no effort in his delivery at all. 
"Gus Malzahn is one of the best coaches in the country, not just the SEC.  I think everybody knows that," Spurrier says when asked about the Auburn coach. "They didn't win that national championship unless he was there.  I think everybody knows that, too."
You know how sometimes you look at your arm or ankle, and there's a cut there you can't for the life of you remember how you got? Gene Chizik just looked down and discovered a big one, an outright gash. And Spurrier wasn't even trying. When He leaves the podium, the phrase "in the presence of the master" is the one that comes to mind.
9:30 a.m.: BROYLES AWARD FOR THE NATION'S TOP ASSISTANT COACH IS IN THE HOUUUUUUUUUUSE: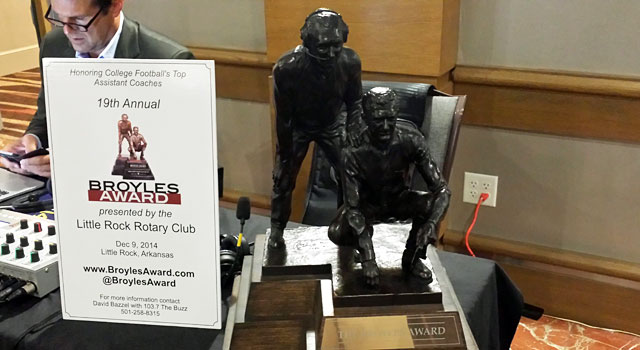 10:30 a.m.: As someone who grew up in rural Alabama and followed soccer for most of his adult life, I've been screaming for years that the best comparison for the unquenchable passion of SEC football fans is, in fact, the unquenchable passion of European football fans. So to hear Dan Mullen actually spell that out from the podium at SEC media days (in response to another reporter's question about his World Cup interest) felt like having a very personal bone tossed my way. Thanks, Dan Mullen! Even if half of Twitter pretended that asking (and earnestly answering) a light-hearted soccer question at SEC media days was akin to peeing on the Vatican floor!
(Though the next time someone asks about Liverpool, Dan, they sold Luis Suarez to Barcelona, not "traded" him. I know no one else noticed. Just an FYI.)
11:30 a.m.: We all live in Disney's Tomorrowland: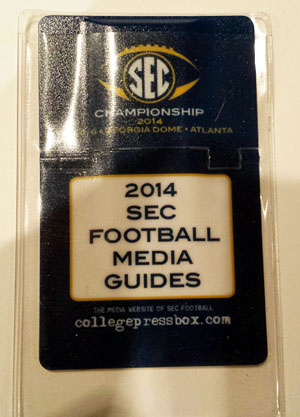 That, friends, is a custom-made jump-drive containing enough media guides to fell an entire Brazilian rainforest full of adorable animals if printed out. These truly are the days of miracle and wonder.
12:30 p.m.: The South Carolina fans in the lobby were richly, richly rewarded for their efforts: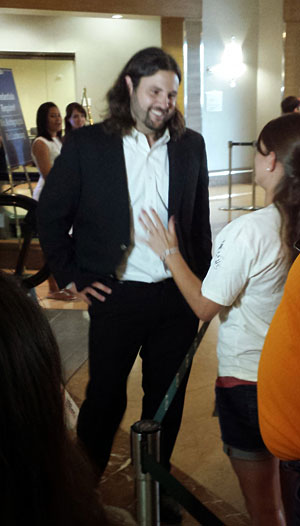 That, of course, is former Gamecock quarterback and SEC legend Stephen Garcia, making -- now this is irony -- his reported first-ever appearance at SEC media days.
(Side note: scroll back up to the photo of the lobby. See the Texas A&M fan on the right? If you can share a room with Stephen Garcia and still boast the best head of hair in sight, you have truly accomplished something special. Kudos, anonymous sir.)  
1 p.m.: Kevin Sumlin takes the podium. He smiles and says a cheerful "Good afternoon!" ... to which the roomful of lunch-groggy media members responds by collectively not responding in the slightest. "You guys are awful quiet," Sumlin chides with a grin.
It turned out that was Sumlin playing nice. Very nice. A contextless sampling of several other responses to media questions:
On the absence of Manziel: "Let me get this straight. The question was, what's it like not coaching Johnny Manziel?"
Same question: "Your first question to me is irrelevant."
On his advice for Manziel: "Is this the SEC media days? No, that's a great question about the Cleveland Browns.  Anybody else got something?"
On a Spurrier barb about his contract and follow-up question: "The question didn't have anything to do with your comment.  Just had to get that out there, didn't you, right?  See you guys stirring the pot, trying to bring me in.  It's Year Three, you're not going to get me on that."
It's only fair to point out that nearly all of these responses were delivered with a grin wide enough to take in the whole room; if Spurrier owned said room through an abundance of charm laced with just enough razor-edged wit to keep things spicy, Sumlin owned it through an abundance of razor-egded wit with just enough charm to keep things light.
It seems unfathomable that Sumlin might be right back at these same media days in 20 years the same way Spurrier was firing off one-liners two decades ago. But if he is, it seems unlikely anyone -- anyone other than the media singed Tuesday, anyway -- will complain.
1:30 p.m.: From the "sweet tie-and-jacket combo basically no one else in the room could pull off" file, Texas A&M's Deshazor Everett: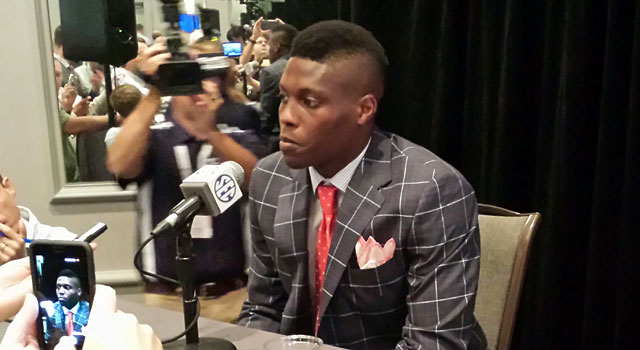 Sumlin also made the bold choice to bring his 2013 Ray Guy Award finalist punter, Drew Kaser, the only specialist invited to SEC media days: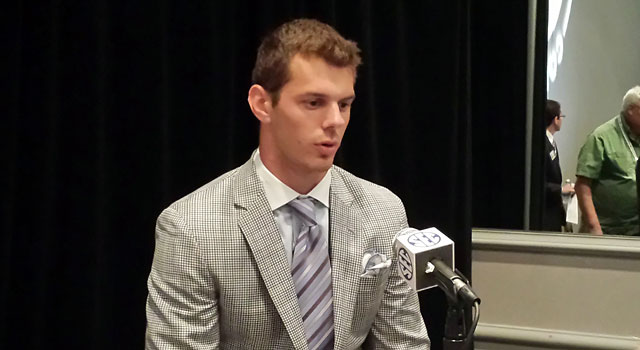 I listened to Kaser for around 20 minutes -- hey, it was the only chance to hear a punter the entire week -- during which time he likely answered no fewer than five variations on "So you're a PUNTER at SEC media days and oh man, can you BELIEVE IT, what is this even LIKE for you, punter?" All of which Kaser handled with the height of professional grace.
Also: at one point Kaser was asked what it was like to sit at the same table where in 2013 Johnny Manziel looked out at a crowd of reporters "25 people deep." Kaser responded that a few minutes earlier, his crowd had been even deeper, drawing a well-earned round of laughs. Seems like he may have learned a few things from his coach.
2:30 p.m.: Is there a sadder program in the SEC right now than Tennessee?
This quote from OL Mack Crowder really brings home where once-proud Tennessee program is at: "What we're shooting for is a bowl game."

— Jeremy Fowler (@JFowlerCBS) July 15, 2014
I would have argued there is not, even before Butch Jones took the podium and in his opening statement said this:
"We're not at the norm in terms of having to replace a third of our football [roster].  We're having to replace almost half of our football team."
This year half of our roster will be brand new.  With that that has brought a lot of positive energy, excitement, momentum that surrounds Tennessee football ... We've had an influx of young talent and youthfulness.  We were very fortunate to sign a signing class of 32, 14 of which were early enrollees, so they were present during spring football.  That really helped in the overall development of our football program.

But we are still going through the realities of building a college football program.  We're the only school in the country that has to replace both starting interior lines, both offensively and defensively.  We have to replace our entire kicking game."

:(
2:45 p.m.: The good news is that despite that surprisingly honest assessment of his own team, Jones also still comes across as genuinely upbeat and energetic, an attitude shared by bow-tied linebacker Curt Maggitt: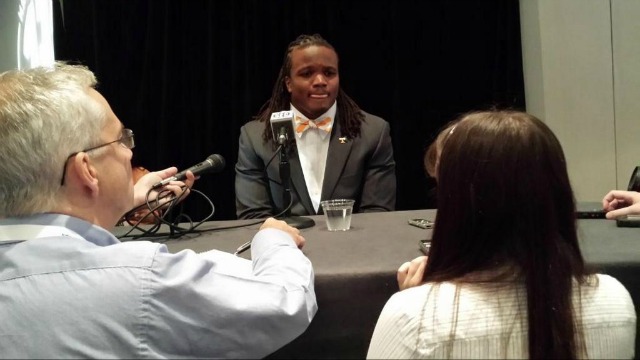 As with his coach, Maggitt refers to the 2014 Vols as "Team 118" -- a neat bit of rhetoric that, if not original, simultaneously ties the current squad to the program's rich history and separates it from the failures of its immediate predecessors. It's like yelling "Tradition!" and "It's a new day!" in the same breath, and this word nerd is appreciative.
More from Day 3 in Hoover tomorrow.
LSU at Florida has been picked as the SEC on CBS Game of the Week

The Michigan coach had quite a few things to say on Monday after their visit to West Lafay...

Injuries are ravaging an LSU team that is searching for an identity
Jones started answering an injury question and then went off about 'fake news'

The full ranking of all 130 college football teams includes TCU up and a major drop for Florida...

The charges all stem from an investigation into improper debit card charges