NC State's Dave Doeren takes wild bus ride to stardom
North Carolina State coach Dave Doeren heard about his offer to coach the Wolfpack while on the Northern Illinois team bus driving from Detroit to Dekalb. Now Doeren wants to create a championship attitude in the Atlantic Coast Conference.
• 2 min read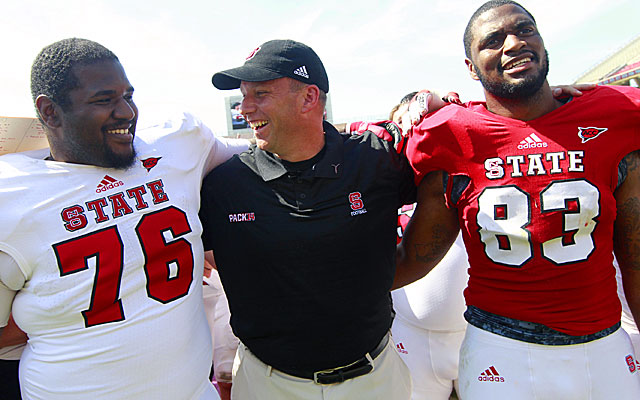 Dave Doeren, with Deylan Buntyn (left) and Anthony Talbert, wants a perennial contender in Raleigh.
(Getty Images)
RALEIGH, N.C. -- As NC State coach Dave Doeren makes his spring game debut with the Wolfpack on Saturday, there's an interesting backstory about how he got here.
He took a Greyhound. Sort of.
Fresh off the MAC championship over Kent State on Nov. 30, Doeren's Northern Illinois team was making the 6 1/2-hour overnight bus ride from Detroit to DeKalb. The Huskies don't fly. They take the highway.
A mechanical problem forced the bus to pull over at a rest stop. Meanwhile, agent Jordan Bazant was blowing up Doeren's phone. Several schools wanted to talk with the head coach who went 23-4 in two years at NIU.
Doeren wanted to wait until after the MAC title game to listen to job offers. He was hearing about them while he tried to organize a restless team outside a rest stop early on a frosty December morning somewhere in the Midwest (Doeren didn't remember the city).
Doeren tried to limit most of the contract talk with Bazant to text messaging while on the bus. He asked his agent, who's real and who's not?
"I just felt I had a great team coming back at [NIU]," Doeren said. "I didn't want to leave somewhere just to collect a million-dollar paycheck."
Cal and Colorado were in play. So was NC State.
NC State intrigued him because of quality facilities, a dedicated fan base/administration, and a program that was hungry after going 33 seasons without a conference title. Coach Tom O'Brien was fired despite four bowl appearances in six years, though O'Brien finished one season in the national top 25. NC State wanted to be a perennial contender.
Doeren's family had vacationed twice in the Asheville area and loved it.
Athletic director Debbie Yow flew to Illinois that day to lock up Doeren. He had a message for Yow.
"When we get a championship mentality here, I can help this place," Doeren said. "I felt like that. Had I gone to a Colorado-type place where they really need to start over facility-wise -- you're rebuilding everything there. Here, I don't have to. It just seemed like if I can get kids in-state that want to stay in state, which hasn't happened here, that will be big."
Doeren's first order of business upon his December start was strengthening relationships with prep coaches and players in talent-rich North Carolina. NC State isn't the first school to try this, but Doeren wants to enhance the Wolfpack brand to local schools through a mutual respect.
With 11 returning starters and his best quarterback option, Florida transfer Jacoby Brissett, on the sidelines until 2014 due to NCAA transfer rules, Doeren knows his new job requires patience.
"They know I have to build a program. It's not going to be year one that we're the best program, even though they want it to be," Doeren said. "It's not. It's going to take a couple of years to get over the hump of what we have and build a championship attitude.
The fourth-year coach of the Nittany Lions led the program to the 2016 Big Ten Championshi...

Yes, you read that right: The Bad Boy Mowers Gasparilla Bowl will be held in St. Petersbur...

James, who missed the 2016 season but has bounced back healthy, may be indestructible
Wakeyleaks appeared to be a one-off incident, but it goes down more often than you might t...

A look at the first conference power rankings of the 2017 college football season

A magic trick turned into a scholarship surprise for this Texas lineman