NCAA: Boise 'may provide assistance' to homeless signee
The NCAA has responded to a request from Boise State and will allow the school to 'provide immediate assistance' to homeless signee Antoine Turner.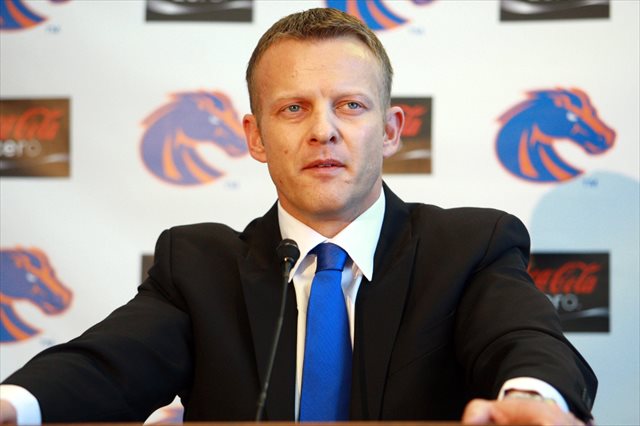 The NCAA announced Wednesday that it will allow Boise State to "provide immediate assistance" to defensive tackle signee Antoine Turner, after KTVB.com reported last weekend the New Orleans native has been homeless as he finishes his final semester at his California JUCO.
Speaking to the Idaho Statesman earlier Wednesday, Broncos coach Bryan Harsin said the school's "hands are tied" when it came to helping Turner's situation, thanks to the NCAA's rules on benefits. But with public pressure mounting, Boise's (arguably belated) request for a waiver was apparently processed quickly.
Direct from the NCAA's Twitter feed:
After Boise State's request last night, the school may provide immediate assistance to football student-athlete Antoine Turner.

— NCAA (@NCAA) May 14, 2014
A Hurricane Katrina survivor who lost his mother to cancer at the age of four, Turner told KTVB he had been sleeping in his girlfriend's car and at a hotel while finishing his time at Fullerton Junior College. A three-star recruit, Turner is scheduled to arrive at Boise June 1, though academics could delay that timetable until July.
"We've been involved in it as much as we can," Harsin told the Statesman. "Do you wish you could give the guy some money and all that? You can't do that. The human factor, you want to jump right over there and pick him up and drive him home."
The NCAA receives a lot -- a lot -- of stick for its rules regarding benefits to players, and in many cases, rightfully so. But give those at the organization full credit here: faced with Turner's situation, it didn't waste time doing what it could to help him.
Jovon Durante announced on Twitter he's headed to FAU

From Week 1 through the title game, everything runs through Atlanta this season

A concert is a nice way to break up preseason camp
Mills was arguably Georgia Tech's most important player coming into the season

Hugh Freeze's phone records reportedly show another troubling pattern for Ole Miss

They aren't necessarily great teams, but they're teams I'm really interested in following this...