NCAA could fine Penn State as much as $60M as part of Sandusky sanctions
The NCAA will announce 'corrective and punitive measures' taken against the Penn State football program Monday morning an 9 a.m. Eastern, sanctions CBSSports.com's Brett McMurphy reports could include a fine of as much as $60 million.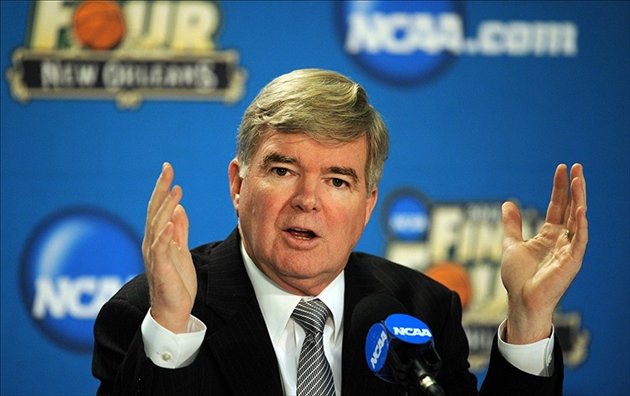 Mark Emmert will personally announce Penn State's 'unprecedented' sanctions Monday. (US Presswire)
The NCAA will fine Penn State at least $30 million and perhaps as much as $60 million for its involvement in the Jerry Sandusky scandal, industry sources told CBSSports.com's Brett McMurphy.
The record fine will go toward an endowment for children's causes, sources said.
"This is a fine like no fine before," an industry source told CBSSports.com.
CBSSports.com's Dennis Dodd has reported Penn State will face "significant penalties that could severely damage the football program's ability to compete" when the NCAA announces sanctions against the football program at a 9 a.m. news conference Monday. 
To put the fine in perspective, Penn State's athletic department had $116 million in revenue for the 2010-11 school year, the most recent data available according to figures from the U.S. Department of Education's Equity in Athletics. 
More on Penn State sanctions
Related content
A source told CBS News correspondent Armen Keteyian that Penn State will suffer "unprecedented" punishment for its collective failure to report Sandusky, recently convicted on 45 counts of sexual abuse, to the proper authorities.
"I've never seen anything like it," the source told Keteyian, indicating that both the football program and the school itself would face sanctions.
Per Dodd, a person with knowledge of the process said there is a way to impact Penn State's competitive ability in football without applying the so-called "death penalty." That term could be mere semantics by the time the NCAA sanctions are announced according to a source. Penn State, the source said, may prefer the death penalty.
A source confirmed for CBSSports.com that there are indications the penalties could be so unique they would be different than any previously applied by the NCAA. They could last beyond one season. 
David Jones of the Patriot-News reported that regardless of the severity of the sanctions, "they will not be appealed or substantively challenged." According to Jones, the university is "desirous of a positive relationship with the NCAA in the future" and won't jeopardize that relationship with an appeal. 
In a statement released Sunday morning, the NCAA announced a press conference for 9 a.m. ET on Monday, one the organization says will be detailing the "corrective and punitive actions" taken against Penn State. Both Emmert and Ed Ray, Oregon State president and the NCAA Executive Committee Chair, will be present. That suggests that the committee itself might have taken the action outside of the formal investigative process.
Critics of the NCAA penalizing Penn State have said the association has no jurisdiction in this matter, one that emerges from criminal action like Sandusky's conviction on 45 counts of sexual abuse.
Emmert has repeatedly raised the possibility of NCAA sanctions for Penn State, however, and in the wake of the Freeh Report's account of the program's failures to stop Sandusky, would not rule out the use of the death penalty.
"This is completely different than an impermissible benefits scandal like [what] happened at SMU, or anything else we've dealt with. This is as systemic a cultural problem as it is a football problem. There have been people that said this wasn't a football scandal," Emmert told PBS. "Well, it was more than a football scandal, much more than a football scandal. It was that but much more. And we'll have to figure out exactly what the right penalties are. I don't know that past precedent makes particularly good sense in this case, because it's really an unprecedented problem."  
Yahoo! Sports has reported that Emmert will be deciding on the sanctions personally, via "a special provision allowing such a step if he receives approval from the NCAA's board of directors." In lieu of the usual NCAA investigation, Emmert will be citing the Freeh report as "actionable evidence."
Current NCAA rules limit the death penalty to colleges already on probation that commit another major violation. But NCAA leaders have indicated in recent months they are willing to use harsher penalties for the worst offenses. That includes postseason and TV bans, which haven't been used extensively since the 1980s.
Emmert told Penn State in November that the organization would be examining the "exercise of institutional control" within the athletic department, and said it was clear that "deceitful and dishonest behavior" could be considered a violation of ethics rules. So, too, could a failure to exhibit moral values.
Bob Williams, the NCAA's vice president of communications, said after the Freeh report was released that Penn State needed to answer "four key questions, concerning compliance with institutional control and ethics policies."
Likely of particular interest to the NCAA were the report's conclusions that the school had "decentralized and uneven" oversight of compliance issues -- laws, regulations, policies and procedures.
"Certain departments monitored their own compliance issues with very limited resources," the report found. Ensuring compliance with the federal Clery Act, which requires the reporting of crimes, was handled by someone with "minimal time."
"One of the most challenging tasks confronting the university," the report added, "is an open, honest and thorough examination of the culture that underlies the failure of Penn State's most powerful leaders to respond appropriately to Sandusky's crimes."
Penn State president Rodney Erickson said after the report that the school was "in much better position to respond" to the NCAA's request.
CBSSports.com senior writer Dennis Dodd and the Associated Press contributed to this report.
CBS Sports HQ Daily Newsletter
Get the best highlights and stories - yeah, just the good stuff handpicked by our team to start your day.
Please check the opt-in box to acknowledge that you would like to subscribe.
Thanks for signing up!
Keep an eye on your inbox for the latest sports news.
Sorry!
There was an error processing your subscription.
Anybody can rank the 25 best teams, only the Bottom 25 ranks the worst every single week

Turpin was previously arrested twice for causing bodily injury to a family member

Turpin is a standout playmaker on the Horned Frogs
SportsLine's advanced computer model simulated every Week 9 college

Mack is out indefinitely after undergoing surgery on the injury

Best bets for Week 9 include Purdue-Michigan State, Iowa-Penn State and more