NCAA denies ACC use of helmet cams, sideline communications
The Atlantic Coach Conference will be allowed to use biometric vests this season but it was turned down by the NCAA rules committee in a request to experiment with helmet cams and quarterback-coach communications.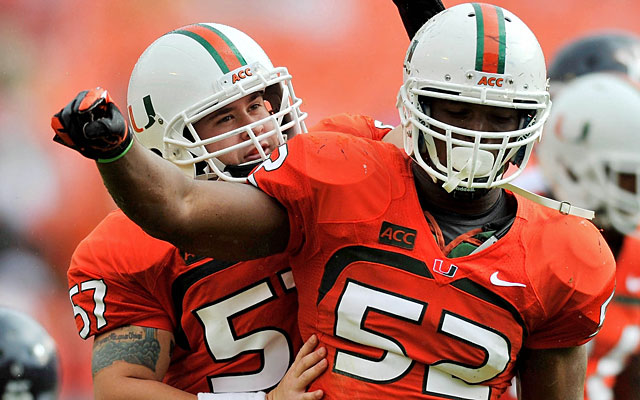 More college football: Jon Solomon | Jeremy Fowler | Latest news
The ACC will not be able to experiment with helmet cams and coach-quarterback communications systems this season, CBSSports.com reported Saturday. ACC commissioner John Swofford told reporters Sunday that the two items would be discussion points at February's NCAA rules committee meeting.
The rules committee turned down the conference's request in June based, in part, on the timing. The committee said in correspondence with the conference that because of the late request, the committee didn't have time for a proper discussion.
Miami linebacker Denzel Perryman wore a helmet cam in the Hurricanes' spring game.
The ACC will be allowed to experiment with biometric systems this season. The most common is the Catapult system, a biofeedback vest that Jimbo Fisher credits for contributing to last year's national championship. 
The intent is to "record, document and measure data on head contacts," although the Catapult system measures much, much more. Fisher uses data to tailor practices and measure the health of individual players.
The NCAA allows the biometric vests as long as there was one-way communication and the data was used for only health and safety.
"It's allowed [in games by the NCAA] anyway," said Doug Rhodes, ACC coordinator of officials. "It's never been formalized. You can use it in practice all along. It's always been fuzzy about the game."
Helmet cams remain a national discussion point. They could conceivably be used to track head impact and trauma issues. But Rhodes also pointed out such cameras could be safety hazards.
In-helmet communication between coach and quarterback has been used for years in the NFL. How it fits into the college game isn't clear. Does only the quarterback get to communicate? How about a defensive player? And when do the devices get turned off before the ball is snapped?
"This has been something we've talked about at a national coordinator discussion," said Steve Shaw, the SEC coordinator of officials. "We think it could help clean up sidelines because coaches don't have to come out and signal plays. What's the cost of it? Could every team purchase it?
"But it's become a topic."
Only health and safety rules changes were allowed in 2014. In 2015 a wider range will be considered.
To that end, the Big 12 added an eighth official in 2013 to deal with (mostly quarterback) safety and pace-of-play issues. This year, the Big Ten, ACC, Notre Dame and SEC will use eighth officials in varying degrees. 
Rashaad Penny etched his name in San Diego State's history books

Kelly led Oregon to a national championship appearance and is an innovator in the game

This week's AP Top 25 college football rankings remained largely unchanged
Mora went 46-30 since joining UCLA in 2012, taking the Bruins to four bowl games

There should not be too many changes to this week's college football rankings

Elsewhere, the top 12 remains the same in this week's college football rankings