NCAA denies Oklahoma's waiver for Dorial Green-Beckham
The NCAA denied Oklahoma's waiver request asking that Dorial Green-Beckham be eligible to play this season after transferring from Missouri.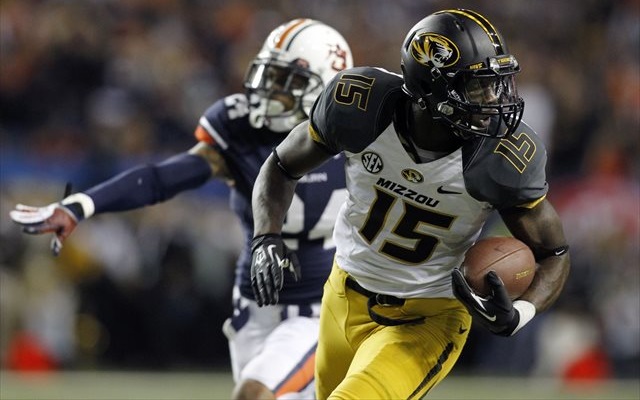 If Dorial Green-Beckham is ever going to play a game for the Oklahoma Sooners, it won't be this season. The school announced Friday evening that the NCAA had turned down its waiver request to give Green-Beckham eligibility for this season.
"The University of Oklahoma has learned that the waiver request it entered on behalf of Dorial Green-Beckham has been denied by the NCAA," said Oklahoma in a release. "The University accepts that decision and will continue to provide the appropriate assistances to Dorial, just as it does with other students, in helping him grow personally from the many opportunities available to him at OU."
Oklahoma filed the waiver request earlier this month using the "run-off" rule as the center of its case to give Green-Beckham immediate eligibility. The "run-off" rule is in place for players who transfer for reasons beyond their control.
Apparently the NCAA didn't believe that to be the case.
Green-Beckham was dismissed from Missouri after it was alleged he broke into a woman's apartment and pushed her down the stairs. 
He finished the 2013 season with 59 catches for 883 yards and 12 touchdowns for the Tigers.
These three Pac-12 teams could surprise in 2017

Maybe this wasn't the use of social media considering the circumstances

Saban has thoughts on conference schedules, changing bowl requirements and expanding the p...
Chip and Barton pick win totals for Ohio State, Penn State, Michigan and more

These three teams could surprise quite a few people in 2017

With the Chargers moving to Los Angeles, the Aztecs now need to find a new home -- fast