NCAA denies Ty Isaac's hardship waiver, Michigan appealing
The NCAA has denied Michigan transfer Ty Isaac's hardship waiver, but Michigan is appealing the ruling.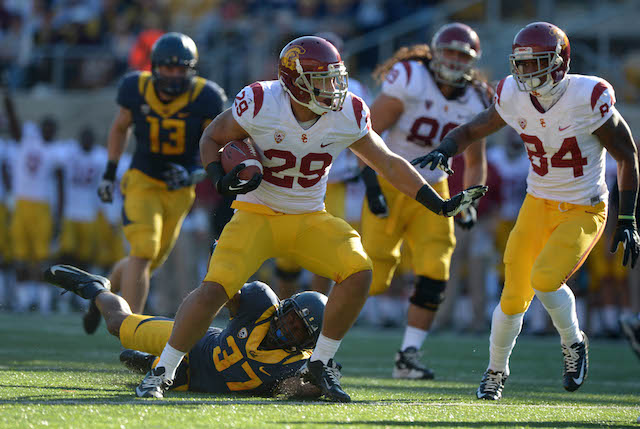 It doesn't look like Ty Isaac will be able to play for the Wolverines in 2014. Michigan coach Brady Hoke confirmed Wednesday that the NCAA had denied Isaac's medical hardship waiver.
"The waiver got denied initially, and we've appealed it," Hoke said. "(We appealed) probably last week, mid week."
Isaac transferred to Michigan from USC over the summer so he could be closer to his mother, who is recovering from hearing loss surgery. While Hoke did not confirm the NCAA's reasoning behind the denial of Isaac's waiver, I would suspect that it has a lot to do with the fact Isaac's mother lives in Shorewood, IL, which is a 260-mile drive away from Ann Arbor. The NCAA generally limits waiver appeals like Isaac's to schools within 100 miles of home, so even if Michigan is appealing, I don't give the Wolverines or Isaac much of a chance to win it.
Isaac was a four-star member of USC's 2013 recruiting class, and he finished his freshman season with 40 carries for 236 yards and two touchdowns. If he does have to sit out the 2014 season Isaac will still have three years of eligibility remaining with the Wolverines beginning in 2015. 
Pineiro received the award for stopping an attack the morning of Oct. 15, 2017

The first opening weekend lines for college football in 2018 have been posted

A year-end wrap-up of college football statistics you need to know from 2017
Stanford produces apps and Super Bowl participants

The Alabama QB has a new look after the Tide claimed another national title

Young was injured during Miami's Orange Bowl loss to Wisconsin