NCAA makes targeting ejections official, subject to video review
Controversial rules proposal goes into effect this season.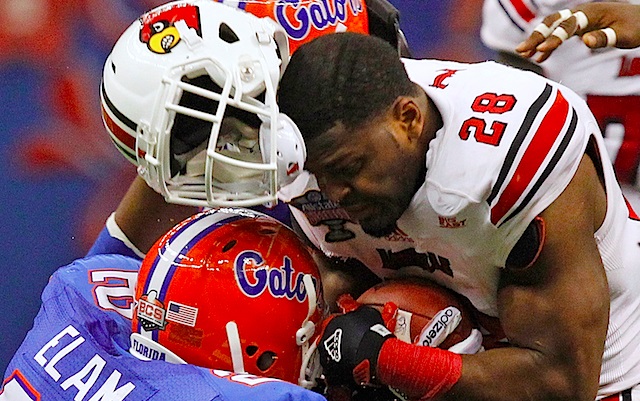 The NCAA might have reversed course on its proposed rules alteration concerning Boise State's all-blue uniforms, but it stuck to its initial guns and confirmed a much more serious change: Players flagged for targeting "defenseless players above the shoulders" will face an automatic ejection from the game.
The NCAA first announced the change in February and made it official with an announcement on Thursday that the new rule had passed through the Playing Rules Oversight Panel. The change will be in effect for the 2013 season.
Another wrinkle confirmed Thursday: An ejection on the field can be overturned by the replay booth. From the announcement: 
In an effort to address concerns when one of these plays is erroneously called on the field, the ejection portion of the penalty will be reviewable through video replay. The replay official must have conclusive evidence that a player should not be ejected to overturn the call on the field.

Additionally, a postgame conference review remains part of the rule, and conferences retain their ability to add to a sanction. The committee will also allow a postgame review to reduce a suspension if warranted.
On the plus side: Maybe the replay booth will be able to step in when the officials -- as they inevitably will -- throw a player out of the game (and if the play occurs in the second half, suspend him for the first half of the team's following game) over a split-second collision that might have been unavoidable.
On the negative side: College football replay booths aren't exactly known for their consistency, efficiency or even accuracy. Sitting through an interminable 10-minute wait as an ugly replay is shown over and over again only for the booth to OK an unnecessary ejection feels like one of the least pleasant possible viewing experiences for college football fans.
Of course, the rules change isn't for the fans. The aim is to improve player safety. And if the rule does anything at all to curb full-speed helmet-to-helmet collisions and head injuries, all the hand-wringing about the rule's application will seem trivial.
But considering the vagaries of college officiating and how often the intentions of the NCAA's rules changes fail to have any impact on the actual on-field effect of those rules -- remember the 2008 clock-rules experiment? -- it's fair to wonder if the downside of unwarranted ejections is going to outpace any actual upside in terms of healthier players. Here's to hoping, and hoping hard.
Georgia and NC State were also big movers in this week's power rankings

Here are the early lines for big Week 5 games from Vegas

Georgia jumped four spots to No. 8, while Florida State dropped 14 spots to No. 25
Louisville and TCU get big-time bumps after conference rivals fell on Saturday

The Bulldogs jumped up to No. 7 after an emphatic win over Mississippi State

The Penn State running back made a case that he's a legit Heisman Trophy contender