NCAA officials discuss limits to full-contact football practices
As NCAA grapples with concussion issue, CBSSports.com has learned talks with health officials centered around limiting full-contract practices.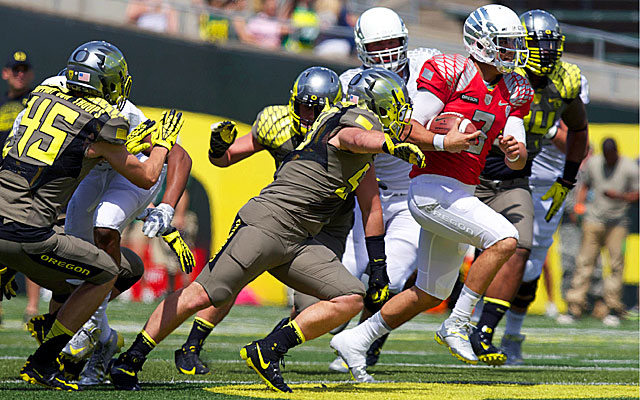 A national mandate to limit weekly in-season, full-contact practices to as few as one was discussed by several high-ranking health and NCAA officials last month, CBSSports.com has learned.
The discussion took place at a national player safety summit Jan. 22-23 in Atlanta.
Sources told the CBSSports.com that the dialogue revolved around how to enforce any such limitations on a national level. The Pac-12 and Ivy League -- of their own initiative -- limit in-season, full-padded practices to twice weekly. Since those limitations were announced several coaches have told CBSSports.com that few teams hit more than twice a week.
"Everything was discussed," said Brian Hainline, the NCAA's chief medical officer, "one [day per week] was discussed, two was discussed, three was discussed. There was kind of a general sentiment that the Pac-12 and Ivy League has shown something."
Two other sources at the summit said the discussion centered mostly on one- and two-day limits.
Head trauma -- especially in football -- has become the No. 1 health concern at the college level. The NCAA is defending several lawsuits to the point that the AL.com has developed a database to chronicle the cases.
At least 65 players have sued the NCAA over its handling of concussions, according to AL.com. Almost a dozen such lawsuits have been consolidated in the Northern District Court of Illinois.
"People think we [health professionals] really understand concussions, we really don't," Hainline told CBSSports.com last month.
"When you go to the emergency room and you have a heart attack, they do three tests," he said later. "They will give you objective criteria and say you have a heart attack. ... There is not an objective [concussion] test out there."
Hainline added there are currently 43 different definitions in the medical community for the word "concussion."
The summit was convened as a collaborative effort among NCAA and health care professionals. Speakers  included Hainline, Conference USA commissioner Britton Banowsky, NCAA secretary-rules editor (football) Rogers Redding and American Football Coaches Association executive director Grant Teaff.
Practice guidelines emerging from the discussions are expected by early summer, Hainline said.
Several states, including football-mad Texas, now have full-contact restrictions at the high school level in response to the concussion crisis.
In its latest collective bargaining agreement, the NFL Players Association negotiated 14 full-contact practices in the 18-week regular season.  The NCAA allows eight full-contact practices among the maximum of 15 total in the spring. It does not have any such restrictions during the regular season.
But given the national climate, a two-day, in-season limit on hitting would seem to be non-controversial. Except that coaches in general don't want to be told how to coach their teams.
CBSSports.com spoke to Georgia receiver Chris Conley, a member of the NCAA Student-Athlete Advisory Committee. Conley said Georgia practices in full pads once a week during the season unless the Dawgs are preparing for a triple-option opponent or "a team that is known for being physical."
"Somebody in that [summit] meeting recommended eliminating helmets [in practice]," Teaff said. "There was a lot of rolling of eyes on that one. That would put a lot of dentists in business."
That one talking point pointed out the problem with a national mandate. Getting everyone to agree on a limit is the biggest hurdle.
"It's mandate vs. best practice," Hainline said. "A mandate to have legislation and enforcement overlooking 1,100 [NCAA] schools, personally, I think that's a very difficult thing to do."
Adopting a "best practice" might be equally hard to enforce. The phrase is considered by some to be a business buzzword, an accepted way of doing things that has shown consistent results.
"That was the point of the whole summit," said Scott Anderson, Oklahoma head athletic trainer who helped organize the summit. "Best practices can have immediate effect, aside from the NCAA legislative process. That can take forever. You know how legislation is. It can start out well and gets compromised."
That raises another possible barrier. With the current controversy over the NCAA rules committee-sponsored "10-second rule," how would a practice limit sponsored by the NCAA be greeted at this point?
The AFCA's official stance is two full-contact practices per week, Teaff said.
"Coaches make pretty good decisions about their players," Teaff said. "There needs to be leverage with young players. It's a matter of common sense that you're not limited to one day a week."
A Pac-12 spokesman said the league is still gathering information on its first year with the limitations. Commissioner Larry Scott would not comment.
"It might be fair to say [nationally] coaches want to have the option," Hainline said. "But then the question is, what's the option?"
Hainline confirmed of the helmetless practice discussion.
"In this context," he said, "When you have a helmet on, you have head contact. Whether you have full-pad, half-pad, you have contact. Someone said, 'Why don't we have helmets not at practice? ..."
"That discussion came and went relatively quickly as not a viable option."
Since being hired in January 2013, Hainline has aggressively been addressing the head trauma issues. He has worked with the National Institute of Health and Department of Defense to research concussions.
Several sources said there was frank discussion at the summit to do something. The NCAA is being sued. Conferences are adopting measures on a piecemeal basis. Players continue to be at risk with possibly years of research ahead.
Conley said he feels fortunate to be under the care of Ron Courson, Georgia's director of sports medicine. Courson, a leading authority on the concussion issue, was at the summit.
"I get to see firsthand what they're doing on the cutting edge," Conley said.
"I know at Georgia players are taken care of when it comes to head injuries. Who says that a player at a small place in Louisiana has the same amount of protection."
In one of its court filings regarding the death of a Frostburg State player late last year, the NCAA denied it "has a legal duty to protect student-athletes." Last summer, SEC commissioner Mike Slive called upon the NCAA to take the leadership in concussion prevention.
Hainline wants to create a comprehensive concussion database that would include all 450,000 college athletes. That project may roll out with the Big Five BCS conferences first participating.
Rutgers' offensive line challenged a local curling club to a match

These five teams have the best chance of being the Group of Five darling this coming year

Drevno had been running the Michigan offense for three seasons
Aaron was reportedly shot while trying to protect his girlfriend when a fight broke out at...

An assistant-by-assistant look at changes Saban made to the Tide's staff ahead of 2018

Find out when Nick Saban, Kirby Smart and the rest of the coaches will speak ahead of the...