NCAA: Paterno family cannot appeal Penn State sanctions
NCAA shoots down Paterno family appeal two hours after it becomes public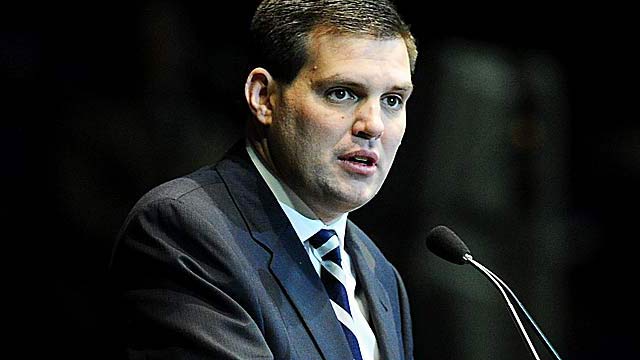 Jay Paterno and family can't appeal as there was no formal investigation.
(Getty Images)
The Paterno family appeal of the Penn State sanctions lasted about two hours Friday afternoon.
The NCAA quickly acted saying, "The Penn State sanctions are not subject to appeal." That sentence appeared in the Twitter account of Bob Williams, NCAA vice president of communications.
The family had released a letter earlier Friday saying it was going to appeal the consent decree entered into by Penn State with the NCAA. That decree meant that the school accepted the penalties and, by extension, wrongdoing. Included in the penalties was the vacating 111 of Joe Paterno's victories.
In essence, there can be no appeal because there was no formal investigation. The NCAA board and executive committee, along with president Mark Emmert, acted alone in the case.  
"It's hard to articulate this well. It's not a normal case," Jo Potuto told CBSSports.com. The former NCAA infractions committee chairman is a constitutional law professor at Nebraska.
More on Paternos
Related links
"When you do things in an unusual way, it's hard to evaluate it in the regular process … The other response to it, I suppose, they would be avoiding the bylaws to do the original penalties at Penn State, why not avoid them again [with an appeal]."
Had the appeal  been heard it most likely would have been the first time an appeal would have been successfully filed on behalf of a deceased person. The appeal released by the family's lawyer Friday cites three fairly mundane bylaws dealing with appeals.
The NCAA's definition of an "involved individual" in such cases includes "former or current institutional staff members who have received notice of significant involvement in alleged violations."
While Joe was not around to absorb the penalties, his family is acting on his behalf – obviously trying to get back those 111 vacated wins.
"Mr. Paterno," the notice of appeal reads, "qualifies as an involved individual."
However, the bylaws apply only in the case of a formal investigation.
The family's next step? It could be some sort of suit against Penn State. The NCAA is basically protected from legal action in such cases because of a quarter-century old ruling by the Supreme Court. It is not a "state actor" subject to such action.
Paterno is named in the consent decree. The document states he is among those who "concealed critical facts" concerning Jerry Sandusky's child abuse. 
CBS Sports HQ Daily Newsletter
Get the best highlights and stories - yeah, just the good stuff handpicked by our team to start your day.
Please check the opt-in box to acknowledge that you would like to subscribe.
Thanks for signing up!
Keep an eye on your inbox for the latest sports news.
Sorry!
There was an error processing your subscription.
Emory Hunt has his finger on the pulse of Tennessee football

NCAA football scores, highlights and updates from Week 8 all Saturday long

Running back Cross Patton will bring Gucci belts and a father who is hip-hop royalty from Atlanta...
Live updates, highlights and analysis as No. 6 Michigan visits rival No. 24 Michigan State

Both teams didn't show any love lost before their noon kickoff

Barrett Sallee has his finger on the pulse of Oklahoma and TCU.