NCAA president: Conference realignment "a market shakedown"
Mark Emmert speaks to Big 12 officials during spring meetings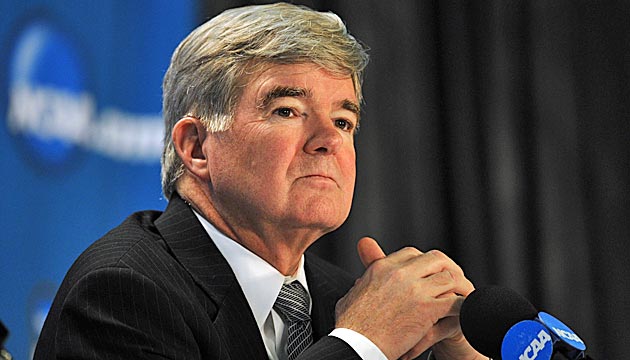 Emmert says the ongoing realignment shuffle is largely out of the NCAA's hands. (US Presswire)
KANSAS CITY, Mo. – NCAA president Mark Emmert called conference realignment a "market shakedown" Thursday during a stop here to address officials during the Big 12 spring meetings.

The NCAA has had an increasingly smaller stake in football – college sports' biggest money maker -- but that doesn't mean Emmert shouldn't be heard. He passed through town on a routine tour to conference spring meetings. He explained that the rapid reorganization of college conferences is an adjustment of a very large market.
The message during this time of upheaval: Don't blame us.
"What we've got is the conflict between the collegiate model and the commercial model," Emmert told reporters Thursday. "Universities need revenue. Everybody thinks everybody is making gazillion dollars in college sports. You know that's not true … All the sudden somebody is dangling some resources in front of you. It's tempting. I don't get mad at the person dangling the resources."
He shouldn't. The NCAA's budget is largely funded by the multi-billion NCAA tournament contract with CBS and Turner. Its influence on football has decreased to the point that, during the bowl season, it does little more than assign officials. In April, the NCAA largely turned over control of the bowls to the conferences and the commissioners.
The association has little oversight, then, over conference realignment. Those are business decisions that the NCAA rarely gets involved in.
"If you were an economist you'd call it a market shakedown around the media rights," Emmert said.
"The media rights of sports in general seems to be ever increasing," he added. "It's a function of what's happening in electronic media. Everybody wants to watch sports live. No one wants to record sports on a DVR and watch it next week. It's a social event. You want to see it live."
As for the continued separation of the haves and the have nots, that's economics, Emmert said.
"We've always had that. The financial differences have always been there. Some universities have huge competitive advantages [because] of history and culture and decisions that the university made over decades that are in some ways insurmountable and you wouldn't want to take them away.
"I'm sure Alabama under Bear Bryant had these stunning competitive advantages … Now to say that the University of Louisiana-Lafayette and Alabama have huge competitive disadvantages it didn't look much different 40 years ago. It reinforces some of those inherent advantages some of those universities have had for a century."
Emmert said he is also pleased with the pace of his reform package. It started with a presidential summit in August 2011. He said that several measures could be implemented by January 2013.
"By NCAA standards, as you know, this is like light speed," he said. "By Congressional standards, we would have rewritten the tax code in 18 months."
Emmert is hoping to push through a $2,000 stipend for players. That probably remains the contentious issue. Four-scholarships were adopted after an override attempt failed by two votes. There is a working group attempting to slim down the 400-page NCAA Manual. 
Saban isn't going to win Alabama's special election, but the Crimson Tide coach got some l...

The Tigers are going worldwide for their next punter

Led by Heisman Trophy winner Baker Mayfield, the Big 12 finished with seven first-team sel...
Schiano would have made $4.4 million in Year 1 with annual raises as part of a six-year de...

Dykes spent this season as an offensive analyst at TCU

The 'Wyoming Wild Man' notched six tackles for loss as a junior in 2017