NCAA president Mark Emmert was paid $1.7 million in 2012
NCAA's latest federal tax return shows NCAA chief operating officer Jim Isch also exceeded $1 million.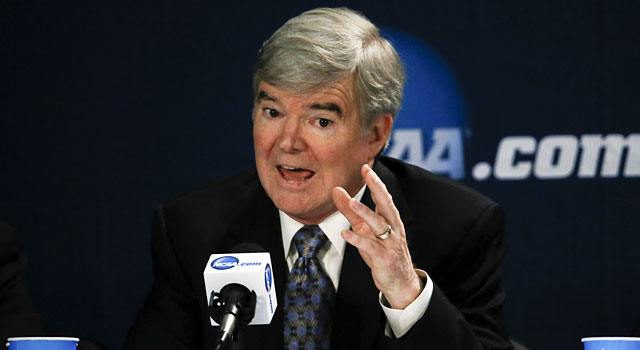 More college football: Dennis Dodd | Jeremy Fowler | Latest news
NCAA president Mark Emmert made slightly more than $1.7 million in total compensation for the 2012 calendar year, according to the NCAA's latest federal tax return filed Monday.
Emmert received a base salary of $1,263,356, which represents a 5-percent increase compared to 2011. He also received $185,126 in other reportable compensation and $235,000 in retirement and deferred compensation. Emmert is not eligible for the deferred compensation until October 2017, according to NCAA spokeswoman Stacey Osburn, who said Emmert's overall pay increased 2 percent from the prior year.
NCAA chief operating officer Jim Isch was credited with $1.01 million, including a base salary of $726,522. Eighteen NCAA officials received total compensation packages that exceeded $240,000. They included:
* Executive vice president and chief legal officer Donald Remy, $619,663 
* Executive vice president Bernard Franklin, $566,121
* Vice president David Berst, $468,744
* Former interim executive vice president Greg Shaheen, $463,037
* Former executive vice president Tom Jernstedt, $418,751
* CFO Kathleen McNeely, $399,262
* Executive vice president Mark Lewis, $397,431
* Vice president Kevin Lennon, $354,448
* Vice president of enforcement Julie Roe Lach, $353,536
The NCAA said in a statement that executive salaries are decided by the Executive Committee's Administrative Committee, which includes university presidents from all three divisions.
"To assist its efforts, the Administrative Committee utilizes an independent third party to undertake market surveys of comparable positions," Osburn said in a statement. "The committee sets NCAA executive salaries at levels similar to other comparable executive positions."
The NCAA reported its revenue increased 4 percent to $874 million in 2012-13 and expenses increased 6.4 percent to $842 million. The NCAA distributed $546 million to its members in 2012-13. The NCAA's net assets were $638 million, up from $577 million at the start of the year.
Legal expenses cost the NCAA $8.7 million in the filing that ended Aug. 31, 2013. That was about $730,000 less than what the NCAA, mired in many NCAA lawsuits, reported in legal fees the previous year.
The NCAA's finances have been called into question recently by some Senators in congressional hearings and by lawyers in the Ed O'Bannon trial.
BT Potter is about to be very popular in the Clemson locker room

McElwain will coach receivers and help coordinate the offense for the Wolverines

Nathaniel Watson Jr. was involved in a car accident that injured a passenger in early Febr...
The honorable Tom Fornelli presides over the ASU vs. UM case

Arkansas State is seeking $650,000 for a canceled home game last September due to Hurricane...

Friday Five is tackling the big questions this week