NCAA probe looms as Alabama's path opens to another BCS title
Nick Saban now must deal with the possibility of an NCAA investigation and major infractions.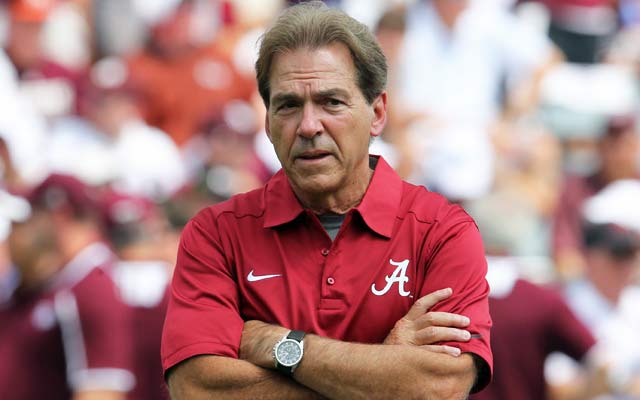 COLLEGE STATION, Texas -- A championship team on the field, a dichotomy where it really counts these days for Alabama. In the halls of the NCAA, it will be decided now whether those championship dreams can be pursued full on. And whether those previous championships will count.
Just so we're all straight, it's not exactly a clear road to a third straight championship for Alabama after Saturday's historic win over Texas A&M. As a Yahoo! report revealed last week, the school is squarely in line for another NCAA investigation. An allegation that a former player was acting as a runner to pay All-American D.J. Fluker is bad enough.
Alabama, as you might know, is no stranger to the NCAA penalty box. If the association sees enough smoke, these latest revelations could result in the school's fourth major infractions case since 1999. Bama would be tagged a repeat violator, defined as two major infractions within a five-year window. Technically eligible for the death penalty which has been handed out only once in football to an FBS program (SMU).
Such a penalty is highly unlikely. Still, Bama is among a handful of schools to be eligible for that death penalty multiple times according to an Associated Press study. 
No one is saying Bama is going to NCAA jail just yet. To be considered along with that history is perhaps the game's best agent education program. Although no such official stats are kept on such things, CBSSports.com talked to several sources who lauded Alabama's aggressive stance against unscrupulous agents.
"We do the best we can," Saban said.
More than that. At least as late as 2012, Alabama was among the handful of clients of Cornerstone Sports Consulting of Leesburg, Va. For a fee, the firm run by former Redskins operations guy Joe Mendes will put your program through an agent car wash. Bama still is listed among the firm's clients on Cornerstone's website. 
Among the services it provides is learning how to select agents, how to interview them, how to evaluate them. At Alabama that does three things -- A) sells players and recruits that Saban can get prospects to the NFL better and sooner than anyone; B) stiff-arms runners from infiltrating the program, and; C) asks the tough questions.
"I'll say this, they [Alabama] care for their players as a whole," Cornerstone partner Jack Mula told me last year.
The football program now treads two paths. One on the field where Bama's toughest game remaining is at home on Nov. 9 against LSU. Off the field, lawyers and compliance staff are working just as hard to keep it all about football. Saban hates distractions. This is a huge one in the middle of a pursuit of that third consecutive championship.
Alabama's agent history will play well with the NCAA. Some are trying to compare this case to USC and Reggie Bush. It was proved that USC did have lax monitoring. Right or wrong, the NCAA concluded USC should have known about Bush's dealings with would-be marketers. Former AD Mike Garrett was uncooperative at worst, testy at best toward the NCAA.
Alabama already has lawyered up. The Birmingham firm's NCAA experience looks impressive. The scary thing? If Fluker -- a first-round choice who knew he was going to make millions -- went through Cornerstone's car wash and still ended up going off the reservation, what hope does any school have?
The school's best chance may be a diminished NCAA enforcement department. With a flurry of cases piling up and investigators leaving at a record pace, enforcement may be in the business of nothing more authenticating media reports. 
The facts of the case may not matter. It may be too vast, too heavy, too much for the NCAA to handle at this moment in time. Even if it is, Saban can stand up in front of the infractions committee and logically say, "If we can't stop these slime balls, who can?"
Josh Adams and Derrius Guice helped their teams to big wins in Week 8

The Eagles have started winless in Summers' second season and were 5-13 overall under him

The Fighting Irish are up to No. 9 in the latest edition of these college football ranking...
The Fighting Irish are getting more attention after throttling USC 49-14 Saturday night

Jerry Palm is back to look at where the bowl games stand after the midway point of 2017

The sophomore leads the SEC in total offense and passing