NCAA questions Mississippi State's Chris Jones on Ole Miss recruitment
The NCAA has questioned Chris Jones, a 2013 Mississippi State signee, on the subject of his recruitment by Ole Miss.
• 2 min read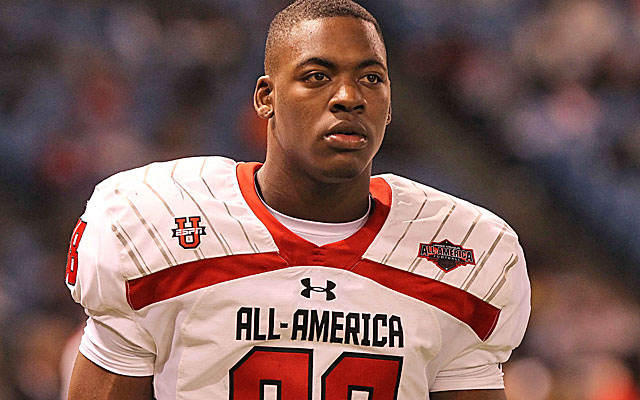 The NCAA has interviewed Mississippi State freshman Chris Jones concerning Ole Miss' recruitment of the five-star defensive end, a source with direct knowledge of the process told CBSSports.com.
The specific nature of the interview is unknown. Ole Miss and Mississippi State are the only campuses Jones visited during the recruiting process, according to several national recruiting sites.
Mississippi State directed Jones to Starkville-based attorney John F. Perry for consultation on the matter. CBSSports.com left phone messages for Perry on Sunday. The NCAA recently requested to speak with Jones through Mississippi State, but MSU did not participate in the interview, according to the source.
Ole Miss declined to comment Sunday.
NCAA spokesperson Stacey Osburn said in an email, "based on member-created rules designed to protect the integrity of the process, we cannot comment on current, pending or potential cases."
Mississippi State expects Jones' eligibility to remain intact as long as it is determined he cooperated with the NCAA. Bylaw 10.1, which outlines what the NCAA considers unethical conduct by prospective or enrolled student-athletes, includes "refusal to furnish information relevant to an investigation of a possible violation of an NCAA regulation when requested to do so by the NCAA or the individual's institution."
CBSSports.com has left a message for a Mississippi State spokesman.
Jones, a 6-foot-5 All American out of Houston, Miss., took an official visit to Ole Miss on Jan. 25 and a pair of unofficial visits Feb. 1 and 3, according to 247Sports.com.
Leading up to National Signing Day on Feb. 6, Jones told ESPN.com he received threats from overzealous Mississippi State and Ole Miss fans.
"I received death threats, insane messages, you name it," Jones told ESPN.com. "I mean it has not been as stressful as people would think it has been. I have tried to handle it in the most comfortable way possible, so it has really been alright for me, and in the end, I am very blessed to have this opportunity to play for either in-state school."
Florida, Auburn and Alabama also were involved in Jones' recruitment, according to reports.
Jones' mother, Mary Woodhouse, said she did not know about an NCAA interview and she never noticed anything suspicious regarding Ole Miss' recruitment of Jones.
She called the family's visit to Oxford "very nice. They were nice to us," and discussed Ole Miss' commitment to academics.
Ole Miss produced what was widely considered a top-10 national recruiting class, led by defensive lineman Robert Nkemdiche, wide receiver Laquon Treadwell and offensive lineman Laremy Tunsil.
The Tide, as usual, are dominating everything already

Jim McElwain won't rule out Luke Del Rio, Feleipe Franks or Malik Zaire as the starter

The three rule changes for 2017 are focused on player safety
There are new names to learn every season, and here are five to keep an eye on from the Big...

Can the Big Ten produce a champion capable of scoring points in the College Football Playoff...

Taking a close, detailed and opinionated look at the Big Ten a week before the start of the...