NCAA reconsiders UNLV APR ban, Rebels eligible for bowl
UNLV won its appeal against the NCAA and will no longer be banned for the 2014-15 postseason due to APR penalties.
• 4 min read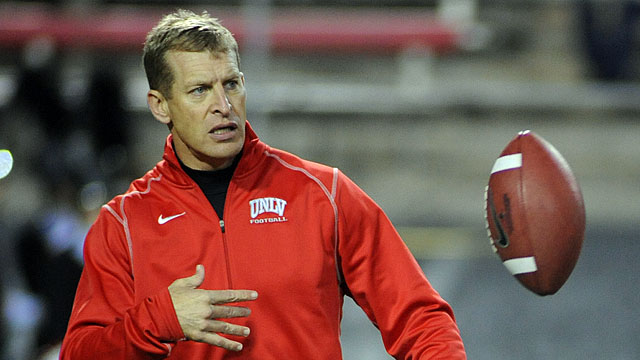 More college football: Jon Solomon | Dennis Dodd | Jeremy Fowler | Latest news
In what is believed to be a precedent-setting ruling, the NCAA overturned UNLV's football postseason ban in 2014 caused by a deficient Academic Progress Rate (APR) score.
The NCAA accepted what the school called an "updated" APR score, raising the school's mark from 925 to the minimum 930 needed for postseason eligibility. The ruling came two months after UNLV became the first FBS program banned from postseason play for a deficient APR score. That followed a failed appeal to the NCAA.
"We're just ecstatic for our [academic] guys just staying at it," UNLV AD Tina Kunzer-Murphy told CBSSports.com's Dennis Dodd.
Kunzer-Murphy explained to Dodd that the school reapplied to the NCAA after recalculating some scores. The school found that some players not counted in the APR score were so close to graduation -- in some cases three credit hours -- it didn't make sense to penalize the athletes or UNLV. The NCAA agreed, receiving the new information on Friday and issuing its ruling on Thursday.
Kunzer-Murphy credits football academic advisor David Wedley came to her with the idea of rechecking some transcripts hoping to recalculate that APR score. Kunzer-Murphy also told Dodd the NCAA reconsidered after some transfers fell below the minimum 2.6 GPA needed for APR consideration. 
"It is unprecedented," Kunzer-Murphy said.
The school used Forward Progress Athletics Consulting, a firm that specializes in APR management.
To attain that minimum 930 score (out of a possible 1,000), schools must graduate roughly 50 percent of its athletes. The number is calcuated over a four-year rolling average. The standard was raised from 925 in 2011. The school said adjustments in scores from 2009-10 through 2012-13 were the difference. 
Transfers must leave from a school in what is called "good academic standing" in order to be counted on the departing school's APR score. 
Idaho now is the only FBS school ever to be banned from the postseason due to deficient APR score.
UNLV had previously lost its appeal to the ban based on what the school said were 700 layoffs made during the heart of the economic downturn. The school contended those layoffs affected academic diligence and thus the poor APR score.
"The fact is, we never gave up," Kunzer-Murphy told Dodd. "We've still got a long road to haul. Our lower scores [that affected the ban] were two years ago. This isn't something we have to quit working on. I'm proud of our guys in academic advising."
"Obviously we are excited to be eligible to play in the Mountain West Championship game and a bowl this season," UNLV head coach Bobby Hauck said in a press release. "Nearly every man in our program stayed together through this -- remained a team. That mental toughness and commitment to this school and each other says a lot about the people we have here and I think is going to serve us well on the field. Academics have always been, and will continue to be, a priority for us."
UNLV finished 7-6 in 2013 after three-straight two-win seasons under Hauck, and the team figures to be in the mix for bowl eligiblity this season. Hauck had previously taken blame for the ban. His team, which went to a bowl for the first time in 14 years in '13, had also been ineligible for the Mountain West championship game. 
Now all optimism has returned to the program. 
"We are simply ecstatic for our student-athletes, coaches and all Rebel fans everywhere," Kunzer-Murphy said in the press release. "From the day I arrived here last summer, the APR process has been a top priority. After we received the decision in April, I asked our group to continue looking for ways to make us better in this area moving forward but also to continue scrutinizing the numbers from the previous four years. Our academic advising team was engaged with their counterparts at the NCAA and during this process got further clarification regarding some NCAA rulings and interpretations, which led to us reapplying our scores last week.
"I want to thank the NCAA staff for their quick review of our adjustments that affected our eligibility for postseason play. Thanks to all of our staff who worked so hard on this, including the continuing support from our University President, Don Snyder. This is great news but also just the next step in continuing to improve our systems and helping give all of our programs the best possible APR results each year."
UNLV lost to North Texas by a 36-14 score in the Heart of Dallas Bowl; the program's first postseason appearance since 2000.
"Accurate data is the foundation of the Academic Performance program and essential to the assessment of eligibility for postseason play," said Kevin Lennon, NCAA vice president for academic and membership affairs. "Allowing schools to correct their data according to our policies helps maintain the integrity of the program."
-- Senior writer Dennis Dodd contributed to this report
CBS Sports HQ Daily Newsletter
Get the best highlights and stories - yeah, just the good stuff handpicked by our team to start your day.
Please check the opt-in box to acknowledge that you would like to subscribe.
Thanks for signing up!
Keep an eye on your inbox for the latest sports news.
Sorry!
There was an error processing your subscription.
Northwestern clinched the Big Ten West by beating Iowa on Saturday, and we rewarded it for...

And all four games will be played on campus

Plus, a plea for fans when discussing the College Football Playoff Rankings
SportsLine's advanced computer model simulated every Week 12 college football game 10,000...

Williams rushed for over 200 yards against Ole Miss on Saturday

The Cyclones jumped up the college football rankings this week, and a couple new teams jumped...