NCAA starts taking proactive view on player safety, head trauma
The NCAA isn't just playing legal defense when it comes to the concussion crisis. Its efforts to limit hitting and to set national standards indicate that player safety is becoming a priority.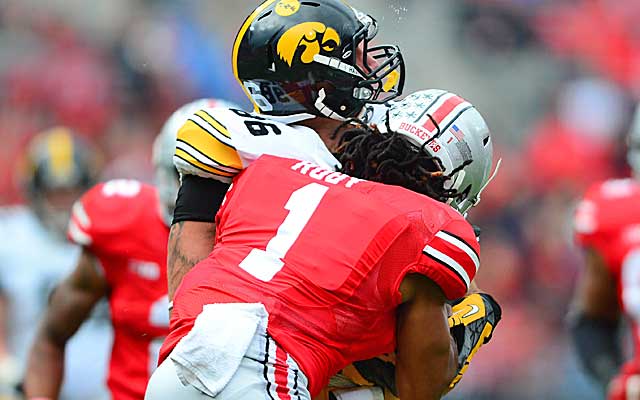 More college football: Jon Solomon | Dennis Dodd | Jeremy Fowler | Latest news
AMELIA ISLAND, Fla. -- There won't be a moment or a press conference to announce it but the NCAA's concussion liability is about to be reduced.
That doesn't mean the end of head trauma, or there isn't an inherent risk of injury, or that the NCAA is blameless.
It means that there should be a growing perception that the association is getting it arms around the issue. Perhaps kicking and screaming through court battles but, still, there is progress. The game of football is becoming more aware. There will be tangible evidence that the stakeholders responsible for player safety care.
Last week, CBSSports.com's Jon Solomon first reported the existence of a settlement term sheet moving the NCAA closer to resolution with plaintiffs in 10 cases bundled in the Northern District of Illinois.
The settlement is expected to include a medical monitoring fund of at least $70 million that would encompass all past and current players. The NCAA probably will have to access some of its insurance, but that's what insurance is for. In essence, a 50-year-old ex-player suffering from dementia could dip into the fund if it is proven his injuries resulted from playing college football.
It should be stressed that nothing is official until the documents are signed. But there is a growing awareness. Head trauma isn't a legal nuisance to be dealt with in the courts. It's a national scourge.
Al.com reported in February that the NCAA wants "peace" from the concussion litigation. The association isn't just paying off the plaintiffs to go away. That might be part of it, but the Arrington lawsuit was carefully crafted to include more protection for players. That's a significant step on the medical side. The NCAA's chief medical officer presented an update Tuesday to the league's coaches at the ACC spring meetings. A three-pronged best practices statement is set to be released in late June.
The document is not public yet but is known to include language regarding concussion management, so-called "conflict of interest" issues with team medical personnel and a national standard on full-padded practices.
"The devil's always in the details," said Brian Hainline, that chief medical officer. "The bottom line is we're going to come up with something different than what we have now. It's going to be more restrictive and it's going to be more common sense. There's still no science to it."
Hainline was part of a national player safety summit in January that took on many of these issues. The American Football Coaches Association is in the process of helping develop that national standard for full-padded practices.
That issue in itself has reflected the proactive forces at work. At this time a year ago the idea of limiting padded practices to two per week was just emerging. It turned out to be almost non-controversial. The majority of teams, it turned out, didn't hit more than two times per week.
Last year the Pac-12 established a limit of two days per week, following the Ivy League's lead.
The stakeholders have started to figure out a simple math problem. Less hitting equals fewer chances of head trauma. The NCAA rules committee -- rather clumsily at times -- developed new targeting rules.
All of it has reflected a culture change, an awareness of how to deal with that national scourge. We've come a long way even in the last year when some damning emails were unearthed in part of the Adrian Arrington litigation. The only possible conclusion was that the NCAA hierarchy didn't give a flip.
"I promise you every coach wants players to be healthy and show up every Saturday," Duke coach David Cutcliffe said Tuesday. "You're not trying to beat them up unless you're some kind of soon-to-be fired coach."
The projected settlement would "protect" the NCAA from similar class-action lawsuits regarding head trauma. It won't protect the NCAA from ongoing individual litigation elsewhere. The Derek Sheely wrongful death lawsuit is particularly distressing. The former Frostburg (Md.) State player died from a brain injury in 2011. Sheely allegedly was berated by coaches even though he was bleeding from the forehead. The NCAA is one of several defendants.
To put it in perspective, $70 million covering every NCAA athlete -- not just football -- seems like a pittance compared to the $765 million owed former NFL players. Even then, a judge rejected that NFL settlement as too small.  
Hainline has been brutally honest regarding the head trauma issue since taking over in January 2013. His comments to CBSSports.com last year crystallized complications with researching concussions.
"We're in the primitive stages of [concussion diagnosis] management," he said.
Hainline reminded that the landmark Zurich guidelines on concussion management weren't met in the medical community with across-the-board approval.
In February, Hainline told CBSSports.com there are 43 different medical definitions for the word "concussion."
Also Tuesday, the discussion coaches had here centered around allowing team medical personnel more autonomy in diagnosis.
"In the past, sometimes the athletic trainer was hired by the coach," said Duke head team physician Claude T. Moorman, "beholden to the coach and not beholden to the chief medical officer or the team physician. That's clarified in that document. Pretty much everyone in our league is good about that now."
That's progress. That's awareness. Concussions aren't going away, but players are getting safer.
A new names joins Saquon Barkley, Baker Mayfield and JT Barrett in the race

Anderson didn't hold back when taking a shot across the state

Arizona State will wear military-themed uniforms against Colorado on Nov. 4
The Gators are off to their worst start since 2014

Just in case you wanted another reason to watch this game

Irvin's son is a sophomore tight end for the Hurricanes