NCAA to announce Miss. State investigation findings Friday
An NCAA investigation into Memphis-area high school football could lead to sanctions against Mississippi State.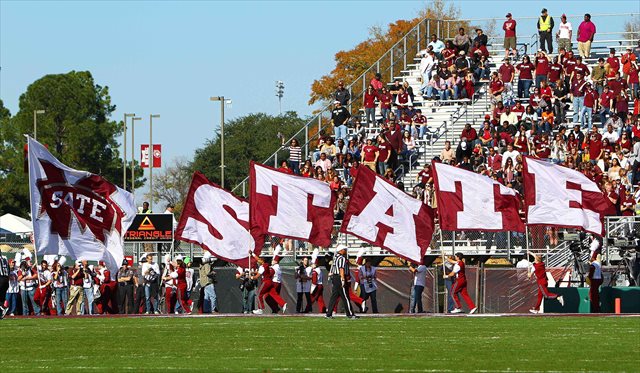 The NCAA investigation into what Mississippi State last year termed a "recruiting irregularity" has wrapped up -- and the NCAA is ready to reveal what, exactly, that investigation found.
The organization confirmed Thursday that the Committee on Infractions will announce its findings Friday at 10 a.m. The COI's involvement and hearing reportedly indicates that the violations are considered "major" rather than "secondary." 
The school is bracing for potential scholarship losses within the football program when the COI announces sanctions Friday, sources told CBSSports.com.

Mississippi State plans to self-impose penalties but not likely in the form of a bowl ban, according to a source.

The NCAA's announcement Friday will likely determine whether Mississippi State underwent a Committee on Infractions hearing or a summary disposition.
The investigation is believed to center around Mississippi State redshirt freshman defensive back Will Redmond, former Bulldog wide receivers coach Angelo Mirando, and State booster Robert Denton Herring. Redmond's 7-on-7 coach, Byron De'Vinner, told the Clarion-Ledger that he witnessed Herring give Redmond a $200 "cash handshake" and arranged for other improper benefits. Per the Associated Press, Vinner has also stated that Mirando was aware of the payments.
Mirando resigned abruptly last August, less than two weeks before the start of the 2012 season. In response to reports that his resignation was connected to an NCAA investigation, Mississippi State confirmed that the school and the NCAA were working together to "examine a potential recruiting irregularity."
Reports surfaced later that month that a booster had been disassociated from the Bulldog program, one later revealed to be Herring.
Neither the Bulldogs nor the NCAA would address specifics of the investigation ahead of Friday's announcement, but per the AP, Bulldog athletic director Scott Stricklin did address the school's approach to the investigation earlier this week.
"We're always going to be aggressive at correcting (problems) and making sure we're doing things the right way," Stricklin said. "If there's something we think is there, we're going to pull the rug all the way back, find the issue and address it."
The NCAA began a broad inquiry into several potential violations in Memphis-area high school football last summer, as documented by the Memphis Commercial-Appeal, an inquiry that discovered that Auburn running back signee Jovon Robinson was ineligible because of a transcript falsification. Redmond attended Memphis East High School.
CBSSports.com's Jeremy Fowler contributed to this report.
Many NFL-eligible juniors ignore advice provided by the league and risk going undrafted each...

Snyder died in Manhattan, Kansas, on Wednesday

Locksley joined Alabama's staff in 2016
Saban reportedly wants to hire Freeze, but there may be things keeping that from happening

Florida State-Miami will be on Oct. 6, and the Seminoles will play Clemson on Oct. 27

Weis Jr. was an offensive assistant for the Atlanta Falcons in 2017