NCAA vote makes it possible for Big 12 to hold football title game
The NCAA announced Wednesday that conferences with less than 12 schools can hold conference championship games.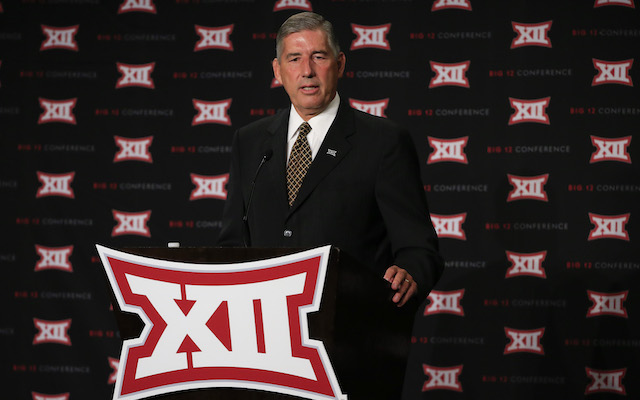 The Big 12 will now be allowed to hold a conference football championship game due to its round-robin schedule, meaning an expansion of its 10-team, no-division league will no longer be necessary to hold such a contest. The decision, which was voted on Wednesday at the NCAA convention, is not good news for schools such as BYU and Cincinnati, which had hoped to join the conference.
The NCAA Division I Council approved a proposal allowing FBS conferences to hold a league championship game as long as they play a round-robin schedule. Previously, the rule stated that conferences needed 12 or more members in order to play a league title game between division winners.
According to the NCAA, the SEC and American Athletic Conference voted against the compromise. Initially, the ACC and Big 12 wanted full deregulation of the rule, but there weren't enough votes to get it passed.
"We have a composition committee that looks at expansion," Big 12 commissioner Bob Bowlsby said. "I'm sure this decision will stimulate some different discussion."
Now the Big 12 must decide if it even wants to add a championship game. Big 12 athletic directors and presidents will discuss it at league meetings Feb. 4-5. Late last month, Bowlsby said his sense was the presidents and ADs want a championship game for the money and the 13th data point for the College Football Playoff Selection Committee. But he somewhat backed off that statement Wednesday.
"I don't know if I can handicap it," Bowlsby said. "We're going to have to talk about it in light of modern circumstances and the new situation as we know it. I think what we can all agree on is we're at some level of being disadvantaged by not having that 13th data point. So we're going to have to assess how big a disadvantage that is and whether or not we want to live with it, or put a game in that gives us a 13th data point."
The Big 12 missed the inaugural playoff when Ohio State -- active on conference championship weekend -- jumped two of its teams (Baylor and TCU) that were stagnant. It found a spot in the second playoff this season witH Oklahoma. However, the Sooners dropped from third to fourth in the final rankings while off and without a championship game. Pac-12 commissioner Larry Scott has said he wants the Big 12 to add a title game and not have a contender that's off the final week.
The danger for the Big 12: What if a 12-0 team loses in a rematch to a team it already defeated? The Big 12 is the only major conference that plays a round-robin schedule, meaning every team plays each other. Is it fair to ask an undefeated conference champion to win a second game against a team it already defeated?
"As you know, championship games haven't been all that good to us," Bowlsby said. "Frequently over the life of the Big 12 championship games, we've had the lower-rated team win."
There's also the question of how to pick which teams would play for the Big 12 championship. In every other conference, division winners meet. The Big 12 has shown no interest of having two, five-team divisions. Theoretically, the CFP Rankings could be used to settle tiebreakers for a spot in the championship game, but those rankings don't come until Tuesday night of championship week.
"I really don't want to speculate on it," Bowlsby said on how to potentially pick teams. "I don't know I could adequately articulate the range of options."
Saban isn't going to win Alabama's special election, but the Crimson Tide coach got some l...

The Sooners' quarterback and Badgers' rusher stood out among their peers this season

Clark led UAB to an 8-4 overall record, 6-2 in conference this season
SportsLine simulated every bowl game 10,000 times for pick'em leagues and confidence pools

The Tigers are going worldwide for their next punter

Led by Heisman Trophy winner Baker Mayfield, the Big 12 finished with seven first-team sel...