NCAA's latest cost of attendance debate offers questions, no answers
The major conference are still grappling with the cost of attendance issue and answers remain elusive.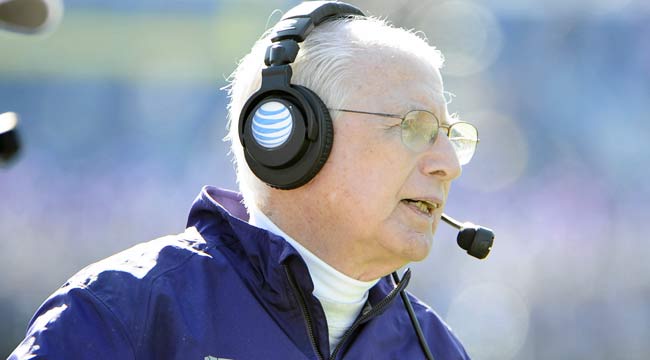 PHOENIX -- When it comes to the five major conferences creating their own rules to help college athletes, no topic dominates the conversation like cost of attendance. Good luck getting details yet about the latest attempt to pay college athletes a stipend.
"I don't think anybody knows exactly how it's going to work," Kansas State football coach Bill Snyder said. "It's like anything, if it's in athletics or state legislation or national legislation. You enact rules and changes and sometimes there's not enough research on it and you just don't know until you experience it and then you try to fine tune it. I think that's what's going to take place."
All around the country, questions about drilling down into cost of attendance are met with shrugs and more questions. Schools are starting to discuss the topic at their conference spring meetings, including this week with the Pac-12, Big 12, Mountain West and Mid-American Conference all in Phoenix.
Based on the proposed changes to the NCAA governance structure, which still must be approved, the power five conferences will determine what cost of attendance looks like. The other five Football Bowl Subdivision conferences await those answers.
Universities annually list a higher actual cost of attending college beyond an athletic scholarship. It's based on miscellaneous expenses that differ by school. A 2012 study found that out-of-pocket expenses for a full-scholarship FBS athlete ranged from $1,000 a year to $6,904 a year, depending on the school. The average NCAA gap is now around $3,500.
Just within the Big 12, the cost-of-attendance number per athlete ranges from approximately $2,000 to $5,000, Texas Tech athletic director Kirby Hocutt said. That raises the question of whether conferences will mandate cost of attendance within their league, or allow each member to decide.
"I think you've got to allow the schools to make their own decisions," Hocutt said. "Although within a certain league we have certain similarities and shared interests, we are all different and have different scopes and sizes of our budgets and resources."
Hocutt supports cost of attendance stipends for every Texas Tech athlete. "I don't know how it cannot be across the board — for Title IX and also because it's the right thing to do," he said.
Not everyone has the Big 12's resources. In the Mountain West Conference, cost of attendance would cost its schools between $400,000 to $600,000 a year if it's a flat $2,000 stipend, commissioner Craig Thompson said. If it's a full cost of attendance, the figure would go up.
"Everybody does cost of attendance differently," Thompson said. "Some compute it and add this category and others don't … That's going to be the first big issue: Do we do it as a conference or as an institution?"
Mountain West schools have "vast differences" in state subsidies, said Thompson, who favors letting his schools decide whether to provide cost of attendance. "But I'm one man and I don't have a vote and there are others who disagree," Thompson said. "Some say it has to be a conference deal and dictate yes, no; do it or don't do it."
Thompson said he's hearing from power five schools who say they can't afford cost of attendance. Budgets have to be changed, including potentially changing staffing levels, Thompson said.
Stanford football coach David Shaw rattled off the questions he has about cost of attendance. Does the number change from college to college? Would there be a stipend that makes it an even number? Does the stipend need to be based on cost of living based on where a university is located?
The cost of living adjustment "is where this got in the muck and mire three years ago," Shaw said.
The Division I Board of Directors in 2011 passed a $2,000 cost-of-attendance stipend, only to see NCAA members override the proposal. It's questionable whether a flat stipend could be used this time. Every FBS conference is being sued for allegedly violating antitrust laws by capping the value of scholarships. Another try at a flat stipend could be viewed by the courts as a different version of a cap.
In 2008, the NCAA settled a federal antitrust lawsuit over the same issue of miscellaneous expenses. The NCAA settled White v. NCAA by agreeing to make $10 million available over three years to qualifying athletes for reimbursement of educational expenses such as tuition, books, supplies and equipment. The NCAA also expanded the criteria it uses to provide money to athletes from a $218 million assistance fund.
"We generate $240,000 per school from the NCAA Student-Athlete Opportunity Fund to be used for the same types of things the cost of attendance gap is supposed to address," Conference USA commissioner Britton Banowsky said. "There are funds already in place that could be applied to this."
The average cost of attendance number for a C-USA athlete is about $3,700. Of course, that can also vary depending on whether an athlete is in state or out of state.
Another question: Does Pell Grant aid for low-income students impact cost of attendance? The NCAA allows an athlete receiving a Pell Grant to exceed a university's cost-of-attendance figure, but some university financial aid offices don't permit it.
"It gets complicated stacking federal financial aid rules with university and NCAA and conference rules," said Rob Philippi, C-USA senior associate commissioner. "My understanding is most institutions will allow you to receive Pell that exceeds cost of attendance and that the only way to go over cost of attendance is through Pell."
Then there's the question of which sports to cover with cost of attendance if a university or conference decides it can't cover every athlete. Title IX would certainly factor into that discussion for gender equity.
"It might be a situation where you have a team that's really good in baseball or tennis and want to do things others are doing, but the rest of the conference doesn't and you don't want to hold that sport back," American Athletic Conference commissioner Mike Aresco said. "Whatever cost of attendance looks like, our conference has to embrace it. Our competitiveness going forward is really at stake here. We know it."
But nobody yet knows what cost of attendance will entail.
"Are there issues down here [under the proposed autonomy rules]? Yes," Texas athletic director Steve Patterson said. "But you can't fix that without deciding how we're going to govern ourselves."
Young was injured during Miami's Orange Bowl loss to Wisconsin

The movie will zero in on former Penn State coach Joe Paterno during the Jerry Sandusky sc...

Bidding for Salaam's trophy, which the auction house says was obtained legally, ends Satur...
Locksley has been the offensive coordinator at Illinois and Maryland during his coaching c...

Many NFL-eligible juniors ignore advice provided by the league and risk going undrafted each...

Snyder died in Manhattan, Kansas, on Wednesday