Nebraska AD denies report of contact with Mack Brown
Shawn Eichorst sent a brief text to the Omaha World-Herald denying a report that the Huskers had sent out a feeler to Mack Brown.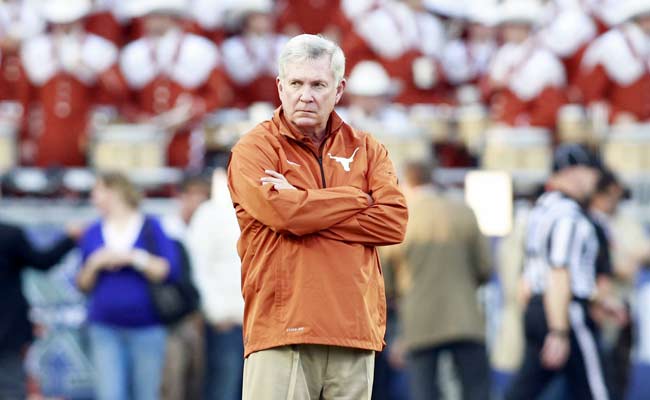 Did someone at Nebraska contact Mack Brown just hours after he had stepped down at Texas?
That was the account from Brown attorney and de facto personal spokesman Joe Jamail, who spoke to the Austin-American Statesman:
Joe Jamail said he got a call from someone saying he represented Nebraska seeking Mack's interest. "He's not going to Nebraska," JJ said.

— kbohls (@kbohls) December 15, 2013
In response to that report, Nebraska athletic director Shawn Eichorst texted a one-word message to the Omaha World-Herald: "Deny!"
Though Kirk Bohls' forthcoming story may have further details, to this point neither Jamail nor Eichorst have issued any further comment, leaving the issue muddled. The timing seems curious, with Bo Pelini having just received a statement of support from Eichorst, Brown having just gone on the coaching market (much less made any kind of statement of interest), and any change to either of those statuses seemingly at least a year away.
Earlier this season Tony Dungy told Dan Patrick he had been contacted by a USC representative about the Trojans' coaching vacancy, only for USC AD Pat Haden to deny any such contact had been made; the call was eventually revealed to be the work of a hoaxster who has since been arrested for recording coaches and other sports figures without their permission.
Ross Bowsher claims KSU was well aware of his certification status during his employment

Find out which of your favorite team's players are among the nation's best entering the 2017...

Rosen, a junior, will be eligible for the upcoming NFL draft
Texas A&M has to be better defensively to stand a chance in the SEC West

A letter indicated that there is a growing awareness of the persistent problem in college...

The series will follow the Navy football program throughout the 2017 season