Nebraska's Taylor Martinez won't play in Gator Bowl, career over
Taylor Martinez's career is over after Bo Pelini confirms he will not play in the Gator Bowl.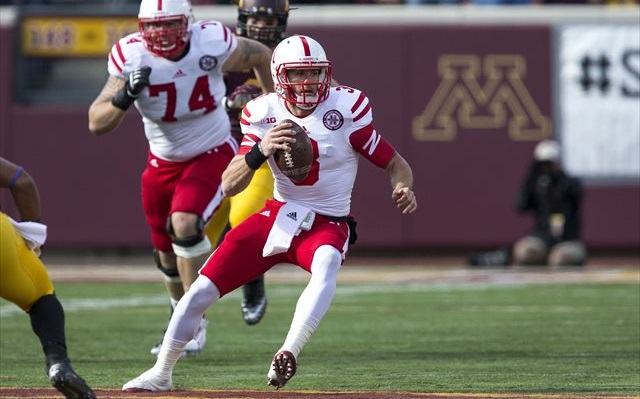 The occasionally brilliant, frequently star-crossed, and above all fascinating Nebraska career of quarterback Taylor Martinez has come to an end.
Per CBSSports.com's Jeremy Fowler, Bo Pelini told reporters Friday that Martinez will not be healthy enough to play in the Huskers' New Year's Day matchup against Georgia in the Gator Bowl, officially ending the senior's career. Martinez has not played since the Huskers' Oct. 26 loss to Minnesota, his only appearance since suffering a foot injury against UCLA in his team's third game of the season.
The news will not come as a surprise given Martinez's struggles to see the field in 2013, or Pelini's statements in November that the injury would likely keep him on the shelf for the remainder of the season.
Martinez's unfortunate 2013 as been a difficult way to wrap up a highly memorable career. The California native burst onto the scene in his 2010 redshirt freshman, rushing for 100 or more yards in four of his first six games, leading the Huskers to a 7-1 start, and even sparking some Heisman speculation. 
But Martinez struggled in the 2010 Big 12 championship game, and went through an up-and-down 2011 season. That led, however, to an outstanding 2012, when Martinez led the Big Ten in passing efficiency and rushed for 1,019 yards as the Huskers won the Legends division.
Martinez looked well on his way to another solid season, throwing for nine touchdowns and one interception through his first three games. But the injury kept him out for three weeks, and his return vs. the Gophers -- 16-for-30, 4.6 yards an attempt, 16 yards rushing -- was underwhelming.
It's not the final performance anyone in Lincoln -- even Martinez's frequent detractors -- would have wanted for him. But nonetheless, he'll always be T-Magic:
LSU at Florida has been picked as the SEC on CBS Game of the Week

The Michigan coach had quite a few things to say on Monday after their visit to West Lafay...

Injuries are ravaging an LSU team that is searching for an identity
Jones started answering an injury question and then went off about 'fake news'

The full ranking of all 130 college football teams includes TCU up and a major drop for Florida...

The charges all stem from an investigation into improper debit card charges