Nevada QB Cody Fajardo: We're more of a team now
Nevada's Cody Fajardo sat down this week with CBS to discuss the Pack's trademark Pistol offense and new Nevada coach Brian Polian's style.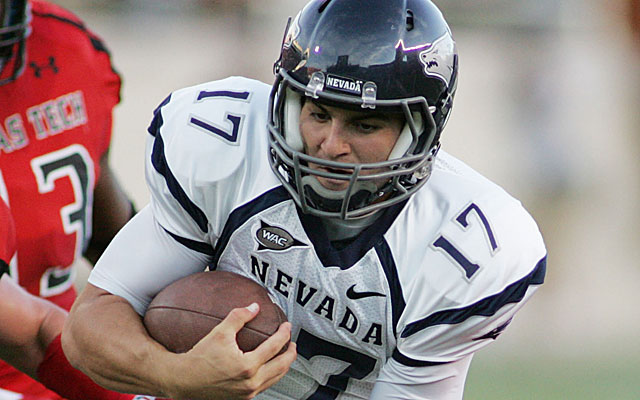 Hall of Fame coach Chris Ault is no longer running the show at Nevada, but the Wolf Pack still should be dangerous. New coach Brian Polian comes from Texas A&M and inherits a gifted triggerman in junior Cody Fajardo. In 2012, Fajardo passed for almost 3,000 yards and ran for over 1,100 more.
On Monday, I sat down with Fajardo and discussed, among other things, how the Pack has tweaked the Pistol this offseason, the changes Polian has made running the program, and what the QB learned from Peyton Manning this month.
Q: Nevada has been known as the Pistol school under Chris Ault. With him no longer there and Brian Polian taking over, how much different is it since Coach (Nick) Rolovich is still the OC?
Fajardo: He was the offensive coordinator, but Coach Ault really called the plays behind the scenes. Our run game is tremendous, so we don't want to change anything because we do so well with it and this year we're implementing Coach Rolovich's Hawaii-style pass game and that should make this Pistol that much better.
Q: What are the trademarks of the Hawaii passing game that are new to the Nevada offense?
Fajardo: It's like a full-field progression kinda thing. Last year it was more pick-a-side for me. Now it's you've got Receiver 1, 2, 3, 4 -- and you go all the way through it. It's more NFL style, full progression. You have to know the coverage and really read coverages. It's helped me out a lot.
Q: But you guys are still going to be in the Pistol 100 percent of the time, right?
Fajardo: Yeah. When Coach Polian came in, my first question to him was, 'Are you gonna change the offense 'cause I don't think we need to.' That was one of the reasons I came to Nevada was the Pistol offense. I feel like it suits my strengths tremendously. And he was like, 'Yeah, there's no worries. The Pistol offense is here to stay. If it's not broke, don't fix it.'
Q: Was that really how you asked your 'question' to him -- Are you gonna change the offense 'cause I don't think we need to?'
Fajardo: I said, 'Are you gonna change the offense' and then I added my two cents.
Q: Since the Pistol is now popping up all over the place, how much have you kept an eye out to see what other people are doing with it?
Fajardo: I feel like no one runs the Pistol like the way we do it. You see teams that try but they fail. Everyone comes to Nevada to watch us run the Pistol because we have the inventor of it. It was cool seeing schools like Clemson, UCLA, Washington State, Washington, Syracuse -- bigger schools coming through our campus. Watching us do The Pistol, asking me questions. I went to the Manning Camp (two weeks ago), people were asking me, 'When you run the Pistol, what do you do here and here?'
Coach Ault would say, 'If you wanna learn the Pistol, come, but you better give me something from your offense.' It was a nice little trade-off. Last year we had some Clemson concepts and we put that into our Pistol. We used their fast pace, where they have a one-word play and they're on the ball right now, quick, and try to snap the ball it in eight seconds. We implemented that last year and had success and it worked out really well for us because we train at high elevation so we're in tremendous shape since we can go fast and wear down a defense.
Our goal this spring was to get a snap every 13 seconds. Last year, we were anywhere 16-18 seconds a snap, not counting audibles. We dropped it about three seconds and when we go with the one-word we're usually at about six-to-eight seconds. We want to go faster. We want to wear down a defense when it comes to that fourth quarter. Last year we lost three games in the fourth quarter by one point so we want our opponent to be gassed, so it'll be a lot easier for us to finish.
Q: What are some of the one-word changes in how things have been translated from the old system?
Fajardo: It's a package. It'll be like "JET! JET! JET!" That's a specific play and that's all I gotta say. The offensive linemen know exactly what they're doing and we're pretty much just waiting on the refs.
Q: How much different is Brian's personality than Coach Ault's?
Fajardo: In the six months since he's been there, he's done a tremendous job of taking over the team. We're all confident in him. We haven't missed a beat from the transition. He got us new jerseys. He's playing music at practice. He's getting us a new locker room. He does all the little things. He's on our side. He hasn't been one of those coaches who has tried to lay his foot down and been mean to everyone, like 'I'm in charge now!' And that's been awesome to see.
Q: His music or the players' music?
Fajardo: His music. It's his iPod. He actually listens to some of the same music as us. He actually opened the floor and said, 'Anyone who wants a specific song? Just e-mail me. I'll buy it off iTunes. Just no cuss words.' Sometimes you'll be listening and you'll be like, 'Wait, Coach, what do you have on your iPod?' And he'll be like 'I got daughters.' He's got a lot of Bon Jovi on there and some Country stuff and a lot of Nevada guys like Country.
Q: He told me he wasn't changing anything in terms of the Pistol but it terms of the way he runs the organization, he's going to do a lot of things how Kevin Sumlin does it. Have you noticed a big change in style?
Fajardo: Yeah. He came in and drug-tested our whole team and we probably lost eight guys who just couldn't get it right off-the-field. That's just not to say he's putting his foot down as much as he is weeding out the weak and the guys who aren't all in. And that's good because last year we lost three games because we weren't a team. We were offense over here. Defense over there. We had guys who wanted to go against the system and stuff like that.
Coach Polian says, 'Hey, look, if you're not all-in, we're going to leave you behind. I don't care who you are.' And as one of the leaders of the team that really struck me, you're preaching what he's saying. You see he's serious about what he's saying. We lost eight guys because they don't know what they're doing. It's encouraging to see and hopefully it'll help us out in the long run. I mean we lost two offensive linemen who definitely would've played for us this year and the offensive line is gonna be the question for us this year. But I'm all-tin. We don't need 'em if they're only gonna hurt us in the long run. In high school (at Servite High in California), we only had two guys who went Division I but we won a state championship. We had a bunch of guys who all bought-in and played for each other.
Q: How exactly does bulking up to withstand some of the physical toll of being a QB in the Pistol affect you as a quarterback in the passing game?
Fajardo: My flexibility in my shoulders is a little tight right now so (private QB coach Steve Calhoun) kinda altered my throwing form. And (at the Manning Passing Academy two weeks ago) was the first time I'd seen him. So he goes, 'Try this out,' and it was kind of a crash course. But then I felt a lot more comfortable with it on the second day. It was just a form thing.
Q: Was the shoulder thing just from getting bigger?
Fajardo: Yeah, since the off-season I've put on about 15 pounds and I'm about 220 now. Last year I played at about 205. I carried the ball 200-plus times last year so I knew I had to put on some weight. The whole flexibility thing I have to get back into it because at 205, I'm moving around and more limber.
Q: What things did you learn from the Mannings while at their camp this month?
Fajardo: I tried to pick their brains. I know a lot of guys don't run an offense like we do, so my main questions were, 'How do you watch film?' And for college guys, it was more how do you prepare during the week and what you do on your off-day? I know how I do things, but I'm looking for ideas on what they do and maybe I can implement that.
Q: Specifically what are you asking Peyton about how he watches film?
Fajardo: The thing about that is they're full-time NFL guys and I'm still a college student. My time management is a little tougher, but he told me on Mondays, Peyton will watch all third downs. On Tuesday, he'll watch first-and-10s and first-and-10-plus. On Wednesdays, he'd watch all the blitz tape. On Thursdays, he'll watch the complete game. On Fridays, he'll watch the complete game again. On Saturdays, he'll watch a bunch of cut-ups and what he wants to see situational football. He's got it all mapped out in increments so it's not boring. He'll take notes. That's what I'm gonna try to implement in my film study, so instead of watching an entire game in one sitting, you're looking at stuff in increments and still getting good work in the film room.
SportsLine's computer model simulated every Week 13 rivalry weekend game 10,000 times with...

Mayfield grabbed his crotch and shouted expletives at Kansas on Saturday

The statue will go up in 2019 after Illinois completes its new football performance center
The junior injured his finger diving for the pylon late in the first quarter of the loss to...

The new college football rankings for all 130 FBS teams heading into Week 13

A former four-star recruit is seeking immediate eligibility at any school, including the S...